This recipe for Peanut Butter Cup Overnight Oats tastes like a Reese's peanut butter cup mixed into your oatmeal.  You will love this make-ahead breakfast idea for weekday mornings!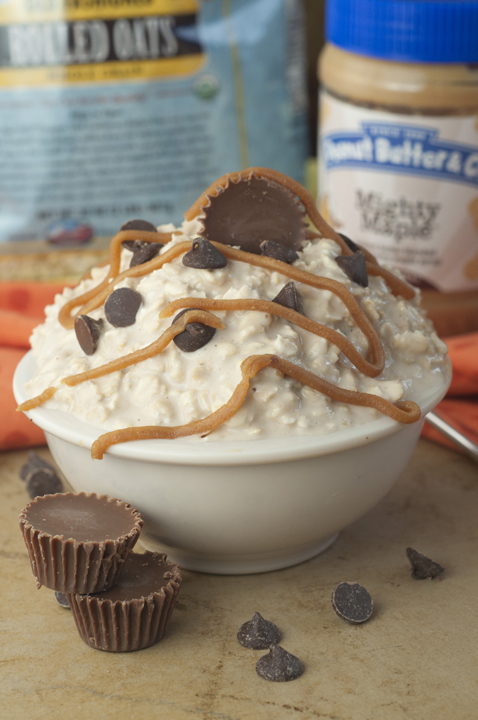 Are you new to overnight oats?  I had no idea what they were until I saw some photos floating around on social media.  I knew I had to see what all of the hype was about.  Overnight oats are a great on-the-go breakfast idea because you don't even need to heat them up!  I thought that concept was very strange at first: cold oatmeal?  I remembered how much I love Muesli on the cruise I went on (a cold breakfast dish containing oats) and then it all made sense.  You make these Peanut Butter Cup Overnight Oats the night before, stick them in the fridge and the mixture thickens while the oats also soften overnight.  It might sound gross to some of you, but they really are a great way to enjoy oats.  I know summer is past now (I just shed a tear…) but they are great for a warmer day or post-workout meal/snack.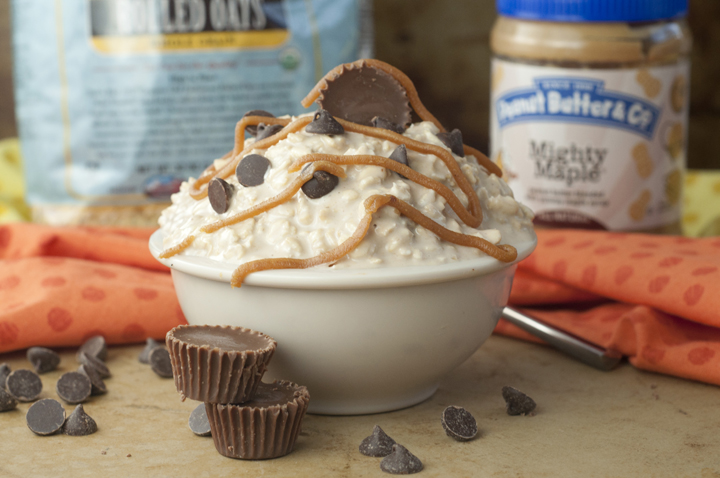 These overnight oats are the perfect breakfast food: filling, inexpensive, and healthy.  You prepare them the night before for a quick and easy morning meal. The star ingredient in this recipe is the maple peanut butter but you can feel free to use any flavor of peanut butter you have on hand!  The peanut butter adds protein and healthy fats to help keep you full throughout your morning.  Plus, you can satisfy your chocolate craving first thing in the morning!  The cool thing about this recipe is that it's so easy to customize depending on what you have on hand and make it your own by adding whatever you like to it.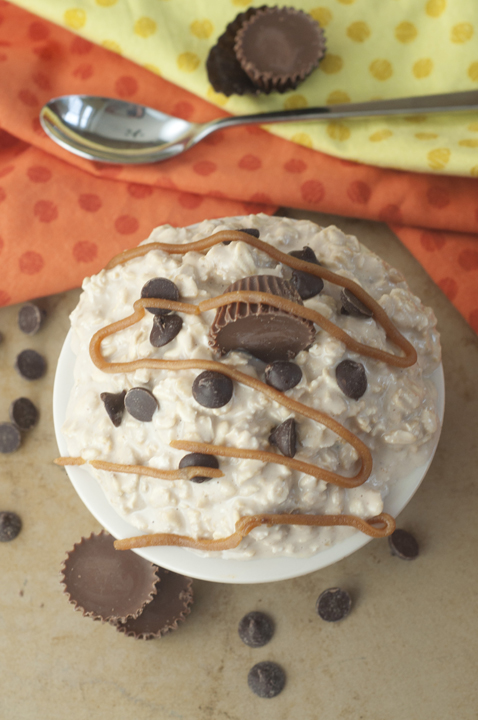 I'm excited about today's #Oatober giveaway because it contains some of my very favorite pantry staples: Bob's Red Mill Rolled Oats and Peanut Butter & Co. peanut butter.  I used both of these ingredients to make the Peanut Butter Cup Overnight Oats.  My favorite brand of peanut butter is Peanut Butter & Co and they have an awesome variety of flavors!  I love to bake (peanut butter cookie dough brownies, pumpkin spice peanut butter oat bars) with their delicious peanut butter as it is made with all-natural ingredients – I always have it on hand.  Bob's Red Mill, as you know, has great products that I use almost daily.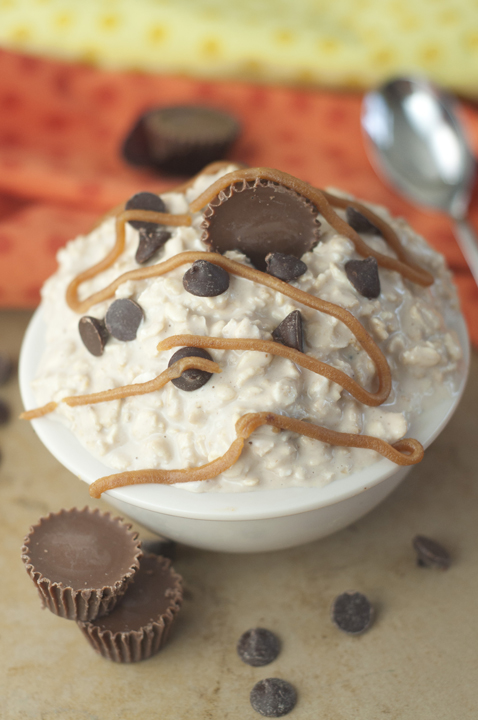 So do me favor, celebrate #Oatober along with myself, Bob's Red Mill and Peanut Butter & Co. by entering my giveaway for one bag of Bob's Red Mill organic old fashioned rolled oats and two jars of PB&Co. peanut butter.
The picture below is what you will be receiving if you win and the details on how to enter are at the bottom of this post.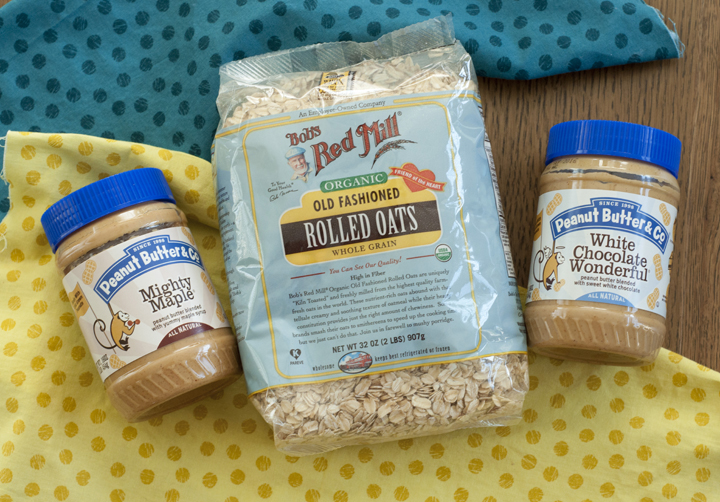 You may also love these strawberry overnight oats or this Strawberry Oatmeal Bars recipe.
Peanut Butter Cup Overnight Oats + GIVEAWAY!
Peanut Butter Cup Overnight Oats recipe tastes like a Reese's peanut butter cup mixed with oatmeal. it's a make-ahead breakfast idea for weekday mornings!
Ingredients
2 and ½ tbsp. Peanut Butter & Co. Mighty Maple Peanut Butter
½ tsp. vanilla extract
Pinch of salt
¼ cup vanilla yogurt (Greek or regular)
◦1/3 cup unsweetened almond milk (or any milk)
◦1/2 cup Bob's Red Mill organic old-fashioned rolled oats
◦1/2 - 1 tbsp. chocolate protein powder (or cocoa powder)
◦1/2 tsp. sugar or other sweetener
small handful of dark chocolate chips
Instructions
In a small bowl, combine the peanut butter, vanilla extract, and salt.
Microwave for 10 seconds, stir for 10 seconds, and microwave for 10 more seconds.
Add in the yogurt, milk, oats, protein powder, and sweetener.
Stir well and make sure the peanut butter mixed in thoroughly.
Add in dark chocolate chips (or add on top at the end).
Transfer the mixture into a small mason jar or sealed container.
Place in the fridge for at least an hour or overnight. The oats should be completely softened.
Store overnight oats in the fridge for up to 3 days.
 Deadline: Sunday, November 1st at 11:59 p.m. (EST). I'll announce the winner on Monday 11/2. Good luck, everyone!
Winner:  Must be a U.S. resident to enter.  The winner will be chosen at random using Random.org and announced in this post. I will email the winner and if he/she does not respond within 48 hours, another winner will be selected.
Disclaimer: Peanut Butter & Co. and Bob's Red Mill provided me with peanut butter and oats to facilitate this post and are also providing the giveaway product. The words and opinions expressed in this review are strictly 100% my own, as always.
Recipe source:  adapted from chelseasmessyapron.com
- Craving more?
Sign up for the Wishes & Dishes Newsletter
for a fresh serving of content delivered every week to your inbox! And stay in touch on
Facebook
,
Twitter
,
Pinterest
and
Instagram
for all of the latest updates!