Creamy Red Pepper Cashew Dip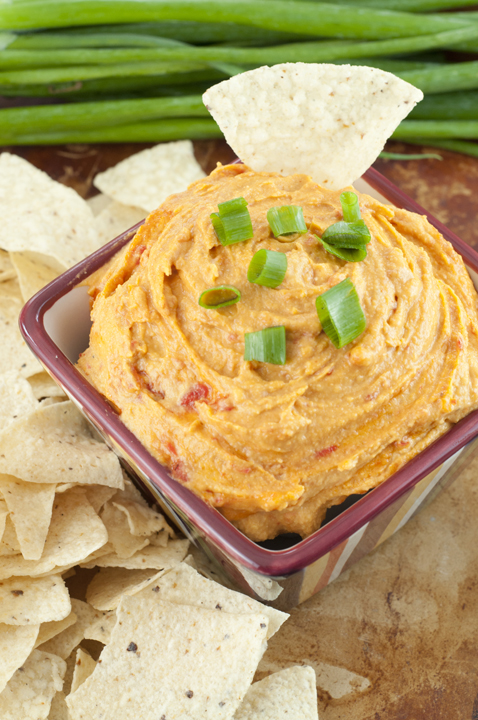 October is flying by! I feel like September never even happened. Traveling for almost the entire month will do that to you. Now we're almost halfway through October and sometimes I feel like I just want to pause life for a little bit. On the bright side (no pun intended), today was 75 degrees and sunny!
Have you ever heard of Meatless Monday? I recently challenged myself to come up with a meatless game-time dish that's perfect to snack on while just sitting around watching Monday night football. The concept of Meatless Monday is to encourage people to not consume meat on Mondays to improve their health and the planet all at the same time with a more plant-based diet. We can all afford to make healthier decisions once in a while, am I right? I have another trip coming up in November so my healthy eating (or my attempt at it) has already commenced. Monday is a great day to get us all off on the right foot – the beginning of a new week!
You won't miss the meat OR the dairy in this Creamy Red Pepper Cashew Dip – I promise you that. It's a better-for-you version of those other common party dips that are loaded with fat and calories. Go ahead and enjoy the big game without worrying about what you're snacking on! This dip has all the things that I very much adore: cashews, red peppers and lots and lots of garlic. You can serve it with veggies (celery, carrots, etc.) instead of chips to make it even better for you.
Go ahead and take the #MeatlessMondayNight challenge along with me this football season. Also, if you love giveaways (and I KNOW you all do), I encourage you to visit Silk's website for more delicious recipes, plant-based tips, and a chance to win a giveaway! You can enter through October 30, 2015 for a chance to win an entertainment room makeover with a 55″ smart TV, a pair of recliners, a mini fridge, and plenty of other cool prizes.
Recipe source: adapted from itdoesnttastelikechicken.com
This conversation is sponsored by Silk. The opinions and text are all mine.