Peanut Butter Cup Overnight Oats + GIVEAWAY!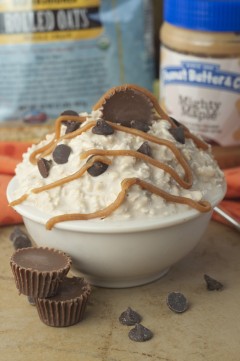 2 and ½ tbsp. Peanut Butter & Co. Mighty Maple Peanut Butter
½ tsp. vanilla extract
Pinch of salt
¼ cup vanilla yogurt (Greek or regular)
◦1/3 cup unsweetened almond milk (or any milk)
◦1/2 cup Bob's Red Mill organic old-fashioned rolled oats
◦1/2 - 1 tbsp. chocolate protein powder (or cocoa powder)
◦1/2 tsp. sugar or other sweetener
small handful of dark chocolate chips
In a small bowl, combine the peanut butter, vanilla extract, and salt.
Microwave for 10 seconds, stir for 10 seconds, and microwave for 10 more seconds.
Add in the yogurt, milk, oats, protein powder, and sweetener.
Stir well and make sure the peanut butter mixed in thoroughly.
Add in dark chocolate chips (or add on top at the end).
Transfer the mixture into a small mason jar or sealed container.
Place in the fridge for at least an hour or overnight. The oats should be completely softened.
Store overnight oats in the fridge for up to 3 days.
Recipe by
Wishes and Dishes
at https://wishesndishes.com/peanut-butter-cup-overnight-oats-giveaway/