Candied Bacon Bloody Mary
The creation of this Candied Bacon Bloody Mary recipe and shop have been compensated by Collective Bias, Inc. and its advertiser. All opinions are mine alone. This content is intended for readers who are 21 or older. #HomegateHacks #TeamMary #CollectiveBias
This refreshing Candied Bacon Bloody Mary is the perfect accompaniment to any breakfast or brunch favorites and is great to serve at a football party!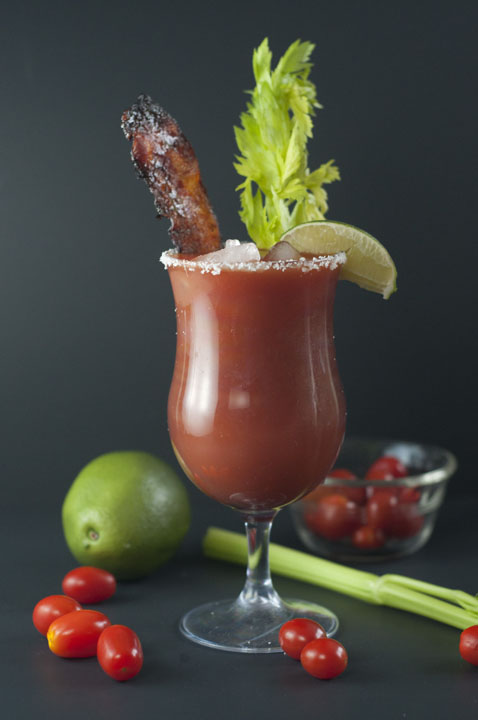 What can turn an average brunch, breakfast, or football party into perfection?  The correct answer is "Bloody Mary Cocktails"!  Who doesn't love a good Bloody Mary? I have always been a huge fan of this drink and deciding to pair this version with candied bacon just took it up a notch.  The candied bacon adds a touch of sweetness to the spicy Bloody Mary and creates the most amazing mix of flavors you can possibly ask for.  I also rimmed the glasses with celery salt and kosher salt to switch things up a bit.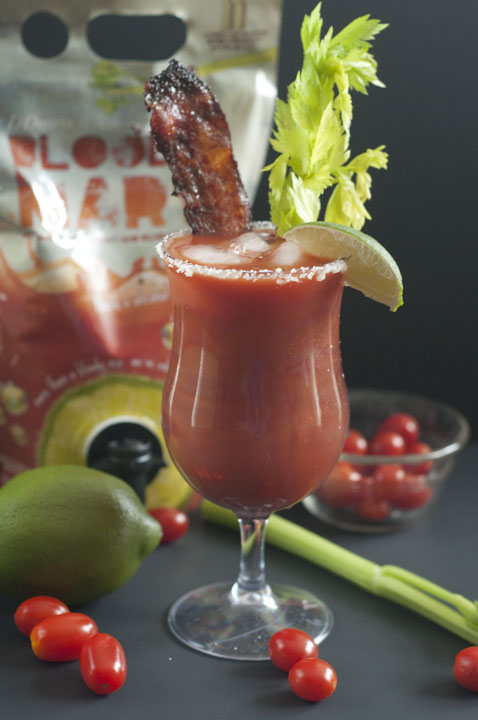 As you can imagine, I was extra excited to learn that I can conveniently have Bloody Marys at my fingertips with these LiDestri Bloody Mary pouches.  I found them while shopping at my local Wegmans, but you can also find them at Walmart if you don't have a Wegmans nearby.  I don't have to ever worry about having all of the ingredients on hand ever again.  The pouches make serving a crowd at your next "Homegate" football party a breeze – just fill up the glasses using the push button pour spout on the stand up pouch and serve!  They are also perfect to bring along to sporting events, tailgating, picnics, boating, concerts, golf outings, and more.  No matter where you serve this, it is sure to be a crowd-pleaser that will go well with all of your football food and ultimately save you time!  The candied bacon may just make your guests fall in love with this drink even more.  Just sayin'…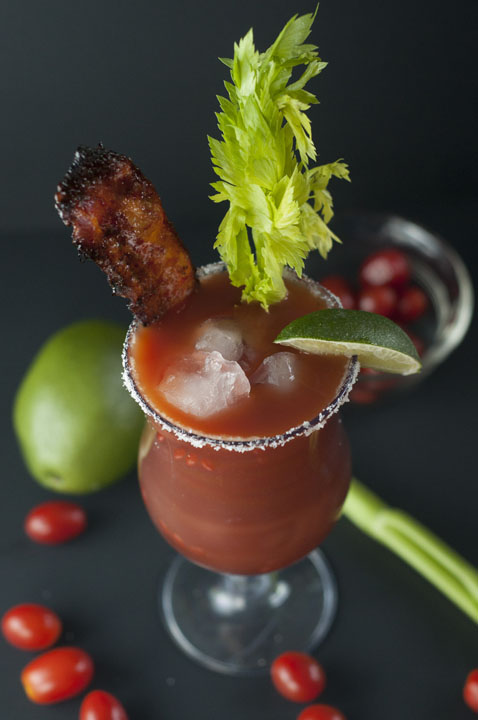 LiDestri Bloody Mary pouches are a neutral "flavorless" wine product and come in two flavors: traditional and spicy.  It is the first Bloody Mary cocktail to enter the US market that contains alcohol!  I adored the taste and thought it was the perfect balance of Bloody Mary flavor and alcohol.  They are also a great value for your money: each pouch holds two-750ml bottles.
Before my dad passed away earlier this year, I used to drink Bloody Marys with him on special occasions at our favorite Italian restaurant.  We both used to order them extra spicy.  I loved that tradition and I like to have one every once in a while to keep the tradition alive.  It's really hard to get sick of such a classic drink and I believe you will love this sassed up version.
You can find a collection of other delicious Bloody Mary recipes here.  What are your favorite Bloody Mary mix-ins?  I'd love to know!
Candied Bacon Bloody Mary
This refreshing Candied Bacon Bloody Mary is the perfect accompaniment to any breakfast or brunch favorites and is great to serve at a football party!
Ingredients
1 LiDestri Bloody Mary Cocktail (Traditional OR Spicy)
Celery Salt
Kosher Salt
Garnishes of choice (lemon wedge, lime wedge, celery stalk, green olive, etc.)
Candied Bacon (see below for instructions)
Candied Bacon:
12 slices bacon, about ¼-inch thick
Finely ground black pepper
⅓ cup light brown sugar
Instructions
Bloody Mary:
Rub the outer edge of glasses with a lime wedge and roll in celery salt/kosher salt mixture. Add a few ice cubes to each glass and pour the liquid from the LiDestri Bloody Mary pouch over the ice. Garnish with the candied bacon, lime wedge, celery stalk, or other garnishes of your choosing. Serve immediately. Enjoy!
Candied Bacon:
Preheat the oven to 325 degrees F.
Put bacon slices in a bowl, season them with pepper and toss with the brown sugar. Cover a baking sheet with parchment or foil and arrange the bacon in a single layer on top. Sprinkle any sugar left in the bowl over the bacon. Top with another layer of parchment or foil and top it, squarely, with another baking sheet. The baking sheet will flatten the bacon as it cooks.
Place the tray in the center of the oven and bake for 20 minutes. Check the bacon by lifting the top tray and parchment. If it is not golden brown and fairly crispy, resist the temptation to turn up the oven temperature, and cook it for 10 to 15 minutes longer. Check it again.
Keep in mind that when you remove the tray and transfer the bacon to a serving platter or individual plates, the bacon will "crisp" up a little more. Be patient!