I can hardly believe how fast Christmas is approaching.  Only one week from today. I, like everyone else, am just so heartbroken and sick over what happened in Connecticut and have been praying for all the families affected by this tragedy that God and his loving army of angels will begin to heal their hearts.  Amidst all the hustle and bustle of holiday shopping, baking, and wrapping,  there is a deep sadness for this horrible tragedy to have happened.  I grieve for all those families who lost a loved one way too soon.
Anything I can blog about or any recipe I can post now seems trivial after what's happened.  It seems strange to carry on as usual, but in case you want a break from the stream of sad news and do have baking you need to get done, I got you covered.
This is a fail-proof cookie recipe to add to your Christmas cookie trays this year.  I have been wanting to make these cookies for years around the holidays and every year they get forgotten about or I just don't find the time.  This year I made them a priority and made them first thing!  I got to break in my new kitchen for it's first Christmas baking extravaganza.  I have to say it was a much more pleasant experience this year having room to maneuver.  The wide open space sure did make a huge difference and I was able to have a million things going on at once.  In the old apartment kitchen I barely had room to make just one type of cookie, let alone 5 or 6 all at once.
ADVICE: freeze the unwrapped peanut butter cups ahead of time.  This makes it a heck of a lot easier to press the frozen candy into the hot cookie without falling to pieces.  It also makes it easier and faster to unwrap them.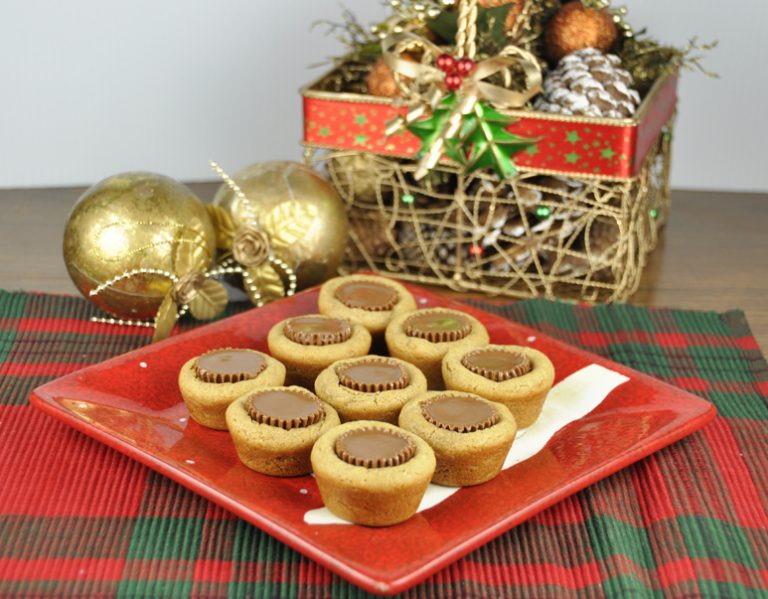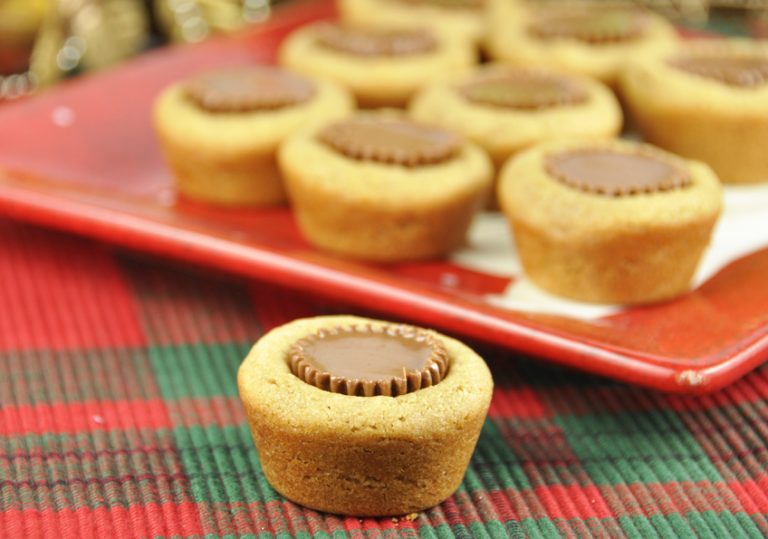 INGREDIENTS:
1 3/4 cups all purpose flour
1/2 teaspoon salt
1 teaspoon baking soda
1/2 cup butter, softened
1/2 cup white sugar
1/2 cup peanut butter
1/2 cup packed brown sugar
1 egg, beaten in a separate bowl before adding
1 teaspoon vanilla extract
2 tablespoons milk
40 miniature chocolate covered peanut butter cups, unwrapped
DIRECTIONS:
Preheat oven to 375 degrees F.  Mix together the flour, salt and baking soda; set aside.
Cream together the butter, sugar, peanut butter and brown sugar until fluffy.  Beat in the egg, vanilla and milk.
Add the flour mixture; mix well. Shape into 40 balls and place each into an ungreased mini muffin pan.
Bake at 375 degrees for about 8 minutes. Remove from oven and immediately press a mini peanut butter cup into each ball.  Cool and carefully remove from pan.  I used a knife to pop them out more easily.
- Craving more?
Sign up for the Wishes & Dishes Newsletter
for a fresh serving of content delivered every week to your inbox! And stay in touch on
Facebook
,
Twitter
,
Pinterest
and
Instagram
for all of the latest updates!