I'm really sorry to have to do this to you, but I have the best cupcake recipe to share with you today.  Break out your stretchy pants before you bake these up because these cupcakes are FAN-TAB-ULOUS!  I just might sneak another because I know once Mr. Wishes gets a hold of them, only crumbs will remain.
I had a hankering to make cupcakes the other day and I then realized something very sad:  I have no cupcake recipes on my blog!  How could this be?!  I don't know how I let this go on for so long but it's about time to change that.
These babies are amazing.  You have to like peanut butter, obviously, because there is a good amount of peanut butter that goes into these cupcakes, as well as the frosting.  So peanut butter lovers will definitely double their pleasure with these.  Basically, this is a super moist and rich peanut butter cupcake, with chocolate chips, and monster cookie dough frosting to top it all off.
If your frosting is runny, then you probably need to add a little more powdered sugar.  So don't be afraid to add this extra powdered sugar to bring the consistency of the frosting to where you want it to be as far as thickness goes.
I have to say this is a keeper and will be made over and over again…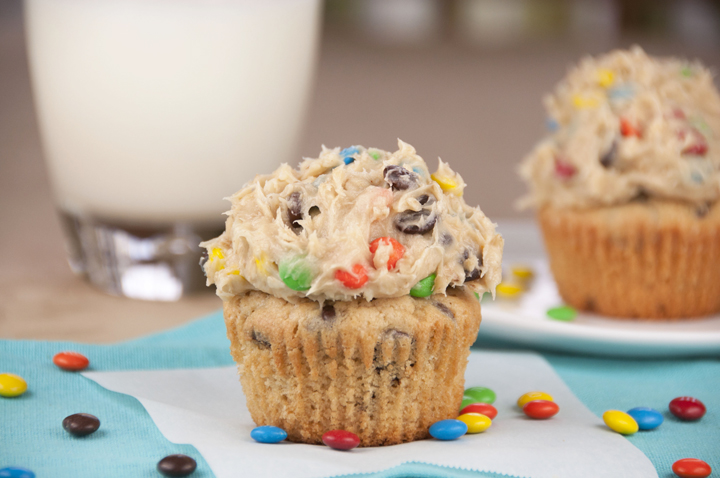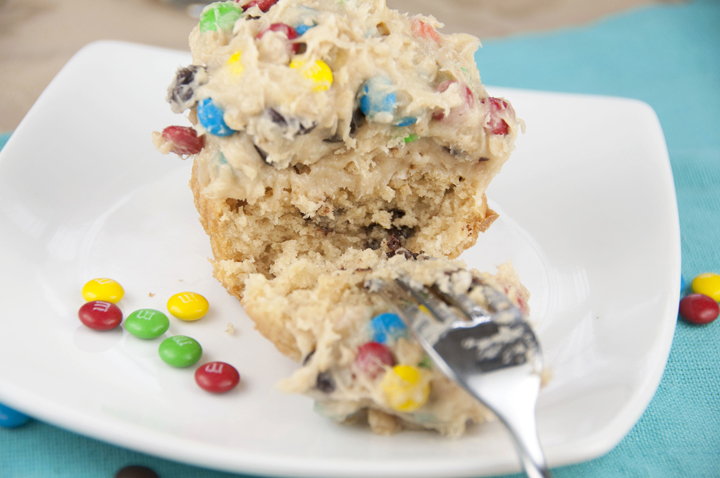 INGREDIENTS:
*makes about 12 cupcakes*
For the Cupcakes:
1/4 cup butter, softened
1/2 cup creamy peanut butter
1 cup sugar
2 whole eggs
2 teaspoons vanilla extract
1 1/2 cups flour
1 1/4 teaspoon baking powder
1/3 cup milk
1 cup semi sweet chocolate chips
For the Cookie Dough Frosting:
8 oz. cream cheese, softened (don't use reduced fat or fat free!)
1/2 c. butter, softened
1/2 c. creamy peanut butter
1- 2 c. powdered sugar
3 Tbsp. brown sugar
3 Tbsp. all purpose flour
1 tsp. vanilla
1 c. oats
3/4 bag plain mini M&Ms
3/4 cup mini or regular semi-sweet chocolate chips
DIRECTIONS:
Preheat oven to 350º.
Use a hand or stand mixer to whisk together all of the cupcake ingredients except for the chocolate chips. Then, stir in the chocolate chips with a spoon or spatula.
Fill each cupcake liner about 2/3 full of batter. Bake for 20 minutes or until toothpick inserted comes out clean.  Let cool on a wire rack.
Meanwhile, use a stand mixer dough paddle to beat together the cream cheese, butter, and peanut butter until smooth.
Mix in the brown sugar, flour, vanilla, and oats.
Mix in the powdered sugar 1 cup at a time (1 and 1/2 cups worked out best for me).
Finally add the M&Ms and Chocolate chips, mix well.
Use a large cookie scoop or ice cream scoop to scoop out the cookie dough onto the completely cooled cupcakes.
Recipe source:  cupcake recipe from howsweeteats.com, frosting adapted from somethingswanky.com
- Craving more?
Sign up for the Wishes & Dishes Newsletter
for a fresh serving of content delivered every week to your inbox! And stay in touch on
Facebook
,
Twitter
,
Pinterest
and
Instagram
for all of the latest updates!