Caramel Apple Grilled Cheese Sandwich
Caramel Apple Grilled Cheese Sandwich is a unique twist on the classic grilled cheese that will blow your mind!

I know I'm a little late in the month, but happy national grilled cheese month, everyone!  Today I bring you a grilled cheese sandwich filled with delicious caramel apples!  Don't hate on this sandwich until you've tried it.  It's SO GOOD!  Plain and traditional grilled cheese sandwiches have always  been near and dear to my heart but I wanted to give you something a little more exciting to go on than just two slices of bread and cheese in the middle (not that there's anything wrong with that).  Personally, I feel that nothing quite compares to a melty, gooey grilled cheese.
This Caramel Apple Grilled Cheese Sandwich gives you a combination of tart and juicy Granny Smith apples with sweet caramel sauce and sharp cheddar cheese.   The flavors are really out of this world when placed together inside toasted buttery bread slices.
This Caramel Apple Grilled Cheese Sandwich is really easy to make, as most grilled cheese sandwiches are.  I think you should give it a try in honor of national grilled cheese month!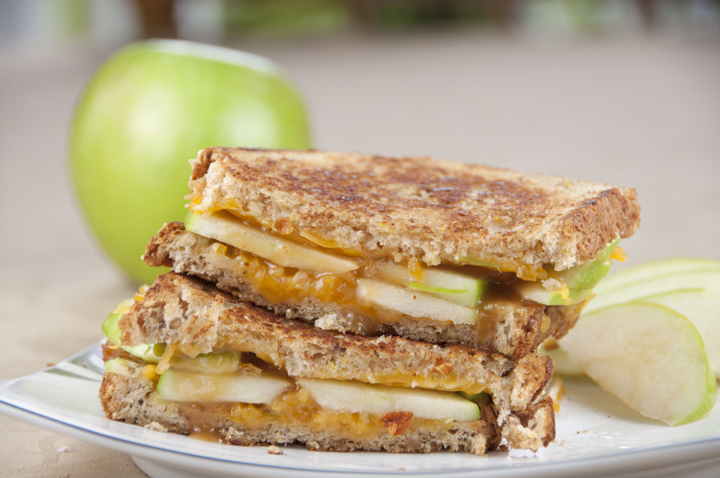 INGREDIENTS:
1 tablespoon butter
2 slices of bread
2 slices sharp cheddar (or 1/2 cup shredded)
1/2 Granny Smith apple, cored and sliced thin
1 tablespoon caramel sauce
DIRECTIONS:
Heat a non-stick pan over medium heat.
Butter the outside side of each slice of bread, place one slice in the pan buttered side down, top with half of the cheese, the apple, caramel sauce, the remaining cheese and finally the other slice of bread.
Grill until golden brown on both sides and the cheese is melted, about 2-4 minutes per side.
Option: If you prefer the apples to be tender and to stay in the sandwich a little better, saute them in a touch of oil until just tender, about 1-2 minutes per side, before adding them to the sandwich.
Recipe source: adapted from closetcooking.com