Spinach-Basil Pesto Grilled Cheese Sandwich
April is National Grilled Cheese Sandwich Month. That's right: somebody somewhere has proclaimed this popular and beloved comfort food worthy of a month-long celebration that it so deserves.
I have been experimenting with grilled cheese sandwiches lately as you saw on here earlier this week with this Caramel Apple Grilled Cheese Sandwich.  Grilled cheese is a childhood favorite of mine and it's always fun to find new ways to reinvent and enjoy it.
Your history lesson for the day: the Ancient Romans were the first civilization to make a cooked bread and cheese sandwich, but many cultures have invented their own take on this ancient sandwich.  In France, people enjoy Croque Monsieur (a grilled ham and cheese sandwich, recipe for a variation of that on my blog here), while in Switzerland it is customary to melt the cheese and toast the bread separately before combining them.  Our classic American grilled cheese sandwich first appeared in the 1920's when inexpensive cheese and affordable sliced bread became available.  It is now a staple in cafés, diners, school cafeterias, and peoples' homes across the country.  Are you still awake?
The crusty toasted bread in this version is like a match made in heaven for the melting cheese and delicious smelling spinach basil pesto made this a match made in heaven.  Serve it with some hot tomato soup!
May your cheese always be melted and between 2 slices of buttery bread…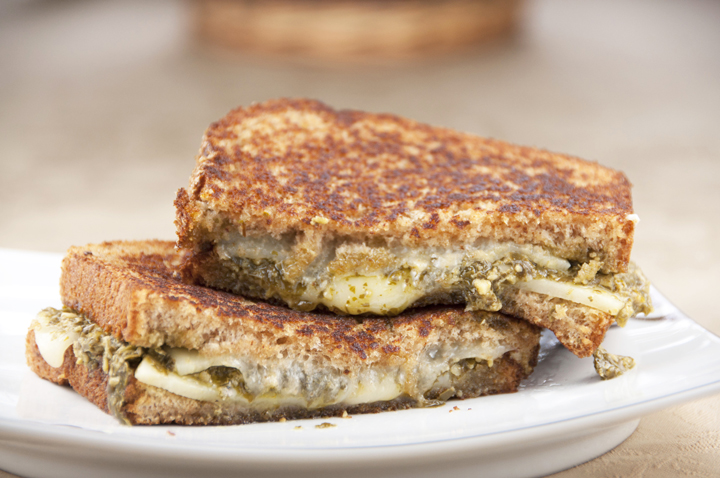 INGREDIENTS:
1 tablespoon butter
2 slices bread
1/2 cup Gruyere cheese, grated (provolone also works)
2-3 tablespoons spinach-basil pesto (or just basil pesto)
DIRECTIONS:
Heat a non-stick pan over medium heat.
Butter the outside of each slice of bread, sprinkle half of the cheeses on the inside of one slice of bread, top with the spinach pesto, the remaining cheese, and finally, the other slice of bread.
Add the sandwich to the hot pan and grill until golden brown and the cheese has melted, about 2-4 minutes per side.