Asian Turkey Meatballs With Lime Sesame Dipping Sauce
Happy Friday to all!
I decided to be nice and give you (and myself) a good, healthy, nutritious recipe today after all the damage I did to us all with the abundance of sugar and cheese this week.  I'm not blaming the Monster Cookie Dough Cupcakes that I posted this week or anything, but I feel like I can't look at another dessert for about a month after devouring those puppies.  I'm sure by Monday I'll be over that feeling, but that's beside the point…
These Asian-inspired meatballs are good and light.  I am confident they can take care of your worst Chinese food cravings but without all of the guilt.  They are all simple, natural, and healthy!  My favorite thing about this recipe is that the flavors all come together so that you're not just tasting one particular spice, but you taste a beautiful blend of deliciousness in your mouth.  The ginger, scallions and cilantro are so great together in this dish.
By the way, the sauce definitely makes this dish so don't skip it (although the meatballs are great on their own, they are a million times better with the sauce.)
I served these with my Brown Fried Rice recipe.
Have a great weekend!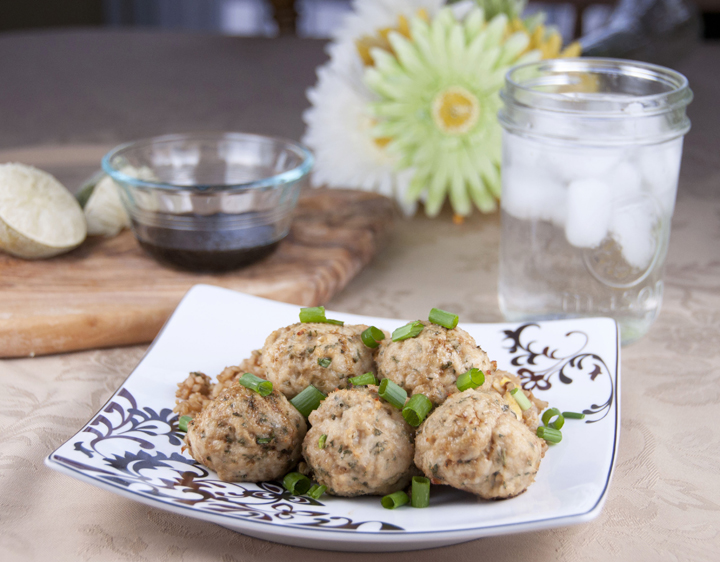 INGREDIENTS:
Hint: for a fun appetizer, make them half the size and served them with toothpicks.  Super easy and takes less than 30 minutes.
Meatballs
*Makes 12 meatballs*
1/4 cup Panko bread crumbs
1-1/4 lbs 93% lean ground turkey (the 99% can be pretty dry)
1 egg
1 tbsp ginger, minced
1 clove garlic, minced
1/2 tsp salt
1/4 cup chopped fresh cilantro
3 scallions, chopped
1 tbsp low sodium soy sauce
2 tsp sesame oil
Dipping Sauce
4 tbsp low sodium soy sauce
2 tsp sesame oil
2 tbsp fresh lime juice
2 tbsp water
1 tbsp chopped fresh scallion
DIRECTIONS:
Preheat oven to 500°F.
Mix ground turkey, Panko, egg, salt, scallions, ginger, cilantro, 1 tbsp soy sauce, and 2 tsp oil and mix with your hands until combined well.  Shape 1/4 cup meat mixture into a ball and transfer to a baking dish.  Repeat with remaining mixture. Bake until cooked through, about 15 minutes.
For the dipping sauce: mix together lime juice, water, soy sauce, and remaining 2 teaspoons of oil in a bowl.  Add scallions.
Transfer meatballs to a serving dish.  Stir sauce, then drizzle meatballs with 1 tablespoon sauce.
Serve meatballs with remaining sauce, about 1 tbsp per person.  You probably will not use all of the dipping sauce.
Recipe source:  adapted from skinnytaste.com