A wonderful beef stew recipe featuring a hearty sauce flavored with Guinness.  Perfect for St. Patrick's Day and the best beef stew I've ever tasted!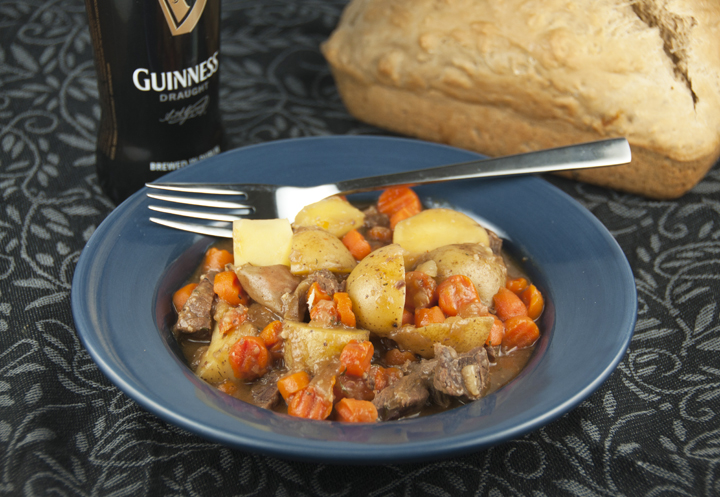 Happy Monday!  I am really feeling that one hour of lost sleep.  Anybody else?  But I would willingly sacrifice an hour of sleep and an hour of my day for that extra hour of daylight….totally worth it, in my opinion!  It makes such a difference and gives me an extra hour that I can photograph my food in natural light (things only a food blogger would think about).
This absolutely delicious recipe for Guinness beef stew is very easy to follow and the meat browns so beautifully. I was a little afraid that there would be a strong beer taste, but there wasn't!  Mr. Wishes despises all beer and he ate this up and even had leftovers for lunch the next day.  So rest assured that the Guinness is just there for added flavor and to help with the rich gravy/sauce, but does not have a beer taste once the liquid cooks down and the sauce is reduced.
Irish stew is always a good comfort food and fabulous on these (still) cold, winter days.  Also, you should know, the flavors develop nicely overnight and it's maybe even better the next day. 
I served this with a Guinness beer bread – double Guinness goodness! 🙂  I'll be posting that recipe later on this week.  Enjoy!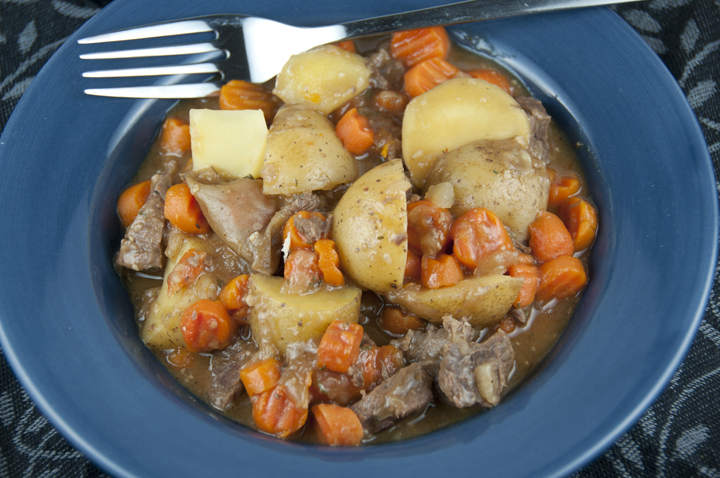 Guinness Beef Stew
A wonderful beef stew recipe featuring a hearty sauce flavored with Guinness. Perfect for St. Patrick's Day and the best beef stew I've ever tasted!
Ingredients
1 (3½ to 4-pound) boneless beef chuck-eye roast, pulled apart at seams, trimmed and cut into 1½-inch pieces (or use stew beef already cut up)
3 tablespoons vegetable oil
2 yellow onions, chopped fine
¼ teaspoon salt
1 tablespoon tomato paste
3 garlic cloves, minced
¼ cup all-purpose flour
3 cups chicken stock
1 (12-ounce) bottle Guinness Draught, divided
5 teaspoons dark brown sugar
1 teaspoon minced fresh thyme
1½ pounds Yukon Gold potatoes, unpeeled, cut into 1-inch pieces
1 pound carrots, peeled and cut into 1-inch pieces
2 tablespoons minced fresh parsley
Instructions
Adjust an oven rack to the lower-middle position and preheat to 325 degrees F.
Season the beef with salt and freshly ground pepper.
Heat the oil in a Dutch oven (or other heavy-bottomed pot) over medium-high heat, add the onions and salt, and cook, stirring occasionally, until well browned, 8 to 10 minutes.
Add the tomato paste and garlic and cook for 2 minutes.
Stir in the flour and cook for an additional 1 minute.
Whisk in the chicken stock, ¾ cup of the Guinness, brown sugar and thyme, scraping up any browned bits on the bottom of the pot.
Bring to a simmer and cook until slightly thickened, about 3 minutes.
Stir in the beef and return to a simmer.
Transfer the pot to the oven and cook, uncovered, for 90 minutes, stirring halfway through cooking.
Stir in the potatoes and carrots and continue cooking until the beef and vegetables are tender, about 1 hour, stirring halfway through cooking.
Remove the pot from the oven and stir in the remaining ½ cup of Guinness and the parsley. Season with salt and pepper to taste and serve.
Note: Do not use Guinness Extra Stout in this recipe, as it is too bitter.
 Recipe source:  adapted from browneyedbaker.com
- Craving more?
Sign up for the Wishes & Dishes Newsletter
for a fresh serving of content delivered every week to your inbox! And stay in touch on
Facebook
,
Twitter
,
Pinterest
and
Instagram
for all of the latest updates!