Guinness Beef Stew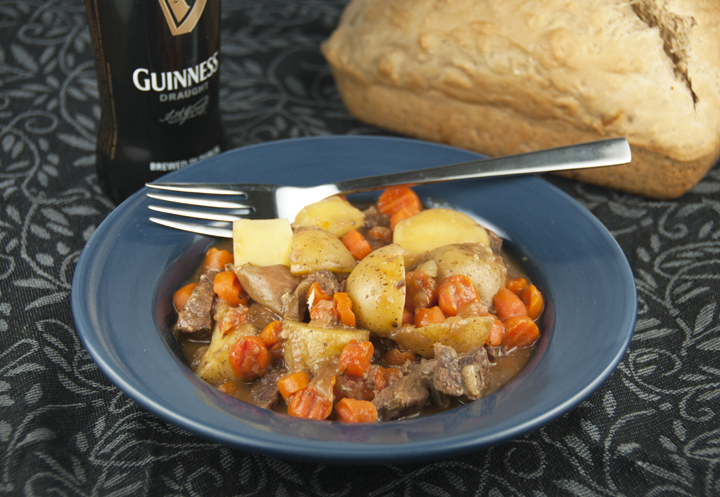 1 (3½ to 4-pound) boneless beef chuck-eye roast, pulled apart at seams, trimmed and cut into 1½-inch pieces (or use stew beef already cut up)
3 tablespoons vegetable oil
2 yellow onions, chopped fine
¼ teaspoon salt
1 tablespoon tomato paste
3 garlic cloves, minced
¼ cup all-purpose flour
3 cups chicken stock
1 (12-ounce) bottle Guinness Draught, divided
5 teaspoons dark brown sugar
1 teaspoon minced fresh thyme
1½ pounds Yukon Gold potatoes, unpeeled, cut into 1-inch pieces
1 pound carrots, peeled and cut into 1-inch pieces
2 tablespoons minced fresh parsley
Adjust an oven rack to the lower-middle position and preheat to 325 degrees F.
Season the beef with salt and freshly ground pepper.
Heat the oil in a Dutch oven (or other heavy-bottomed pot) over medium-high heat, add the onions and salt, and cook, stirring occasionally, until well browned, 8 to 10 minutes.
Add the tomato paste and garlic and cook for 2 minutes.
Stir in the flour and cook for an additional 1 minute.
Whisk in the chicken stock, ¾ cup of the Guinness, brown sugar and thyme, scraping up any browned bits on the bottom of the pot.
Bring to a simmer and cook until slightly thickened, about 3 minutes.
Stir in the beef and return to a simmer.
Transfer the pot to the oven and cook, uncovered, for 90 minutes, stirring halfway through cooking.
Stir in the potatoes and carrots and continue cooking until the beef and vegetables are tender, about 1 hour, stirring halfway through cooking.
Remove the pot from the oven and stir in the remaining ½ cup of Guinness and the parsley. Season with salt and pepper to taste and serve.