Guinness Beer Bread
I love a great beer bread recipe, especially for St. Patrick's Day.  This Guinness version comes together super fast and couldn't be easier to make.  Five minutes of work will reward you with a heavenly aroma throughout your house and a warm, crusty loaf in under an hour.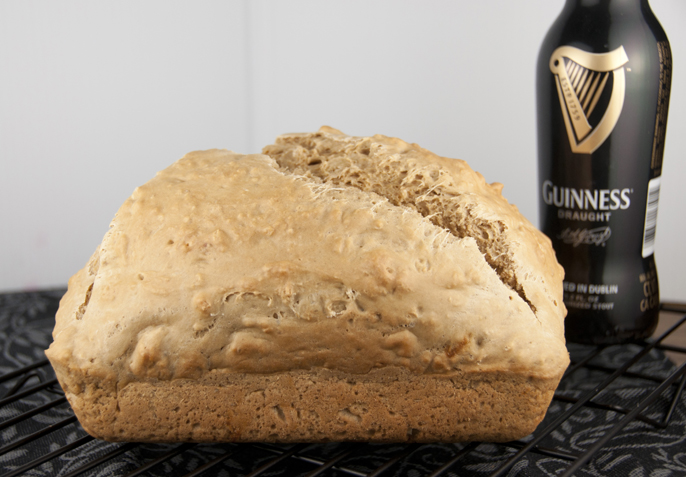 Happy St. Paddy's day!  This recipe I'm sharing with you today is by far the best beer bread I have ever made or eaten.  It has a wonderful flavor (you can definitely taste the Guinness), great texture, is very moist, dense, and as you can see, – a very impressive sized loaf!  It rises beautifully (maybe a little lopsided, but that's OK) and produces a nice, crunchy outer crust 🙂  All that matters here is the TASTE, which you will love.
You can really use any beer for this recipe, but the darker beer gives you a deeper flavor. You can even make it with non-alcoholic beer if you'd prefer!  Beer bread also has such simple ingredients — the basic recipe merely has flour, sugar, salt, baking powder, & beer— yet I've seen packages of it selling for up to eight dollars.  It's definitely a better deal to make it at home!  This goes perfectly with my
Guinness Beef Stew
.  Enjoy!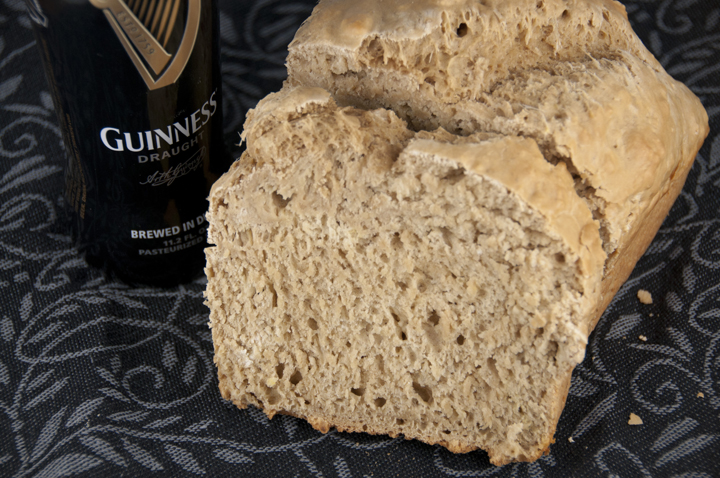 Guinness Beer Bread
Ingredients
4 cups all-purpose flour
2 tablespoons baking powder
1 teaspoon salt
¼ cup granulated sugar
12 ounces Guinness stout
2 eggs, slightly beaten
Instructions
Preheat oven to 375F degrees.
Sift together flour, baking powder, salt and sugar.
Add Guinness and eggs; stir just until blended.
Pour into greased 9x5x3 loaf pan.
Bake at 375F for approximately 50 minutes. Take out of oven and insert a knife and make sure the knife comes out clean – that means your bread is done.
Remove from pan and cool on wire rack.
Recipe source:  adapted from food.com