Ginger-O Cheesecake
Decadent cheesecake dessert recipe made with gingerbread-flavored cookies and drizzled with Biscoff spread.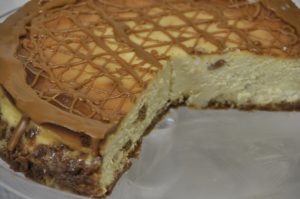 So I attempted my first cheesecake this week.  I have desired to do a trial cheesecake run for a while now and when I unknowingly discovered I had a springform pan hiding in my kitchen I decided to give it a whirl…and made up my own recipe while I was at it!  What can I say, I like to live life on the edge.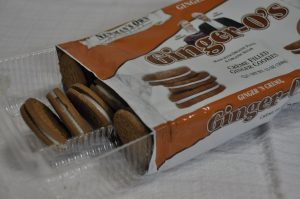 I took my favorite store-bought cookie, Newman's Ginger-O's (sold in the organic section of Wegmans), to the next level and created the crust for the cheesecake with them.  I actually love these cookies more than Oreos and to all who know me know that is mind-boggling.  The one mistake I made with this recipe is putting the cake tin in a water bath like a lot of recipes recommend.  It is virtually impossible to keep any water from seeping through and my crust got a little soggy.  I was able to dry it out by putting it back in the oven at 275 for several 10 minute intervals, allowing to cool with the oven door open between each interval.  I feel confident in saying that it would be much easier to just keep your crust dry in the first place.
 I recommend this method:  bake cheesecake on the middle rack of your oven.  Place a shallow pan of water on the bottom shelf of the oven instead of placing the pan directly in the water bath.  This method should provide humidity and assist in avoiding cracks in the cheesecake, without subjecting the cake to direct contact with the water bath.
The only factor where I failed to think ahead was the element that Mr. Wishes doesn't particularly care for cheesecake.  Do the math.  Ok, I'll do the math for you if you're as dreadful at math as I am; I was left to eat this delicious, extremely fat-loaded cheesecake all on my own.  Normally, my stance on this type of situation is, "More for me!", but if you've ever eaten cheesecake six nights in a row you know this is not a win-win situation.  My body hates me.  However, I did share ONE piece with my lovely mother who claimed it was the best cheesecake she ever had.  You can ask her if you don't believe me.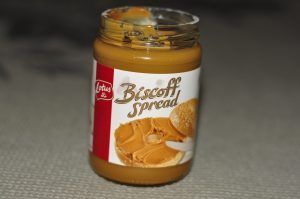 A piece of great advice I leave you with; don't be afraid of a little fat.  As Julie Child says, "Fat gives things flavor".
What's your favorite cheesecake?  Feel free to leave a link to the blog post/recipe in the comments!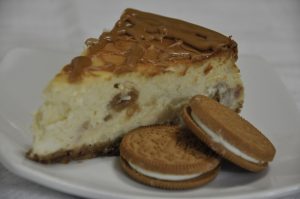 Ginger-O Cheesecake
Ingredients
Crust:
1½ cup Gingerbread cookie crumbs (finely chopped)
2 tablespoons melted butter
Filling:
32 oz of cream cheese
1 cup granulated sugar
½ cup sour cream
2 teaspoons vanilla
5 eggs
5 gingerbread cookies, chopped
Instructions
(helpful tips are below recipe)
Crust: Mix cookies and butter and press into bottom of pan and 1½ inches up sides of pan.
Line with parchment paper or grease sides of pan before adding crust.
Filling: (Periodically scrape down sides of bowl to prevent cream cheese lumps)
Beat cream cheese on low until fluffy.
Add sugar and continue beating.
Add eggs one at a time and beat until blended.
Add vanilla and beat.
Add sour cream and beat.
Stir in cookies with a spoon.
Pour batter into pan.
Preheat oven to 475 degrees.
Bake for 12 minutes at 475 degrees.
Turn temperature down to 350 degrees.
Bake for 50-60 minutes.Refridgerate for several hours or overnight.
I melted the Biscoff spread pictured above and drizzled it over the cheesecake. Hides any imperfections! That spread is amazing and is found on the peanut butter aisle at Wegmans!
Helpful Hints:
*One way to keep the crust from getting soggy while  baking is to brush crust lightly with egg white beforehand. Bake the  crust alone until it is pale golden, about 15 minutes. Cool on rack  while preparing filling. 
* Cream cheese must be softened before you use it to make your cheesecake. The best way to do this is to leave it out for an hour or so before using it. If you don't have time to do that, unwrap the cheesecake from all wrapping. Place it in a microwave safe bowl and microwave it on high for 30 seconds at 10 second intervals, checking it in between. Don't let it melt or get warm!* If you want to remove a cheesecake from the base of your springform cake tin once it is baked or chilled, line the base with aluminum foil.
* Always mix ingredients at medium speed, not high, to prevent cracking during the cooking process.
* Use eggs at room temperature.
* Don't open the oven door during cooking. If you need to, make sure it's not in the first 30 minutes of cooking.
* Make sure baked cheesecakes are completely cool before refrigerating otherwise it will go soggy.
* Unless otherwise noted, baked cheesecakes should be cooled in the oven. That is, once the cooking time has ended, turn the oven off and leave the door slightly ajar and let the cheesecake sit until cool.
* Once cooking time has ended, let the cheesecake sit in the oven. After a few minutes, take the cheesecake out of the oven and run a sharp knife around the edge of the cake tin. Put the cheesecake back in the oven. This can prevent the top from cracking.