White Chicken Chili
White Chicken Chili recipe flavorful blend of tender chicken, white beans and just enough spice! This is my new favorite chili recipe for a cold winter day!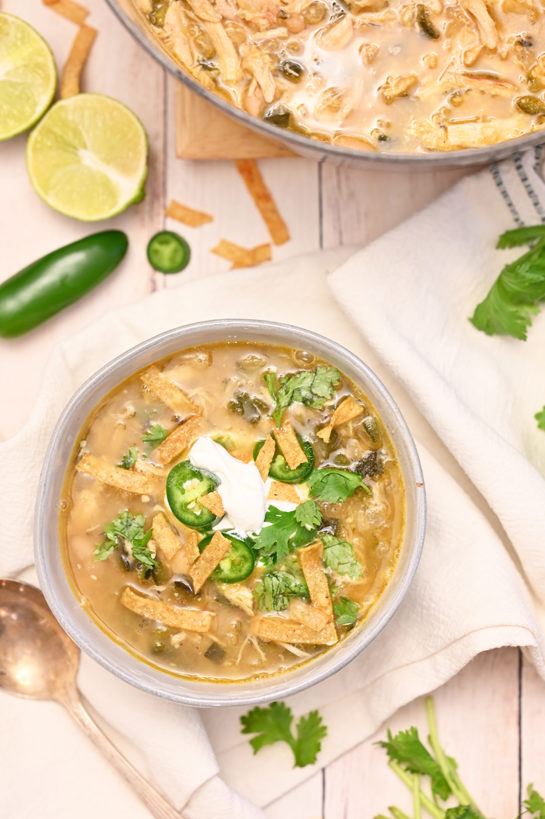 My only three words for this bowl of White Chicken Chili: OH MY GOODNESS.
This white chicken chili, guys. It's creamy and perfect. There's nothing better than a bowl of hearty soup on a cold day.
Wouldn't be the winter without another chili recipe, right?! Come on, you know you love my Chili Verde. I know you want to try a new one. I can barely even use the same one each time. What is it about chili that just makes you want to do whatever the heck you want with it? This version is the best!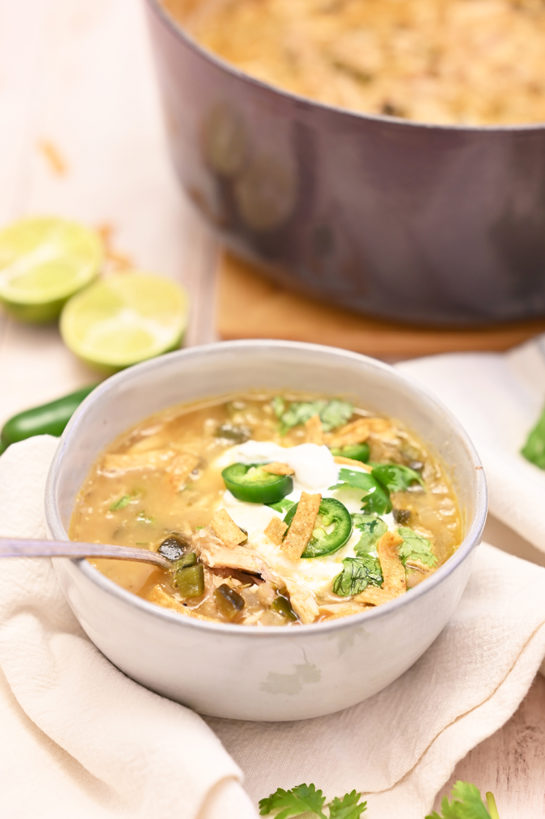 I have been on a quest for a awhile now to find the perfect white chicken chili recipe. A quest right this second to find the best one ever. And if you didn't think I was already basic enough, well… there you go. Basic and proud.
This chili would be awesome for game day, Halloween, a cold winter day, or a weeknight dinner. Really, I make this chili recipe all year 'round (hello, One Pot Chili Mac and Cheese). I just crave it all of the time and it's not like me to deny myself a craving. I can't help it. Run on sentences and all.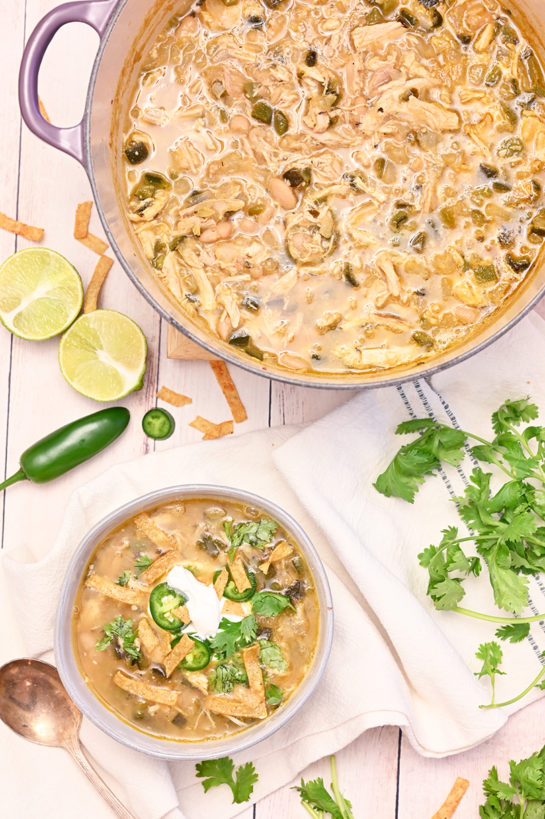 The thing with chili is that it's all about the amazing toppings. At least for us. Right? You can't have a bowl of chili without making it all pretty and delicious by adding tons of toppings. Sour cream, cilantro, tortilla chips, sometimes avocado, for that creamy and cooling factor. Give me ALL of it.
I used shredded chicken for this white chicken chili but if you are more of a ground beef person then you could totally use that or even ground chicken . I used ground beef in my Crock Pot Chili Queso Dip. You can make it however your little heart desires!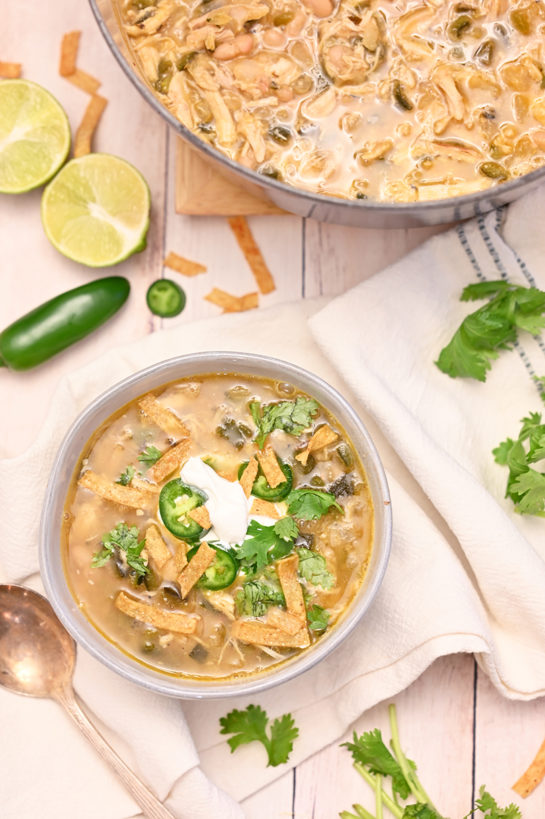 So what is your favorite chili recipe? Please share because I'd like to make some new version, but apparently don't want to put the work into looking for said thing. What can I say? I'm a #millennial. Honestly, I don't believe I'll find something I love as much as this white chicken chili.

White Chicken Chili
Prep time:
Cook time:
Total time:
White Chicken Chili recipe flavorful blend of tender chicken, white beans and just enough spice! This is my new favorite chili recipe for a cold winter day!
Ingredients
2 (14.5-ounce) cans white beans
1 tablespoon vegetable or canola oil
1 jalapeno pepper, minced
2 poblano peppers, chopped
1 large onion, chopped
4 garlic cloves, minced
Salt and pepper
1 tablespoon ground cumin
1 teaspoon chili powder
4 cups chicken stock
2 limes, juiced (save the wedges for serving)
1 rotisserie chicken, meat shredded
¼ cup chopped cilantro leaves
Sour cream and crushed Tortilla chips, for topping
Instructions
Drain and rinse the canned white beans.
In a medium bowl, mash half of the beans with a potato masher until
chunky. Set beans aside.
Add the oil to a large Dutch oven or heavy-bottomed pot and heat it over medium-high heat.
Add the peppers, onions, and garlic and saute until soft and fragrant, about 4-5 minutes.
Season the vegetables with salt and pepper, to taste.
Add the cumin and chili powder and continue to saute for 1 more minute to toast the spices.
Stir in the chicken stock and lime juice and bring to a simmer. Add the beans and continue to simmer for 15-20 more minutes.
Adjust seasonings, if necessary.
Stir in the shredded chicken and cilantro and simmer until heated (5 or so minutes)
Serve in individual bowls topped with a dollop of sour cream, crushed tortilla chips, and lime wedges. Enjoy!