Chili Verde
So I was amazed that I found a chili that I actually liked and had to share it with you ASAP.  I have always wanted to like beans, I've TRIED to like beans, but sometimes I just can't get past the texture.  It is generally too mushy or mealy for me, especially kidney beans.  I really don't mind the taste, but I hate the mushiness inside the skin of most beans. Kidney beans also look like ugly bugs to me for some reason.  I've just always had issues with them.  Everyone seems to think this is irrational but I think it's totally reasonable and makes sense.  So needless to say, I was excited to be introduced to Chili Verde where I didn't have to look at or taste a single kidney bean.
When it's super cold outside as it has been here lately (highs in the 30's some days already!), one thing that will always warm you up is a hot bowl of chili, especially when it has a nice little kick to it.  This chili is so delicious and unique and a bowl of this chili goodness on a cold blustery day will warm you up faster than a cup of hot chocolate in front of the fire.
Definitely put this on your dinner list.  It takes hardly any time at all to make.  This would be perfect with some cornbread…mmmmm.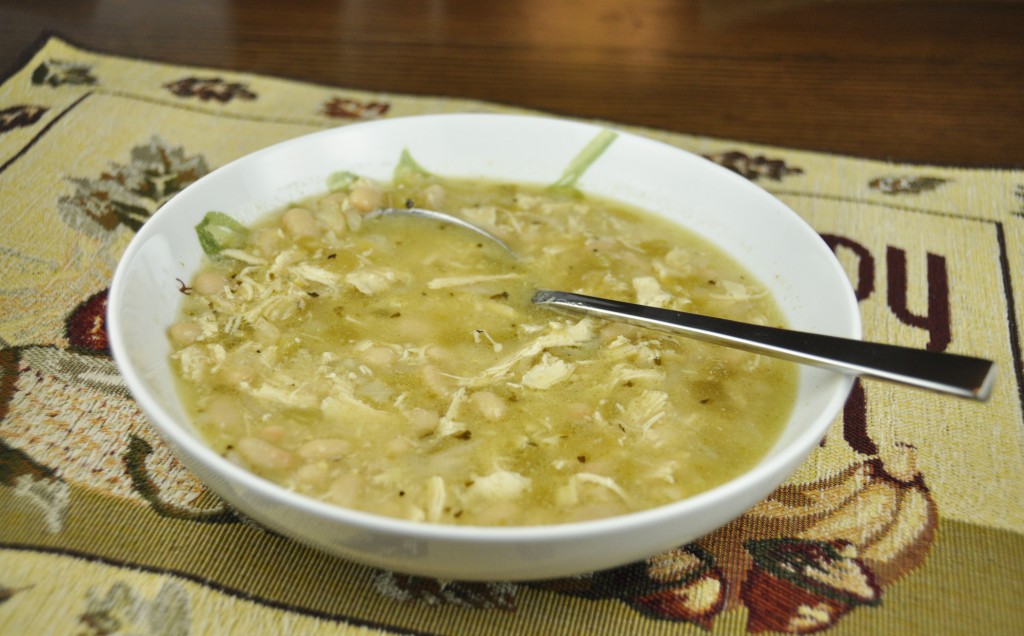 INGREDIENTS:
1 tablespoon vegetable oil
1/2 cup onion, chopped
2 cloves garlic, minced
1/2 Tablespoon ground cumin
1-4.5 ounce can chopped green chilies
4 pickled jalapeno rings, minced
2 chicken breasts, cooked and shredded
1 can northern beans, drained and rinsed (or any white bean will do)
2 cups chicken broth
dash oregano
salt & pepper
green Tabasco sauce, to taste
1 tablespoon cornmeal
1/4 cup milk
DIRECTIONS:
In a large pot, saute onion in oil on medium low heat until onions are translucent. Add garlic and cumin, and stir until fragrant, ~1 minute.
Add all ingredients from green chilies to Tabasco sauce into the pot and bring to a boil. Reduce heat to low and simmer for 20 minutes.
Stir cornmeal and milk together, add to pot and continue to simmer for another 10 minutes.
Recipe source: Iowagirleats.com