Berry Brown Sugar Dessert Pizza
Forget the ice cream, the taste of summer has a new face, and we're calling it Berry Brown Sugar Pizza.  My mother–in–law shared this recipe with me a couple of months ago and I finally got around to trying it out after it had been sitting on my desk all this time.  The recipe was for this fun and colorful twist on an easy–to–assemble, perfectly sweet, fruit pizza.  This dessert pizza is easy to put together and would make a great addition to a brunch, party, or any special occasion. It is certain to be a crowd pleaser for both adults and kids and anyone who enjoys pizza will love this.  I don't know anyone who DOESN'T enjoy pizza, do you?!
One great thing about this pizza is that the basic parts could be tweaked according to taste, season and what you have in your pantry at the moment.  I bet strawberries would also be a great addition.  Like most pizza it will not keep very long and will dry out, so plan on using it up pretty soon after making it.
Yup, that's right – pizzas are no longer just for lunch and dinner….they also make great desserts!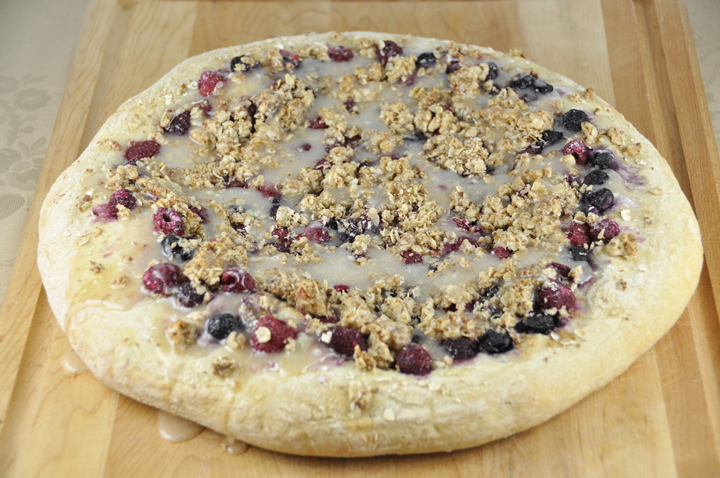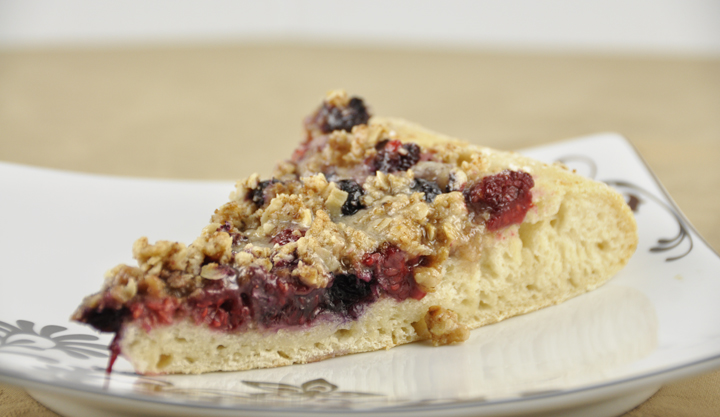 INGREDIENTS:
*Frozen fruit can be used in place of the fresh, but don't let it thaw before assembling the pizza.*
Crust:
 *can also use store bought pizza dough*
1-3/4 to 2-1/4 cups all-purpose flour
1 envelope Pizza Crust Yeast OR Rapid Rise Yeast
1-1/2 teaspoons sugar
3/4 teaspoon salt
2/3 cup milk
3 tablespoons butter
Fruit Filling:
1 cup fresh raspberries
1 cup fresh blueberries
2 tablespoons sugar
1 tablespoon corn starch
Streusel Topping:
1/2 cup all-purpose flour
1/4 cup brown sugar
1/2 teaspoon cinnamon
1/8 teaspoon nutmeg
6 tablespoons butter, softened
1/2 cup quick oats (not instant)
Frosting:
1 cup powdered sugar
1/2 teaspoon vanilla extract
1 to 2 tablespoons milk
DIRECTIONS:
Preheat oven to 425°F.
For the dough:
Combine 1 cup flour, undissolved yeast, sugar and salt in a large bowl.  Heat milk and butter until very warm (120° to 130ºF)*.  Add to flour and mix until well blended, about 1 minute. Gradually add enough remaining flour to make a soft dough.  Dough should form a ball and will be slightly sticky. Knead** on a floured surface, adding additional flour if necessary, until smooth and elastic, about 4 minutes.
Pat dough with floured hands to fill greased pizza pan or baking sheet.  OR roll dough on a floured counter to 12-inch circle; place in greased pizza pan or baking sheet (try to spread it so it's not too thick…mine was very thick and took a lot longer to cook through).  Form a rim around the pizza by pinching the edge of the dough. Cover with a towel and let rest 10 minutes.
For the topping:
Toss raspberries and blueberries with sugar and corn starch and let rest while preparing streusel topping.
Mix flour, brown sugar, cinnamon and nutmeg in a bowl.  Cut in butter with pastry blender or two forks until crumbly.  Stir in oats.  Spread fruit over pizza crust.  Sprinkle streusel over fruit.
Bake on lowest oven rack for 12 to 15 minutes, until topping and crust are browned.  Remove from oven and let cool on wire rack for 5 minutes.
Combine powdered sugar, vanilla and enough milk to make a smooth consistency.  Drizzle over pizza.  Serve immediately.
*If you don't have a thermometer, liquids should feel very warm to the touch.
**To knead the dough, add just enough flour to the dough and your hands to keep the dough from sticking.  Flatten dough and fold it toward you. Using the heels of your hands, push the dough away with a rolling motion.  Rotate dough a quarter turn and repeat the "fold, push and turn" steps.  Keep kneading dough until it is smooth and elastic.  Use a little more flour if dough becomes too sticky, always working the flour into the ball of dough.