Tomato, Spinach & Sausage Pasta Toss
Mr. Wishes and I have been trying to make some lighter meals lately now that summer is here and this is a dish I threw together Monday night for dinner.  It was just something quick and easy to put together and I was completely amazed at how flavorful, yet simple, it was.  It was even more flavorful than I thought it was going to be.  I love it when that happens!  It's not that often I throw dinners together without a recipe and it turns out well!
This recipe is light, but hearty enough to fill you up.  Mr. Wishes doesn't like a lot of spice in his food, but I bet some crushed red pepper would be excellent in this dish!
As is, it is kid-friendly, easy and delicious.  I definitely plan on making it again.  Here are some other healthier/lightened-up recipes I have posted recently:  Mozzarella Stuffed Chicken Burgers, Thai Quinoa Chicken Bowl, Pesto Pasta with Chicken Sausage and Roasted Brussels Sprouts.
Have a great Wednesday!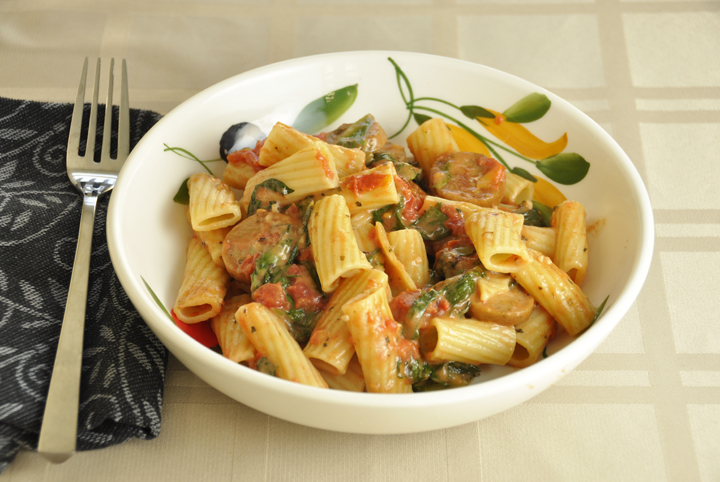 INGREDIENTS:
2 cups pasta, uncooked
1/2 lb. Italian sausage (or any sausage)
1 clove of garlic, minced
1pkg. (6 oz.) baby spinach leaves
1 can  (14-1/2 oz.) Italian-style diced tomatoes, undrained
1 and 1/2 cup shredded Mozzarella Cheese
1 Tbsp. dried Italian seasoning
Pinch of salt
DIRECTIONS:
Cook pasta in large saucepan as directed on package.
While the pasta is cooking, heat a large skillet on medium-high heat and cook sausage 10 to 12 minutes or until done, stirring occasionally. If using sausage LINKS that you cut up, add some olive oil to pan before heating.
Add minced garlic and cook with sausage until fragrant.  Don't let the garlic burn, keep it moving.  Drain (if you used ground sausage, if not, no need to drain the olive oil); return sausage to skillet. Add spinach, tomatoes along with their juices, Italian seasoning, and salt; cook 2 min. or until spinach is wilted, stirring occasionally.
Drain pasta; return to pan. Add sausage mixture and cheese; mix lightly.