Pesto Pasta with Chicken Sausage & Roasted Brussels Sprouts
I hope everyone is having a great week so far.  As for me, I'm feeling under the weather.  It is never fun to come back from a great vacation only to get sick but I'm thankful that it happened after I got home so it didn't ruin anything for me.  It doesn't help that it's a cold, rainy, gray, dark, nasty day here today.  I miss the California sunshine!
I'll bring some sunshine to this rainy day today with this deliciously amazing dish.  I have made this recipe several times now and absolutely love it!  I love roasted brussel sprouts (I ONLY eat them roasted) and all of the flavors in this dish go really well together.  It is a super low maintenance, light, and quick dinner for us when we are rushing through the week.  Chicken sausage is one my hubby's favorites and it was a great addition.
I love healthy pasta dishes like this because they are so easy to make and allow me to justify eating dessert afterwards 😉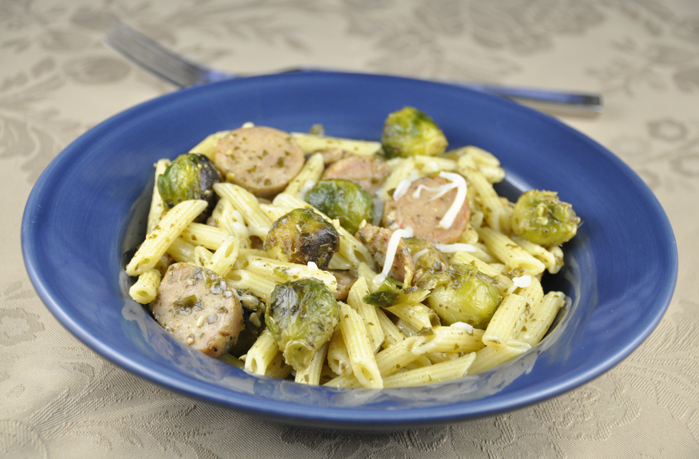 INGREDIENTS:
1 lb fresh brussels sprouts, ends trimmed and any yellowed/browned outer leaves removed, then sliced in half
3 Tbsp. olive oil, divided
1/2 tsp. salt
1/2 tsp. freshly-ground black pepper
1 lb  pasta
4 chicken sausage links (I used spicy Italian), sliced into 1/4″ thick coins
5 cloves garlic, peeled and thinly sliced
1/3 cup pesto
Parmesan cheese, for serving (optional)
DIRECTIONS:
Preheat oven to 400 degrees F. In a large bowl, mix together brussels sprouts, 2 Tbsp. olive oil, salt and pepper. Gently stir until well-combined.
Prepare a baking sheet with aluminum foil, then spread the brussels sprouts on it evenly. Roast for about 20-30 minutes, stirring once halfway through, or until they are crispy on the outside and cooked on the inside.  Remove from oven and set aside.
Meanwhile, heat the remaining olive oil in a skillet over medium-high heat. Add the sausage and cook, turning occasionally, until nearly-browned, about 6-8 minutes. Add the garlic, and continue cooking for another 1-2 minutes until the garlic is fragrant and the sausage is browned.
Cook the pasta according to the package directions. (I begin heating my water while preparing the brussel sprouts, and added the pasta to the boiling water just after beginning to cook the sausage.) Once the pasta is cooked, drain the water (reserving 1/4 cup pasta water), and then toss together the pasta, pesto, cooked sausage and garlic, and brussels sprouts. Add in the reserved pasta water to give the pasta more moisture.
Serve warm, and sprinkle with freshly-grated Parmesan cheese, if desired.
Recipe source: adapted from gimmesomeoven.com