Pasta with Peas, Smoked Almonds and Dill
Pasta with Peas, Smoked Almonds and Dill recipe is a great make-ahead side dish for barbeques, picnics or an easy vegetarian main course.  Perfect for 4th of July!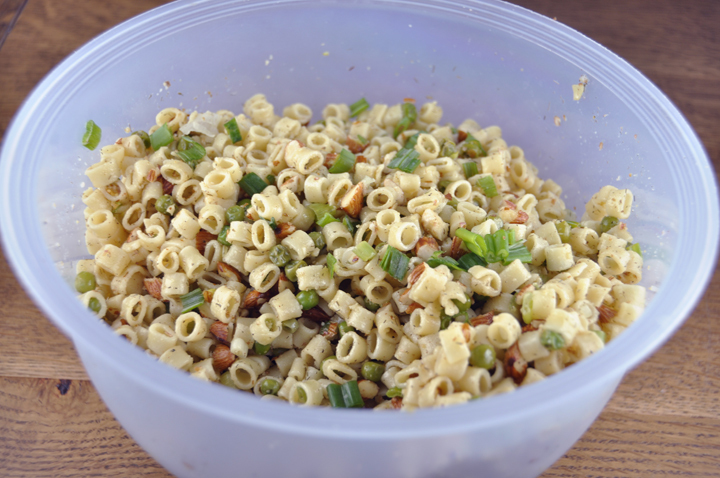 Happy Friday!  I have a new recipe idea to share with you today that will be your new favorite summer pasta salad.  This pasta with peas dish would be great paired with any main course but can also be an easy vegetarian dinner all by it's lonesome.  I think it is perfect on a night you're grilling out….because pasta salads like this just belong next to some juicy burgers or BBQ ribs.  That's a fact.  Pasta salads are one of those foods that are actually best when made ahead and I love that about them.  Anytime I can make something ahead of time and be able to concentrate on the other dishes closer to dinner time is alright by me!
I served this alongside some chicken pesto kabobs (recipe coming soon!)  Have a wonderful weekend 🙂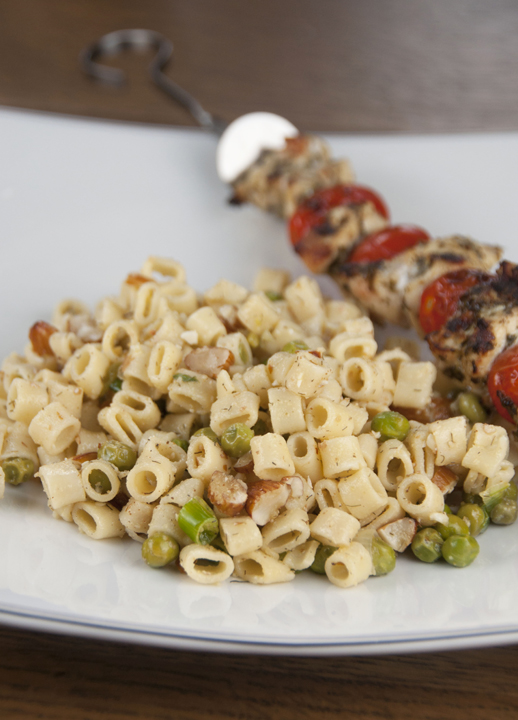 Pasta with Peas, Smoked Almonds and Dill
Prep time:
Cook time:
Total time:
Ingredients
16 oz. small dry pasta (ditalini, macaroni)
10 oz. fresh or frozen sweet peas
¼ cup fresh chopped dill
1 cup chopped green onion
1 cup chopped smoked or roasted almonds
1 lemon, zested and juiced
5 Tb. olive oil
2 Tb. dijon mustard
Salt and pepper
Instructions
Cooking the pasta according to the instructions on the package. Two minutes before it's ready, add the peas to the boiling water.
Once the peas have warmed through, drain the pasta and peas.
Pour the pasta with peas into a large bowl and allow to cool to room temperature.
Meanwhile, whisk the lemon juice, lemon zest, mustard, and oil together in a small bowl. Add ½ tsp. salt and ¼ tsp. pepper.
Pour the dressing over the pasta and mix well.
Add the dill and green onions and toss.
When ready to serve, mix in the almonds or sprinkle them on top (if you prefer them really crunchy).
 Recipe source:  aspicyperspective.com