The Day of the Groundhog
The Day of the Groundhog: why I love and appreciate the holiday that we all know as "Groundhog day" so much!
The Day of the Groundhog

Groundhog Day, February 2, has basically everything going for it that I  love in a holiday!  It marks a point in a season; it's full of folklore, legend, tradition, wisdom, entertainment, charm, mystery, and weather.  Last, but not least, it was featured in my all-time  favorite movie – "GROUNDHOG DAY"!
 Anyone who knows me knows that Groundhog day is at the top of my favorite holiday list. It's so great!  Sadly, I've often heard the whole concept of Groundhog Day referred to by haters as being as  useful as "Take Your Daughter to Work Day",  except that no one gets to  skip school.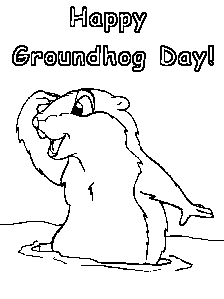 Another perk of the day is that I have always been fascinated by the weather, mainly storms, and actually aspired to be a weather girl or storm chaser at an early age….more on that at another time…. because I know you're interested.  I wouldn't want to steal the groundhog's thunder by talking about myself…
The   "official" groundhog is the most famous weatherman of all and lives in Punxsutawney, Pennsylvania. His name is  Punxsutawney Phil….imagine that.  According to legend, if Punxsutawney Phil sees his shadow (the day is  bright and sunny), there will be six more weeks of winter weather. If  he does not see his shadow (the day is overcast), there will be an early  spring.  The "large squirrel" comes out of his burrow at Gobbler's  Knob in front of thousands of followers from all over the world to  predict the weather for the rest of season.  He is correct 100% of the time, of course!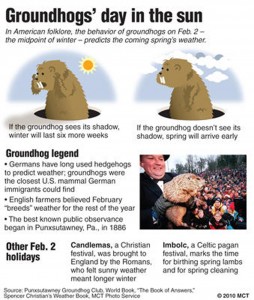 The movie "Groundhog Day" is outright hilarious and it's one I can watch over and over and over again (that will be amusing to you if you have seen the movie).  That's right, woodchuck chuckers, the film is about a television reporter ("Phil"..like the Groundhog, played by Bill Murray) who is assigned to this event  in rural Pennsylvania.  Essentially he keeps repeating the same day over  and over again until he finally grasps what life and love is all about.  I HIGHLY recommend this movie.  My family can attest to the fact that I quote it on a daily basis….and it never gets old! (Right, family?)Ever wanted to live a day over and over and over again?
Alright, altogether now: "It's Groundhog Day!!!!!"