Easy Groundhog Day Caramel Cupcakes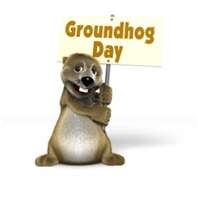 Hey, Fans! It's almost Groundhog Day (my favorite holiday…no, not kidding…more on this later in the week).
I tried to come up with a fun way to celebrate a holiday that doesn't get much attention…and to celebrate the special day, I thought it would be fun to make a groundhog-themed dessert.  What better way to pay homeage to the little guy?
They are almost too cute to eat!  I tried to make the faces look like groundhogs.  OK, so I have never been accused of being artistic or creative, but I tried my best!
Do you think Phil will see his shadow?  This year, I'm going by my own theory: if the groundhog sees his shadow, I get to eat six of these cupcakes.  If he doesn't see his shadow…well, I'm still going to eat six cupcakes! 😉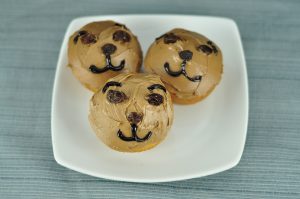 INGREDIENTS:
Cupcakes:
Your favorite box of yellow cake mix.
(No need to bake 100% from scratch all the time.  Delicious cakes can be made easy sometimes.)
Caramel Frosting:
8 tablespoons (1 stick) butter
1/2 cup packed light brown sugar
1/2 cup packed dark brown sugar
1/4 cup milk
2 cups confectioners' sugar, sifted
1 teaspoon pure vanilla extract
PREPARATION:
Prepare yellow cake mix and then bake according to package directions or cupcakes.
Frosting:
Place the butter and brown sugars in a heavy medium-size saucepan over medium heat.
Cook, stirring until the mixture comes to a boil, about 2 minutes.
Add the milk, stir, and let the mixture return to a boil, then remove the pan from heat.
Add 1 1/4 cup of the confectioners' sugar and vanilla.
Beat with a wooden spoon or whisk until the frosting is smooth.
Add 1/2 to 3/4 cup confectioners' sugar, but not so much that it thickens and hardens.
Spoon a heaping tablespoon of frosting on top of each cupcake and spread it with a short metal spatula or spoon, taking care to cover the top completely.
The cupcakes are ready to serve!