Chicken Tortellini Bake
I hope everyone had a great Superbowl Sunday and hope your week is going well so far.  Did your team win?  I definitely rooted for the Giants….if I didn't, my family just might have disowned me.  Being an avid New York Yankees' fan I just will never bring myself to root for a team out of New England.
If you're anything like me you don't even want to think about or look at food for another week because you stuffed your face to the max on Sunday.  Wait….who am I kidding? There's always room for more good eats!
For more interesting facts about the superbowl and food check out the image below.  I got it from the amazing world of images known as
Pinterest
.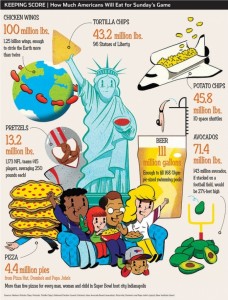 Now, on to the food of the day.  This recipe is perfect for a quick weeknight meal that you can just throw together in a pinch without compromising taste.  My pictures may stink because I took them in a hurry (I was hungry, OK!?) but I promise you the taste is just fantastic!
You can make this meal a few hours ahead of time and refrigerate it – it's a cinch!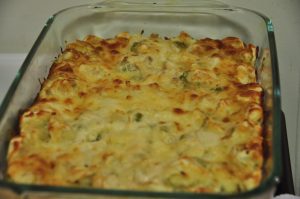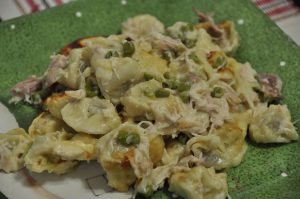 INGREDIENTS:
16 ounces fresh cheese or meat tortellini (or frozen, see note below)
1 tablespoon olive oil
2 boneless, skinless chicken breasts, cubed
3 green onions, finely chopped
2 tablespoons flour
8 ounces (1 cup) chicken broth
8 ounces sliced fresh mushrooms
3/4 cup sour cream
8 oz (2 cups) shredded cheese
PREPARATION:
Preheat oven to 350 degrees.
Spray a 9×13 pan with cooking spray.
In a large non-stick skillet, heat oil over medium heat. Brown the chicken  for 1-2 minutes and add the fresh mushrooms and green onions, cooking  until chicken is done and mushrooms are golden brown.
Sprinkle flour over chicken mixture and stir to combine. Cook for 1-2 minutes.
Add chicken broth and stir until thickened.
Mix in sour cream until mixture is creamy and slightly thickened.
Stir in uncooked tortellini.
Pour chicken and tortellini mixture into the prepared pan. Sprinkle with cheese.
Bake covered with foil for 30 minutes, uncover and bake for an additional 15 minutes or until bubbly and golden brown around the edges.
Note: You can use frozen tortellini too, but you'd have to boil it first,  leaving it slightly undercooked.
This dish is easy to adapt by adding  different vegetables (peppers and peas are also good) and it's even good  with ravioli or just regular pasta.
Enjoy!    
Recipe Source: adapted from melskitchencafe.com