Strawberry Hand Pies
These easy-to-assemble hand-held strawberry hand pies make a satisfying treat any time of the day and are perfect for spring and summer dessert!
For today's recipe I wanted to do something I have never done before. I have been wanting to try hand pies for quite some time now and decided to make a strawberry version since I had a lot of strawberries on hand.  These lovely hand pies are like little pockets of summer and would make the perfect breakfast treat.  One great thing about these is that after the hand pies have cooled, you can stick them in the freezer to take out and reheat for a quick and easy breakfast in the future!  Just popping them in the toaster oven would definitely do the trick for reheating them.  Now, onto the giveaway…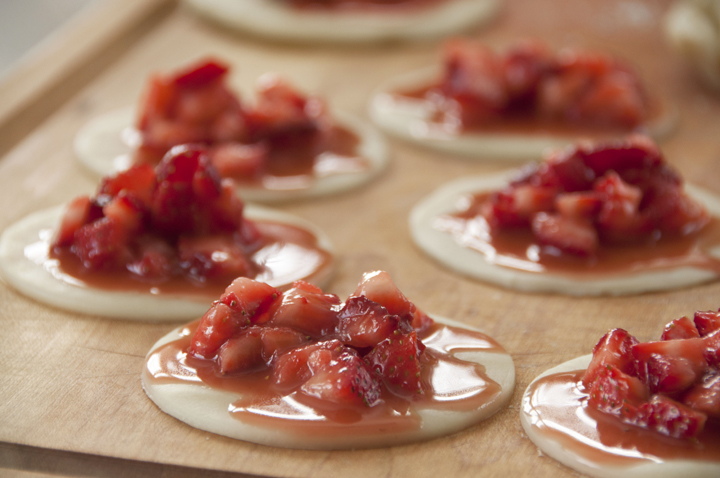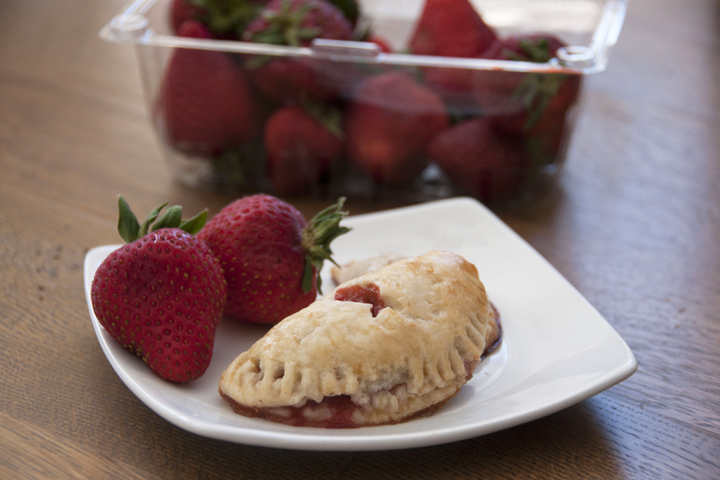 Progressive International, which is a large American company specializing in kitchen gadgets, sent me this awesome dough press set that I am giving away today!  If you visit their website you can read all about this great company and find out where to buy their wonderful products! You will find that their food preparation tools come in many fun colors with an aim to make the preparation stages of cooking and baking as easy and enjoyable as possible.  Some of Progressive's most popular products include kitchen storage solutions, onion choppers, bowls and mandoline multi slicers. You can buy anything you are looking for – from baking gadgets and cooking products to pantry solutions, spices, tools and accessories. I have their collapsible cake/cupcake carrier on my Christmas wish list this year (yes, I already have a list going)!
I love this dough press set! They are colorful (red, teal, and white), lightweight, easy to clean (dishwasher safe), and strong and sturdy as they are made with thick plastic that will hold up.  They are VERY well made but the hinges do seem to be a bit delicate so I just take care when opening and closing them to be sure they don't break.
These dough presses work great and are fairly easy to work with.  The one trick I found to using them is to keep them dusted with flour so the dough doesn't stick to them (I'm sure cooking spray would also work).  If you ever have to make big batches of anything (i.e. ravioli), these would make the job so much more efficient and everything would turn out nice and uniform. Besides ravioli, these would come in handy for a lot of other foods: calzones, empanadas, hot pockets, hand pies, wontons, pot stickers, dumplings, pierogi, and more!  These dough presses will make everything look professionally made in just four simple steps: cut, fill, fold, press.
The approximate diameters of the dough presses are 4", 5" and 6" so you can make all different sizes of whatever you plan on using them for in the kitchen.  My favorite part about them is that the base cuts the dough to the perfect size for the press and the top crimps it….it's so nice to be able to cut the dough and crimp it with just one kitchen tool!  The crimping was so much better than I would ever be able to do by hand.
These dough presses will make life so much simpler when it comes to making empanadas which is the next thing I plan on making with them in the near future!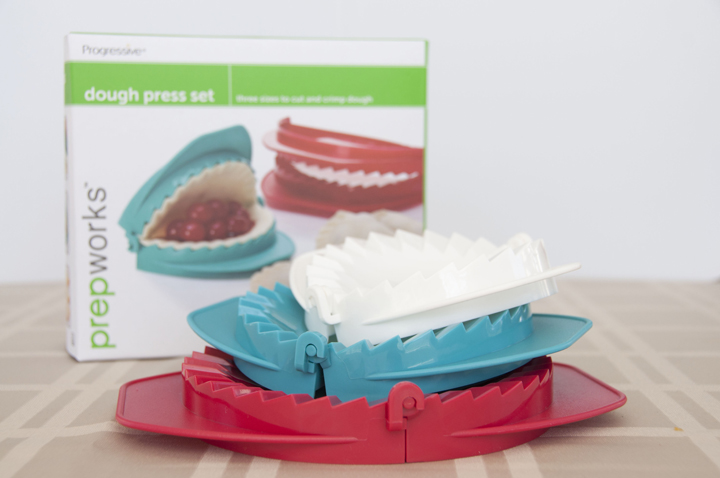 Strawberry Hand Pies
These easy-to-assemble hand-held strawberry hand pies make a satisfying treat any time of the day and are perfect for spring and summer dessert!
Ingredients
Pie Crust:
2 cups all purpose flour
¼ cup granulated sugar
pinch of salt
1 cup cold butter
½ cup ice cold water
Pie Filling:
2½ cups hulled and chopped fresh strawberries
2 tablespoons cornstarch
¼ cup brown sugar
¼ cup granulated sugar
pinch of salt
1 lightly beaten egg, for brushing
Instructions
To prepare the pie crust, whisk together the flour, sugar, and salt.  Cut in the butter into the flour mixture using a pastry cutter or two forks.
Using your fingers, work the butter into the flour until coarse crumbs form.
Pour in the water and work it into the dough with a fork or wooden spoon. Use your fingers to knead it slightly and press in any loose crumby dry mixture until everything is moist and combined.
Divide the dough in two pieces, shape into discs, wrap in plastic, and refrigerate for at least 2 hours.
While the dough chills combine the strawberries, cornstarch, brown sugar, granulated sugar, and salt.  Set aside.
Preheat the oven to 350 degrees and line a baking sheet with parchment paper or a Silpat mat (or butter generously).
Roll out the pie dough to ⅛-1/4 inch thick on a floured surface. Use a biscuit cutter to cut out the pies– I like to go with a circle that's about 3-4 inches across.
Spoon the strawberry filling onto each circle. YOU ONLY NEED A SMALL AMOUNT!! About 2 teaspoons or so of filling.
Fold the dough over the filling to create a half-moon shape. Press the edges with a fork, pastry cutter (or use dough press) and place each little pie on the prepared baking sheet an inch or two apart.
Pierce the top of each pie with a sharp knife so it can "breathe" while it bakes. I just make a tiny "X".
Brush the top of each pie with the lightly beaten egg.
Bake for 25-30 minutes. The tops will be a pretty golden brown.
Let them cool slightly before serving because they will be really hot inside.