Strawberry Hand Pies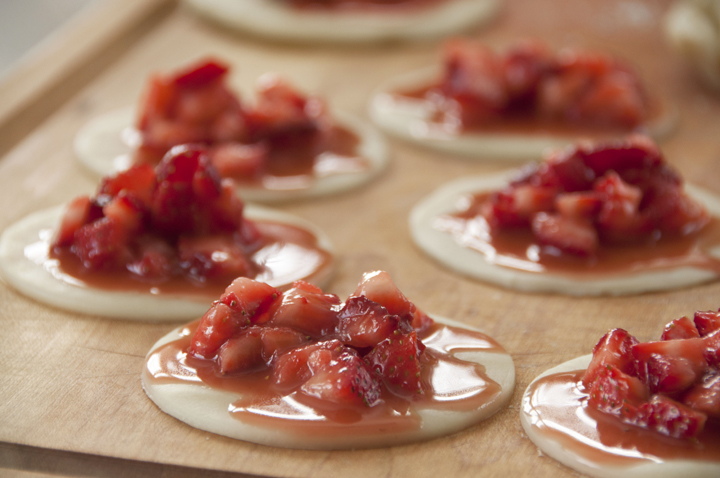 Pie Crust:
2 cups all purpose flour
¼ cup granulated sugar
pinch of salt
1 cup cold butter
½ cup ice cold water
Pie Filling:
2½ cups hulled and chopped fresh strawberries
2 tablespoons cornstarch
¼ cup brown sugar
¼ cup granulated sugar
pinch of salt
1 lightly beaten egg, for brushing
To prepare the pie crust, whisk together the flour, sugar, and salt.  Cut in the butter into the flour mixture using a pastry cutter or two forks.
Using your fingers, work the butter into the flour until coarse crumbs form.
Pour in the water and work it into the dough with a fork or wooden spoon. Use your fingers to knead it slightly and press in any loose crumby dry mixture until everything is moist and combined.
Divide the dough in two pieces, shape into discs, wrap in plastic, and refrigerate for at least 2 hours.
While the dough chills combine the strawberries, cornstarch, brown sugar, granulated sugar, and salt.  Set aside.
Preheat the oven to 350 degrees and line a baking sheet with parchment paper or a Silpat mat (or butter generously).
Roll out the pie dough to ⅛-1/4 inch thick on a floured surface. Use a biscuit cutter to cut out the pies– I like to go with a circle that's about 3-4 inches across.
Spoon the strawberry filling onto each circle. YOU ONLY NEED A SMALL AMOUNT!! About 2 teaspoons or so of filling.
Fold the dough over the filling to create a half-moon shape. Press the edges with a fork, pastry cutter (or use dough press) and place each little pie on the prepared baking sheet an inch or two apart.
Pierce the top of each pie with a sharp knife so it can "breathe" while it bakes. I just make a tiny "X".
Brush the top of each pie with the lightly beaten egg.
Bake for 25-30 minutes. The tops will be a pretty golden brown.
Let them cool slightly before serving because they will be really hot inside.