Steak and Egg Breakfast Burritos
I now present to you the conclusion of Mexican food week here on Wishes and Dishes.  I know, I'm crying too.  But look at the bright side – you know Mexican food will still be making frequent appearances on this blog.  I love it too much to let it only be confined to one week.
So did you enjoy all of the recipes this week? Which was your favorite?  If you need a reminder of your options to choose from, here they are:  Chicken, Bacon and Ranch Stacked Enchiladas, Chipotle Chicken Burrito Bowls, Taco Stuffed Shells and Mexican Frozen Hot Chocolate.  I've tried them all, obviously, so I'd have to go with the frozen hot chocolate as my favorite.  Of COURSE I'm going to pick the dessert.
This gem of a recipe I'm sharing with you today is inspired by the breakfast burritos we ate constantly while we were in California back in May.  Hands down, I ate the best Mexican food of my life while visiting the west coast.  Once again, this is something I needed to recreate at home as soon as we got back to Rochester because I knew I wouldn't be able to live without them for very long.  Since then I've made other versions of California style burritos that I will eventually share with you, too.
Have a great weekend!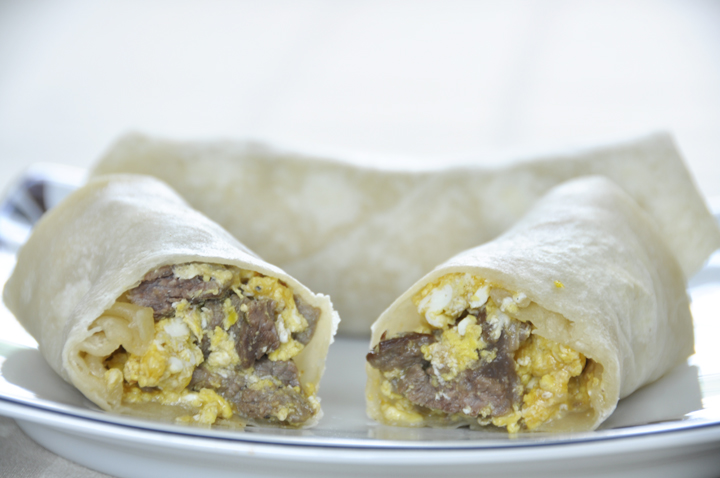 INGREDIENTS:
6 ounces skirt steak, trimmed, cut into 1/3-inch-wide strips or cubed (can also use flank steak)
2 teaspoons fresh lime juice
1 1/2 teaspoons chili powder
salt & pepper
2 tablespoons olive oil, divided
4 large eggs
2 10-inch-diameter flour tortillas (burrito-size)
2/3 cup grated Monterey Jack or Cheddar cheese, divided
DIRECTIONS:
Combine skirt steak, lime juice, and chili powder in small bowl; toss to coat. Sprinkle with salt and pepper. Heat 1 tablespoon olive oil in small nonstick skillet over medium-high heat.  Add skirt steak and saute about 1-2 minutes for medium-rare; remove from heat.
Whisk eggs in small bowl. Sprinkle with salt and pepper. Heat remaining 1 tablespoon oil in medium non-stick skillet over medium-high heat.
Add eggs and stir with heatproof rubber spatula until softly scrambled, about 2-3 minutes. Remove from heat.
Optional: Place flour tortillas in skillet to warm, just until softened and heated through, turning occasionally, about 15 seconds per side.
Place 1 tortilla on each plate. Divide steak between tortillas, placing down center of tortillas. Top each with 1/3 cup cheese, then half of scrambled eggs, 1 tablespoon onion, 2 tablespoons cilantro.  Fold up 2 sides of tortillas over filling, then roll up enclosing filling completely.  Serve with salsa, sour cream, or hot sauce if desired.
*You can use more/less steak, and more/less egg to your liking.