Drop Biscuits and Sausage Gravy
I'm excited to share this recipe with you today.  I actually made this for DINNER the a couple of nights ago because I was craving somewhat of a breakfast food for dinner for a change and this is what I decided on.  Mr. Wishes loved it and we both agreed it would be perfect if we ever have guests over for breakfast.
I've had biscuits on the brain lately ever since being down south in Savannah, Georgia a few months ago.  Biscuits and gravy were everywhere down there, and while those biscuits are unparalleled, these are pretty darn good.  I know that biscuits and gravy are not considered healthy by any means, but this a good, hearty Southern-type meal.  It's probably not something you should eat every day, but it's OK to treat yourself once in a while and send yourself into breakfast Heaven (or dinner Heaven, if you so choose.)
I really really love biscuits and gravy and making these were so easy.  The drop biscuits saved me so much time without having to roll out the dough and cut it, etc.  And of course it goes without saying that homemade is way better than the canned biscuits.  Also, if you prefer more crisp biscuits, you can serve the gravy on the side and dip the biscuits in it as you go.
This meal was absolutely delicious and such wonderful comfort food… especially when it's only been in the high 60's here the last few days.  Summer, where did you go?!
I hope you give this meal a try.  What can compare to homemade biscuits and gravy? I can't think of a single thing…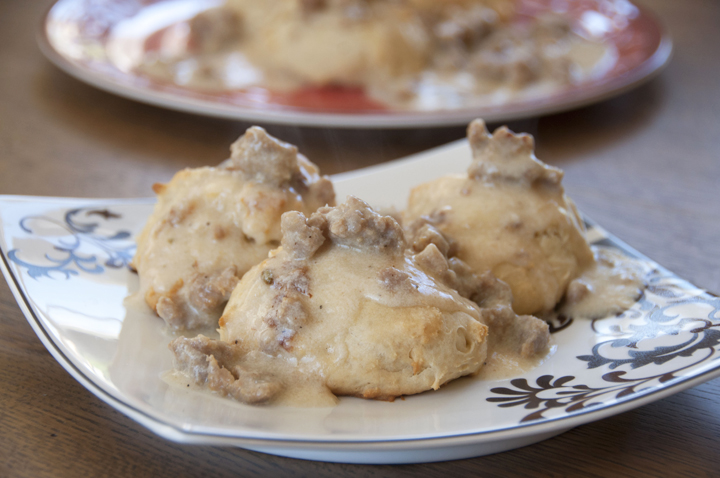 INGREDIENTS:
Biscuits
3 cups All-purpose Flour
2 Tablespoons Baking Powder
1/2 teaspoon Salt
1-1/2 stick (3/4 Cup) Cold Butter, Cut Into Pieces
1-1/4 cup Buttermilk
Sausage Gravy
1 pound Breakfast Sausage, Hot Or Mild
1/3 cup All-purpose Flour
4 cups Whole Milk
1/2 teaspoon Seasoned Salt
1 and 1/2 teaspoons Black Pepper
DIRECTIONS:
BISCUITS
Preheat oven to 400 degrees.
Add flour, baking powder, and salt to the bowl of a food processor (or a large bowl.) Add butter pieces and pulse until butter is completely cut into the flour mixture (or use a pastry cutter if using a bowl.) While pulsing (or stirring) drizzle in the buttermilk until dough just comes together and is no longer crumbly.
Drop in clumps on two baking sheets, then bake for 15-17 minutes, or until golden brown.
SAUSAGE GRAVY
With your finger, tear small pieces of sausage and add them in a single layer to a large heavy skillet. Brown the sausage over medium-high heat until no longer pink. Reduce the heat to medium-low. Sprinkle on half the flour and stir so that the sausage soaks it all up, then add a little more until just before the sausage looks too dry. Stir it around and cook it for another minute or so, then pour in the milk, stirring constantly.
Cook the gravy, stirring frequently, until it thickens. (This may take a good 10-12 minutes.) Sprinkle in the seasoned salt and pepper and continue cooking until very thick and luscious. If it gets too thick too soon, just splash in 1/2 cup of milk or more if needed. Taste and adjust seasonings.
Spoon sausage gravy over warm biscuits and serve immediately!
Recipe source: adapted from thepioneerwoman.com