Gluten Free Blueberry Hand Pies
 Who doesn't like a nice warm homemade pie?  These Gluten Free Blueberry Hand Pies are a sweet comforting recipe perfect for fall baking!  These are great dessert for snacking on or packing into lunch boxes.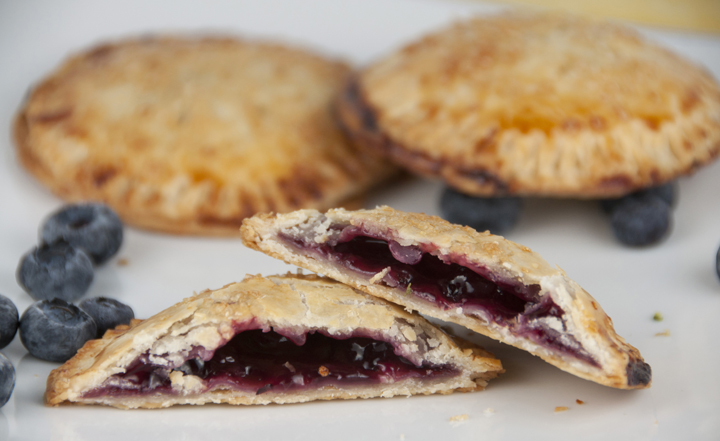 Blueberry pie has to be my absolute favorite kind of fruit pie.  It definitely doesn't get as much attention around this time of the year as the pumpkin pies and apple pies get, but I haven't forgotten about it 🙂  Blueberries make me think of summer and that is a very good thing for any time of the year.  I used Bob's Red Mill Gluten-Free pie crust mix to create these hand pies!  They are so cute, aren't they?!  I love individual desserts like this and am just in love with hand pies after making these strawberry hand pies last summer.  Well, today is my BIRTHDAY and I'm giving a great prize away to one of my readers!!!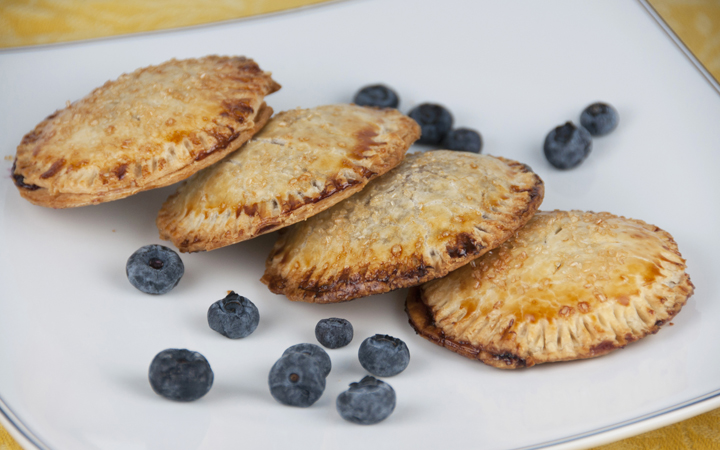 UPDATE: The winner of the Bob's Red Mill gift basket is:
#39 – Rosie: "My favorite is a peach pie, when peaches are fully ripened and juicy and fragrant. With a lattice top!"
Congratulations, Rosie!  Be sure to reply to the email you've been sent and prize will be shipped out to you!  Thank you to everyone who entered
A company that makes really great products and strives to bring you healthier food choices is a company called Bob's Red Mill.  At Bob's Red Mill, they make wonderful food products for people who strive to eat better and live healthier.  If your New Year's resolution for 2014 is to eat better, Bob's Red Mill will be your new best friend!  In our home, we have had countless products from them ranging from their pancake mix to their cereal blends.  Bob's Red Mill makes wholesome, natural, and delicious food for everyone.
Bob's Red Mill started as a family-owned company but recently became an employee-owned company because of Bob's dedication to his employees and his company. They have been offering real, natural, whole grain products for decades.  You can be certain that if Bob's name is on the package, you can feel good about serving it to your family!  They do not use any GMOs (genetically modified organisms) in their products. Also, for those who are gluten-free, Bob's offers a variety of gluten-free products. Every batch is tested in special gluten-free rooms and packaged in a separate gluten-free division to prevent cross-contamination.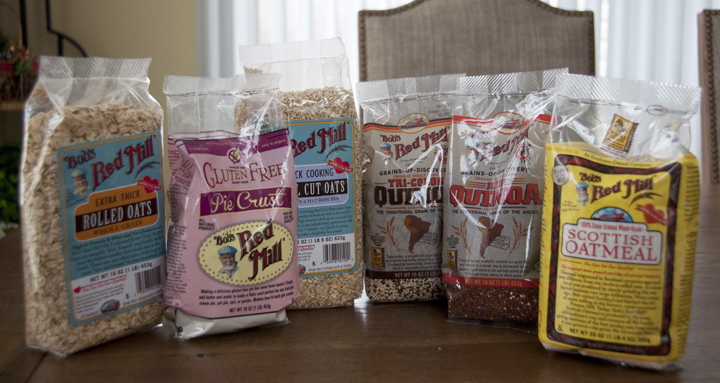 There is a new product of theirs that makes pie baking even more fantastic!  Bob's Red Mill has released their gluten-free pie crust mix.  It makes for a tender, flaky, gluten-free (as well as dairy-free and corn-free) pie crust and it just takes five EASY steps to make:  mix, chill, roll, fill and bake.  Each 16-oz. package makes 2 9-inch pies. You can use one pie crust now and freeze one for later!
Everyone loves a good homemade pie, but making one intimidates a lot of people, myself included. If you want to learn how to make pie, and you don't have a lot of time, I highly recommend the Bob's Red Mill gluten-free pie crust mix.  It is perfect for fruit, cream, or pot pies, as well as quiches and galettes.  It is a little bit crumbly, so follow the directions and keep it as cold as possible while you work with it.
Scottish Oatmeal:
These are a great whole grain for healthy eating, and they taste great too.  They are good with butter and salt, some brown sugar, or a more healthy sweetener or berries.  You can also stir it into a bowl of unsweetened yogurt, agave syrup, chopped almonds and a spoonful of ground flax seed. It makes for a wonderfully healthy, high protein, high fiber breakfast which will keep you full for a while!
Steel Cut Oats:
This is a great oatmeal with a nutty flavor.  It doesn't get mushy like instant oatmeal, which I like!  A great method for steel cut oats is to cook them over night on low in a little crock pot. You can wake up in the morning to a yummy, hearty breakfast that carries you through until lunch time.  My Serving Suggestions:  1. Serve with milk, cream, or a pat of butter.  2. Add brown sugar, honey, or maple syrup for sweetness.  3. Add fresh or dried fruit, raisins, nuts, or a little bit of cinnamon.
Rolled Oats:
These oats are rolled quite thick, resulting in chewy oatmeal that takes longer to cook (10 minutes) than more conventional, thinly rolled oats. They have a wonderful, substantial texture.  They make for wonderful oatmeal, granola, muffins, cookies, and you can even grind them in the food processor to make gluten-free oat flour!  They are whole grain, organic, and delicious.
Quinoa:
Quinoa is one of the healthiest grains you can eat – and one of the most delicious!  It cooks in less than 15 minutes, so you can make a fast and delicious dinner using this quinoa.   If you've never had quinoa before, it is softer than rice and has a slightly sweet and nutty taste to it.  Bob's Red Mill has the best Quinoa that I've tried. It is also pre-rinsed, which is a bonus!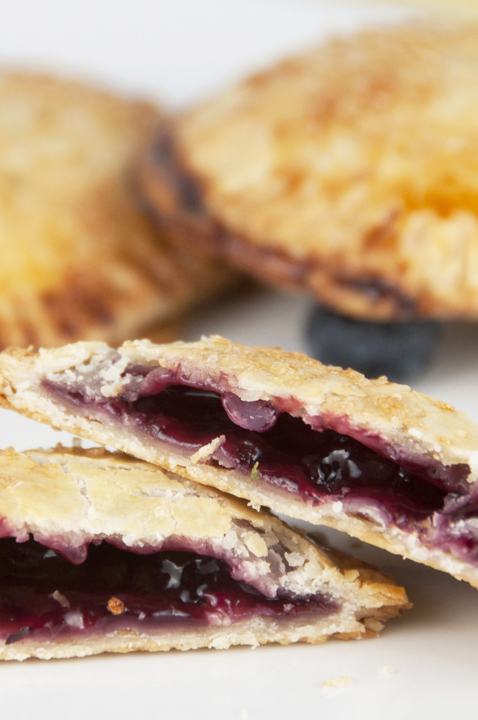 Gluten Free Blueberry Hand Pies
Gluten Free Blueberry Hand Pies are a sweet comforting recipe perfect for fall baking! These are great dessert for snacking on or packing into lunch boxes.
Ingredients
1 package Bob's Red Mill Gluten Free Pie Crust
8 ounces frozen blueberries
2 tablespoons sugar
2 tablespoons corn starch
1 egg
1 teaspoon water
3 tablespoons turbinado sugar (can use regular, but course sugar is better)
Instructions
Prepare pie crust according to directions on the package. This package makes enough for 2 9-inch pie crusts. If you don't have time to make your own pastry crust, then use 2 refrigerated 9-inch pie crusts for making the hand pies.
Preheat the oven to 425°F.
Line a baking sheet with parchment paper or a silicone baking mat.
In a medium bowl, stir the frozen blueberries, sugar and corn starch together.
Roll out the chilled pie crusts on a floured surface until it's about ⅛″ thick.
Cut 3¼ inch circles out.
Re-roll scraps and cut out more rounds.
In a small bowl, beat the egg and water together to make an egg wash.
Brush the egg wash lightly over half of the circles.
Scoop a heaping tablespoon of blueberries into the center the egg washed circles.
Gently and slightly stretch out the other circles.
Using a fork, poke a few holes in the circle and place them on top of the blueberry topped circles. Press down the sides. Place them on the baking sheet.
Brush the pies with egg wash and sprinkle with turbinado sugar (or regular sugar).
Bake for about 14-17 minutes or until golden brown.
Serve warm.
Note: If you choose to only use half of the dough, leftover unbaked pie crust dough can be frozen for 3 months then thawed in the fridge before rolling out and using.
Recipe source:  adapted from Chocolate and Carrots