Sightseeing in Los Angeles
I started to tell you about my trip to California and my time in San Diego last week. In the middle of the week, we took a drive up to Los Angeles and stayed there for a couple of nights. We packed a lot into just a few days and I wanted to tell you all about it!
Let me start off my saying that California has the most beautiful landscape I've ever seen….anywhere. At some point in your lifetime, everyone should drive along the Pacific Coast Highway.  Each mile is more beautiful than the one before it. We were hardly able to drive even 1 mile straight through without having to pull over on the side of the road to take photos. There's just too many unbelievable views to see and we had to take it all in. The mountains are so incredible and top it off with the beautiful ocean views and it's unparalleled.
Santa Monica Pier was our first stop and was full of shops, games, rides and food.  It's a fun place to walk around and enjoy the gorgeous scenery.  It is located in western L.A. and is recognizable from TV and movies and an all around cool place to hang out and people watch.  We then spent some time walking around The Third Street Promenade, which is an upscale shopping, dining and entertainment complex in the downtown area of Santa Monica.  You stroll right down the middle of a street that was closed to vehicular traffic years ago.  If you don't like a lot of tourists and crowds this may not be your cup of tea., but I loved it so much that we actually made this our first AND last stop during our time in L.A.
We then headed on over to Pasadena to explore a little and have dinner. This is a great place to visit as there is so much to do in Old Town.  There are a lot of restaurants to eat at, shops to enjoy, theatres to see a movie, clubs to enjoy the night life, coffee and tea shops, and yogurt and ice cream shops.  I could never get bored here as there's so much uniqueness and history to the place and there's always something new and different to do.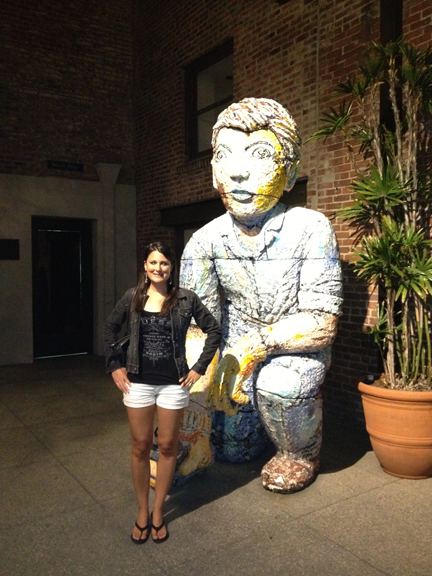 We ate dinner at a restaurant called Mi Piace that we had passed by a couple of times while exploring Pasadena and we thought it looked pretty nice and like a social "happening" place to be.  They have an outdoor area that you can eat at which we both love to do when the weather is nice. I really liked the environment, the location, the vibe, and the lovely food presentation…and honestly, I was surprised how inexpensive the food was.  All in all, it was a fun place to try out and it was decent food for the price, but nothing over-the-top special.
Our last stop that night was to snap a picture of the Rose Bowl which is an athletic stadium in the area that is the home field of  the UCLA Bruins football team and the site of the annual college football bowl game, the Rose Bowl, held on New Year's Day.  Pretty cool (mostly for guys, I guess) 🙂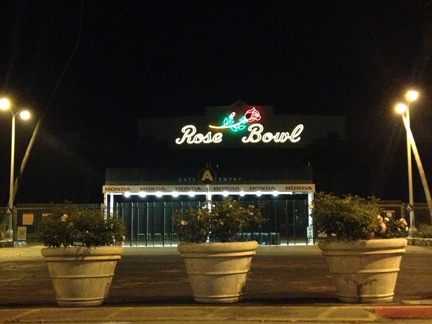 We went back to the hotel to sleep and the next day we woke up early and headed out.  Our first stop?  13927 Saticoy Street in Van Nuys to visit the studio of my favorite TV show, "The Office"!  It is tucked away on a sleepy and very industrial street in a spot I would least expect it to be located.  I absolutely love this show and have been obsessed with it since the beginning, so needless to say, this was the highlight of my entire California trip!  I have goosebumps just thinking about how exciting it was to be there 🙂  I'm an Office nerd!  The most exciting part was that my hubby surprised me and I had no idea we were even that close to the location where it was all filmed.  Now that the show is over, the usual props (characters' cars, Dunder Mifflin signs, etc.) were gone but it was still beyond exciting for me!  Thanks, hubby!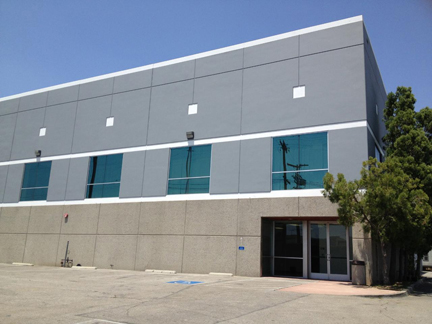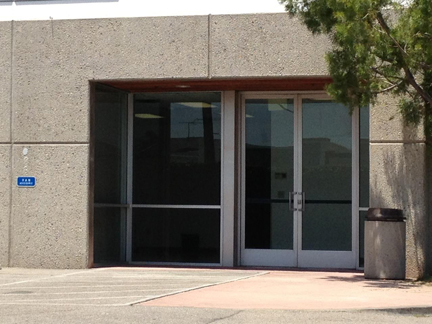 Next stop: Hollywood!  We stopped by the famous Hollywood Walk of Fame.  This was the only part of the trip that was a bit of a disappointment for me.  I don't know if that was because of all the tourists around, or the people giving out flyers, discount cards, directions to gift shops, C.D's etc, or just because of all the buzz around.  It was just not at all what I was expecting, which was something more lavish and outstanding.  It was a little bit difficult to enjoy this place and if you wanted to stop and read the stars then you would probably block someone's path as it was really crowded there.  I'm pretty sure this area was much more glamorous way back in the day when it first started out.  If you're in the area and feeling touristy, then definitely check it out once just to say you've been there, but my opinion is that there are far better things to see and do around the LA area than the Walk of Fame….sorry Hollywood!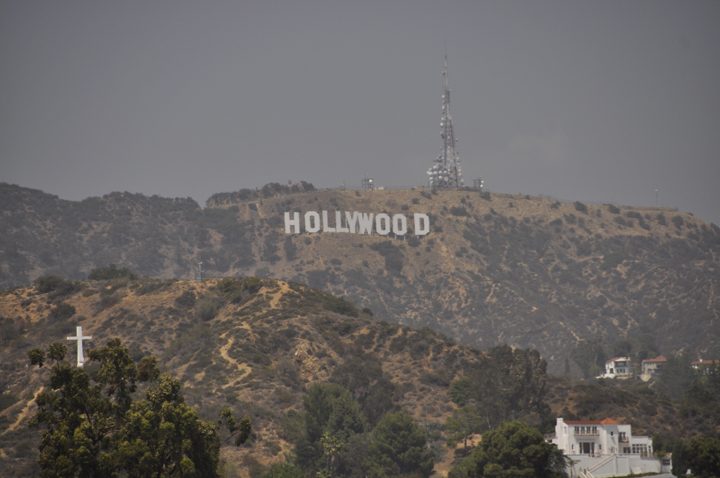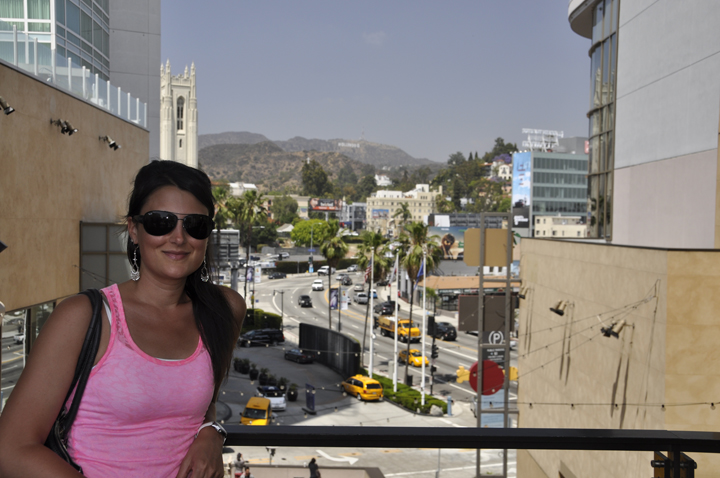 We left Hollywood and headed to Griffith Observatory which sits on the south-facing slope of Mount Hollywood in Los Angeles' Griffith Park.  There are many different exhibits featuring astronomy and an absolutely gorgeous view once you actually step outside. You can see so much of Los Angeles and the Hollywood sign is more visible from up there.  This is a great place for photographers to take some amazing photographs.  There is even a movie theater inside the observatory where you could buy tickets to learn something new.  The great part about it is that everything was completely free!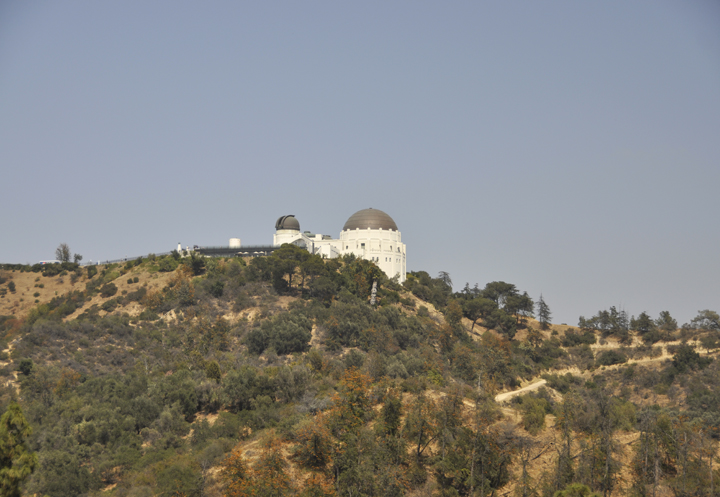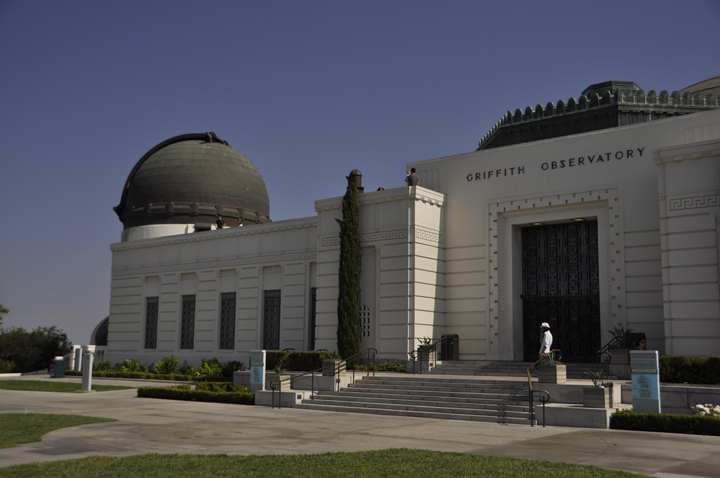 After this, we went to Beverly Hills (I told you we did a lot in a couple of days!).  This is the most posh part of LA I saw on my trip, and although we were only there for a couple of hours, it is worth a visit and is great for walking around and people watching. The famous Rodeo Drive is filled with high-end stores pretty much geared towards the rich & famous.  If you are not rich or famous, Rodeo is still a lovely place for a nice walk, window shopping, photos, or to have a nice lunch.  Opposite Rodeo Drive is the Beverly Hills sign which we saw people taking pictures in front of as we drove by, and further on are the mansions that are worth a little drive-by to see how the other half live.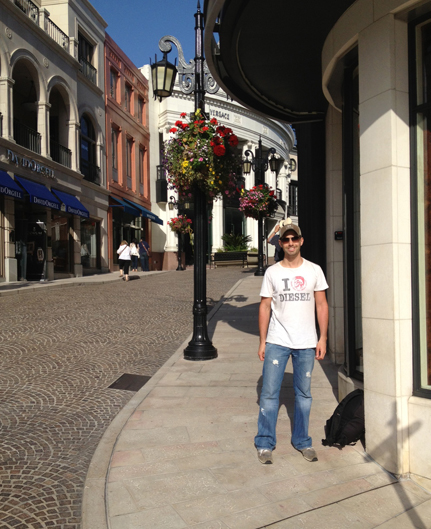 After Beverly Hills, we met up with some friends in Marina del Rey and hung out on their boat until late.  Sadly, I didn't take any pictures but it was a great time.  We were supposed to go on a sunset sail but arrived too late and the sun had already gone down (thank you, L.A. traffic!).
For our last day in L.A., we took the scenic route to Malibu Beach and drove through the Santa Monica mountains (not a good drive for those who are scared of heights!).  We were driving on switchback roads with hairpin turns and a lot of spectacular mountain scenery and terrain.  It was amazing!  Too bad I felt completely car sick for most of that drive 🙂  I did stop to get a picture once I had a nice view of the Pacific ocean just beyond the mountains.  Breath-taking!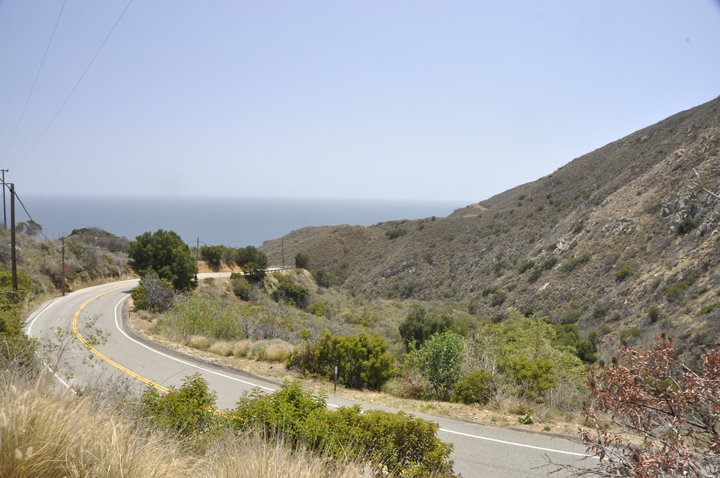 We stopped in Malibu to have lunch and had a nice relaxing time.  We ate at the cutest little sandwich and snack shop called John's Garden.  Apparently, a lot of celebrities frequent this place but we didn't see anyone in the time that we were there (that we knew of).  I took some pictures of the beaches there – I just could NOT believe how many beautiful places there are to see in California.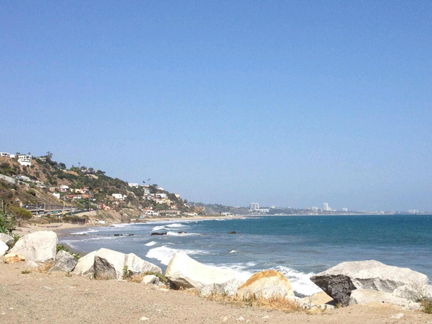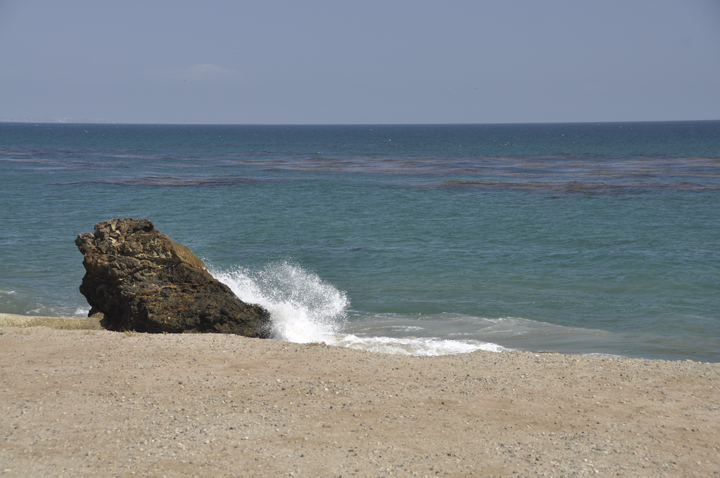 We ended our time in L.A. with one last stop in Santa Monica.  We only had time to do one more thing and I chose here since the night we were there was really cloudy and foggy and I wanted to see how it looked in the sunlight.  It was a great way to wrap up our time in Los Angeles!  I can't wait to go back someday as there's so much to do and see there.  What a great city!