Skillet Taco Rice with Queso
Skillet Taco Rice with Queso filled with tex-mex flavor is an easy, cheesy Mexican dinner recipe idea! You will want to eat this every day!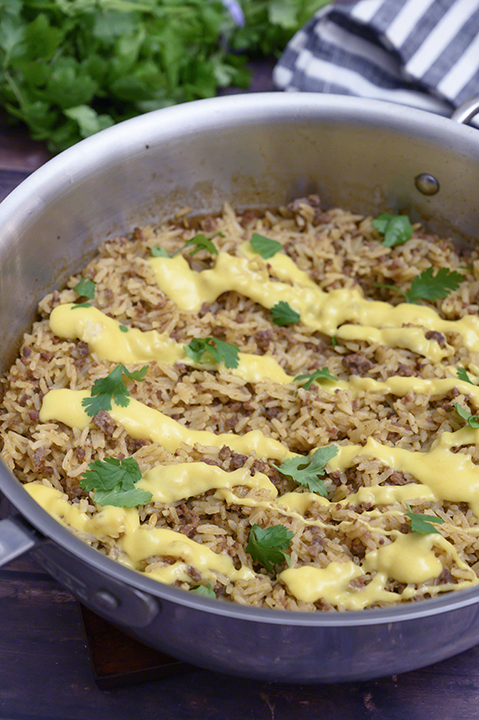 I know that I post a lot of skillet meals like my Southwest Chicken Skillet, but it seems like you all love them as much as I do. This Skillet Taco Rice with Queso is one of my new favorites. It is so simple but packed with flavor. I almost could not believe such simple ingredients would end up tasting as good as they did. Love it when that happens!
My little family took out first vacation in 7 months last week. We always plan our trips not too far in advance, but this time we set a new record. We literally did not know whether or not we were going until the morning we were supposed to fly out. Eliza had her first cold and I was sick, as well! A last minute deal on a cruise we couldn't turn down and everything falling into place and we were off to Florida!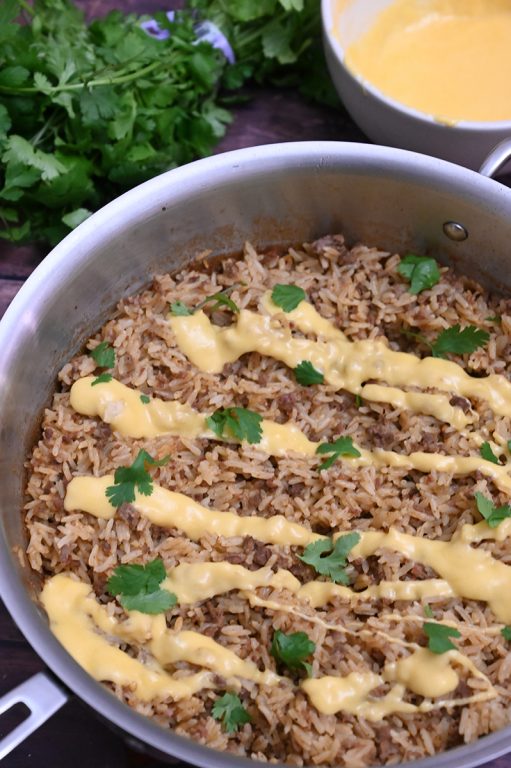 We landed an interior room overlooking central park on the Symphony of the Seas. Mr.  Wishes and I were not at all knowing what to expect bringing a 10 month old baby on a cruise. Turns out it was the best decision ever. It actually turned out to be the perfect vacation for a baby. She had a smile on her face seriously the entire week. The only times she cried were when she had to go to bed for the night. Even the couple of days she had the cold, she was in a great mood (she takes after Mr. Wishes).
Our spoiled little princess go to ride her first carousel, try all different kinds of foods and desserts, take all her naps out by the pool in our arms, be the little social butterfly she is. A cruise is the perfect place for people-watching, obviously.
Eliza actually loved this Skillet Taco Rice also. I gave it to her without the queso and she gobbled it up. One skillet meals, like my Cheesy Taco Pasta, make throwing together dinner so easy and saves time on cleanup. These days, I need any time saver I can get. My Easy Taco Pie is another go-to meal.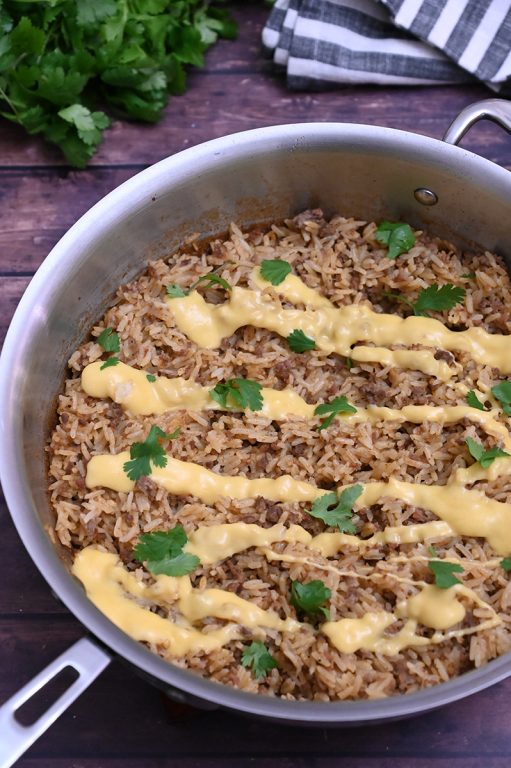 Now that we are back from the cruise, my food has been a little disappointing to her. She is used to the huge buffet on the ship and having a giant variety of foods at every meal.
If she wasn't fond of something, we would just get her something else. She was very spoiled! I have to step up my game with her meals now. Royal Caribbean gave me big shoes to fill…
You also need to try my Chicken Enchilada Skillet. Enjoy!

Skillet Taco Rice with Queso
Prep time:
Cook time:
Total time:
Skillet Taco Rice with Queso filled with tex-mex flavor is an easy, cheesy Mexican dinner recipe idea! You will want to eat this every day!
Ingredients
Taco Rice:
1 pound lean ground beef
1 small onion, diced
Salt & pepper
1½ cups uncooked white long grain rice
1 package taco seasoning
½ teaspoon garlic powder
4 cups chicken stock
Fresh cilantro, chopped
Queso Sauce:
8 ounces white American or white cheddar cheese
4 tablespoons heavy cream
Instructions
Taco Rice:
Add ground beef and onion to a large skillet then season well with salt and pepper.
Cook over medium-high heat until beef is no longer pink. Do not drain.
Reduce heat to medium.
Add rice, taco seasoning and garlic powder to cooked beef and mix well.
Add chicken stock then stir to incorporate. Bring mixture to a gentle boil then reduce heat to low. Cover skillet then cook for 25 minutes or until rice is tender, stirring occasionally.
When ready to serve, drizzle mixture with queso sauce.
Garnish with fresh chopped cilantro.
Queso Sauce:
Combine cheese and heavy cream in a microwave-safe bowl then microwave for 2-3 minutes or until melted through, stirring every 30-45 seconds.
Add additional heavy cream (if needed) until queso sauce reaches desired consistency.
Recipe source: adapted from southyourmouth.com