Chipotle Chicken Burrito Bowl
Welcome to day TWO of Mexican food week.  If you missed day one,
here is the recipe
for my Chicken, Bacon and Ranch Stacked Enchiladas from yesterday.
My husband and I simply LOVE
Chipotle restaurant
and our favorite thing to order is the burrito bowl.  I created them at home this week and I'm so proud of this recipe!  They were so easy to make and tasted very similar to the original and amazingly delicious Chipotle bowls… and even my husband agreed (sometimes he can be a tough customer 😉 ).  The chicken turned out super tender and was seasoned perfectly to our taste.
This is a great fix for a Chipotle craving and has all of our favorite flavors, including the
cilantro lime rice
that I posted in the past.  I used homemade guacamole on to top off these bowls which made them even better.  This will go into my regular menu rotation!
P.s. I forgot to add the cheese before I took my pictures, but you get the point! 🙂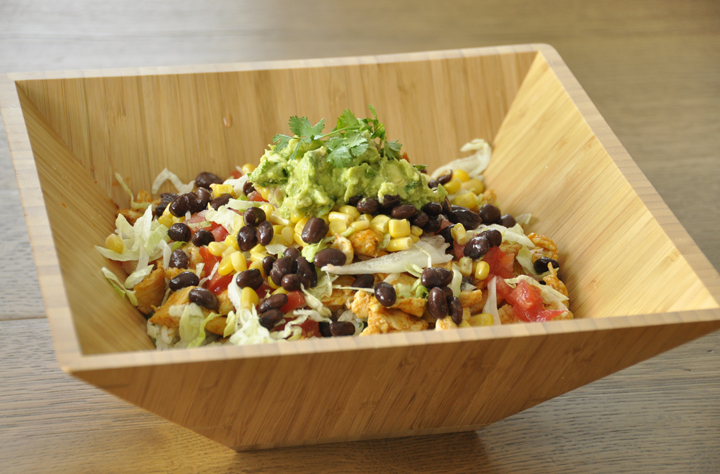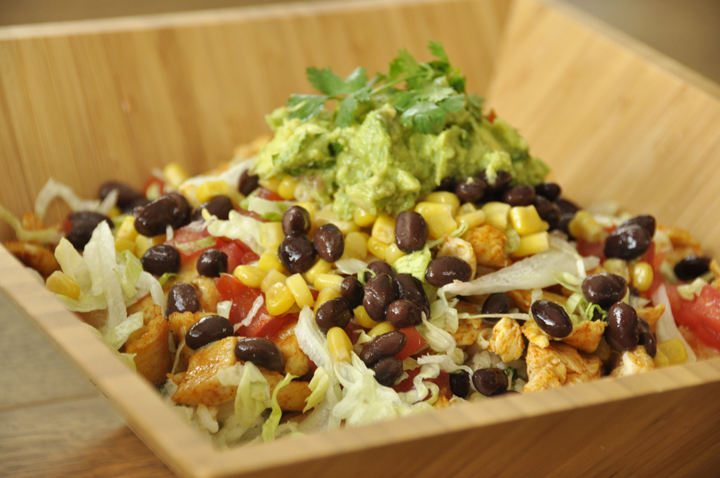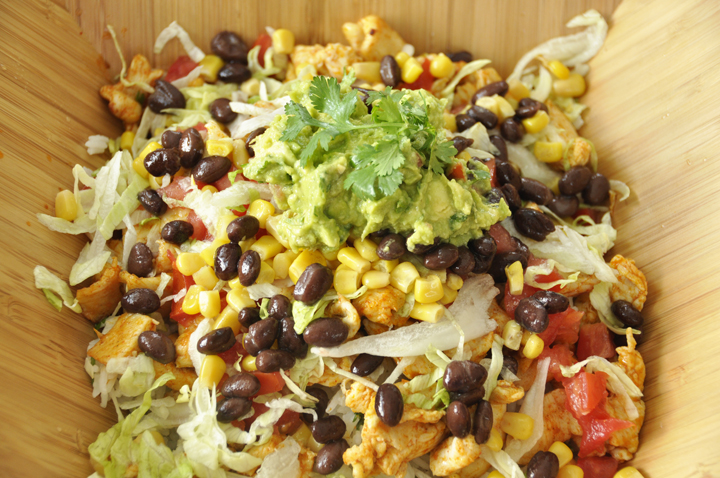 INGREDIENTS:
*serves 4 as main course*
1 recipe for Cilantro Lime Rice
1 pound chicken tenderloins or breasts, cut into bite-size pieces
2 tablespoons extra virgin olive oil
2 teaspoons Adobo seasoning (red top)
1 pinch paprika
salt and pepper, to taste
1 can (14 oz. or so) black beans, drained, rinsed, and seasoned with salt & pepper
1 small can sweet corn
shredded lettuce
1 tomato, diced (can also use can of diced tomatoes with chiles)
1-2 cups fancy shredded cheddar or Monterey Jack cheese
4 teaspoons chopped fresh cilantro
Other Toppings Of Choice:
sour cream
salsa
guacamole
pico de gallo
plain sliced avocado
DIRECTIONS:
Cook cilantro lime rice according to directions.
In a large saute or frying pan on med-high heat add 2 tablespoons Extra Virgin Olive Oil.  Add diced chicken.  Season with salt, pepper, paprika, and Adobo seasoning.
While chicken is cooking, peel avocados and make your guacamole if you are doing this step (or just slice avocado for adding on top later).
Open cans of black beans and corn and put in small bowls. If you'd like, you can warm, the can of beans and corn (not together).
Once chicken and rice is done, you can start plating.
To Assemble: Spoon the rice into each bowl, followed by the chicken, then the toppings you choose.  End with a sprinkling of fresh cilantro on top of each bowl!