Chicken Bacon and Ranch Stacked Enchiladas
Welcome to day ONE of Mexican food week on Wishes and Dishes!  I hope you like Mexican food as much as I do, otherwise you will be hating me and my blog for a little bit.  But I hope you'll stick around because I'm sharing some of my favorites with you all week long.
Mexican food is a favorite in our house and I'm always looking for new dinners to try out when I'm having a craving.  We love it and loved this twist on classic enchiladas.  They were absolutely fantastic!  For some reason, it reminds me of biscuits and gravy with a Mexican twist.  I know that sounds weird, but it really does.
I love the addition of the ranch dressing mix and the bacon as it gave these a wonderful and unique flavor.  The sauce was SO good I wanted to just eat it with a spoon before even assembling the enchiladas (and I definitely did).  It really is THAT tasty!   It's super creamy and just a tad bit spicy…what more could a girl ask for?  I can see this sauce being good over some cooked rice for a future quick and easy meal.  I just gave myself a great idea 🙂  Enjoy your Monday, everyone (as much as Mondays can be enjoyed).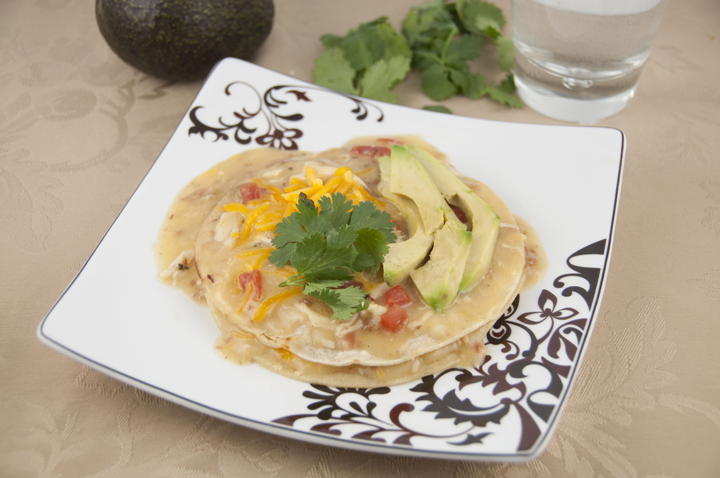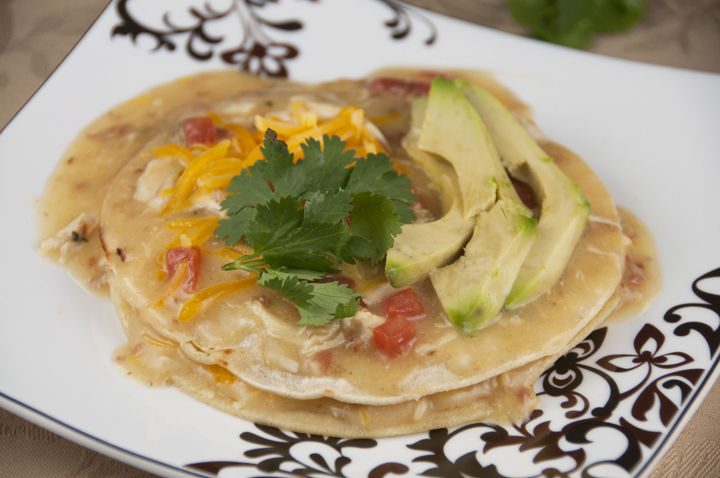 INGREDIENTS:
*makes 6 servings*
1 stick (1/2 cup) unsalted butter
1/2 cup all purpose flour
4 cups reduced sodium chicken broth
1 1/2 cups shredded cheddar cheese
1 teaspoon dry Ranch Dressing seasoning packet
1 teaspoon ground cumin
8 strips cooked crisp bacon, crumbled
3 cups cooked shredded chicken breast
4 ounces diced green chilies
10 ounce can Rotel Mild Tomatoes, drained
2 tablespoons Canola oil
12 white corn tortillas, taco size
1 cup shredded cheddar cheese
2 avocados, thinly sliced
1 cup cilantro, for garnish
DIRECTIONS:
Place butter into a medium saucepan over medium heat to melt. Once melted, whisk in flour until smooth. Slowly whisk in chicken broth. Heat and stir until thick and bubbly. Once thick, stir in cheese and reduce heat to low. Add Ranch seasoning, cumin, bacon, chicken, green chilies and tomatoes, stirring to combine.
Heat olive oil into a medium skillet over medium heat. Pan-fry tortillas for about 30 seconds each side and place on a paper towel lined plate to drain oil. Continue until all 12 tortillas are pan-fried. You may need to add more oil after a few batches.
For each serving, place a tortilla onto a serving plate. Top with a spoonful of sauce and top with a pinch or two of cheese. Place another tortilla on top and repeat with sauce and cheese. Top with avocado slices and cilantro leaves if desired. Serve warm.
Recipe source:  adapted from pickypalate.com