Cinnamon Bun Cupcakes
Cinnamon Bun Cupcakes recipe for moist vanilla cupcakes with a cinnamon sugary swirl, topped with a sweet buttery icing and rich cream cheese frosting are the perfect Christmas dessert!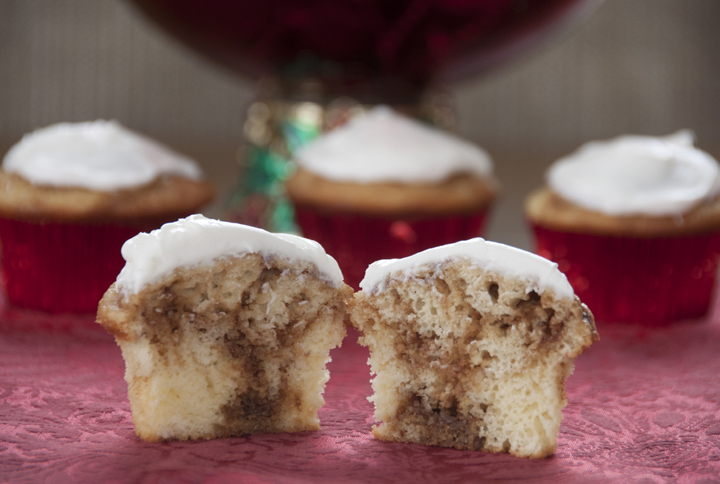 Cinnamon bun cupcakes are cinnamon buns in cupcake form!  Honestly, does it get any better than that?!  It is a great way to enjoy cinnamon rolls or cinnamon buns (whatever you happen to call them) without all of the mess.
The cinnamon bun is a time-honored treat, well, anytime of the day or year. It's so perfectly delicious in it's simplicity that it is kind of hard to think of how it could be even better.
Cinnamon buns can be a time-consuming treat to make because you need to spend quite a bit of time rolling out, rolling up and cutting the dough to form perfect pinwheels of cinnamon-sugar goodness. They're always worth it in the end, but there are times when you just don't have the time or energy to put into making a whole batch from scratch.  Enter Cinnamon Bun Cupcakes…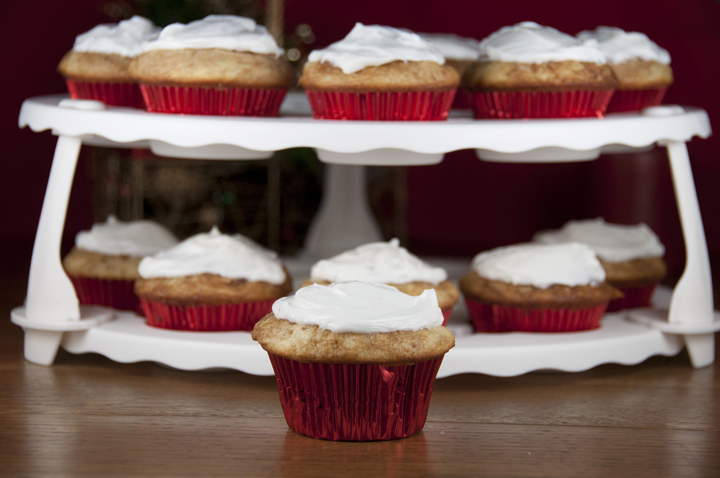 Progressive International sent me this awesome collapsible cake/cupcake carrier that I am giving away to one of you today (worth $25.00!)!  I had my eye on it for so long and they were generous enough to send me one to try out. If you visit their website you can read all about this great company and find out where to buy their products.
You will find that their food preparation tools come in many fun colors with an aim to make the preparation stages of cooking and baking as easy and enjoyable as possible.  Some of Progressive's most popular products include kitchen storage solutions, biscuit cutters, onion choppers, bowls and mandoline multi slicers.  You can buy anything you are looking for….from baking gadgets and cooking products to pantry solutions, spices, tools and accessories.
I never had an easy way to bring my cinnamon bun cupcakes anywhere before I had this carrier. Most cupcake holders hold just 12 cupcakes or crush the frosting (especially with gourmet cupcakes with loads of frosting and/or decorations on top). The other problem is that most holders take up so much room when you need to store them that it's not worth having them in the first place.
This baby holds 24 cupcakes and has enough headroom to prevent the usual frosting mishaps.  If you have ever tried transporting cupcakes anywhere you know it's impossible to put them on a plate with plastic wrap without messing up the frosting.  It also has an ingenious collapsible design to allow it to take up less than half of it's original height when collapsed, saving space in storage.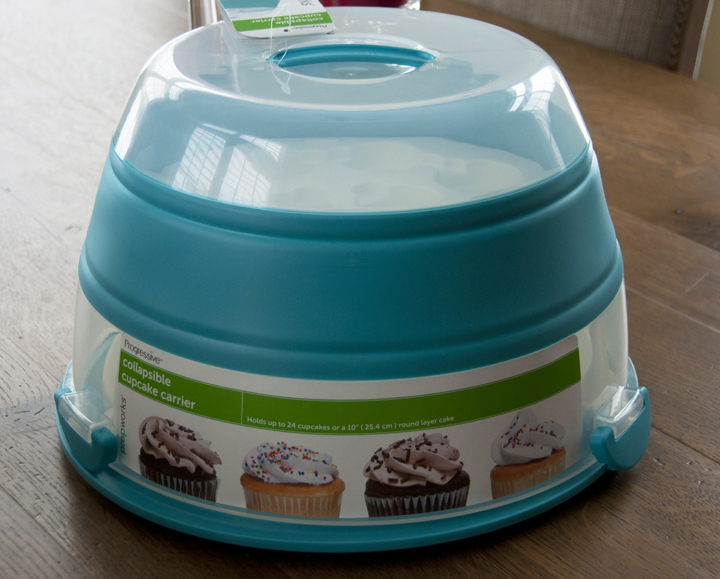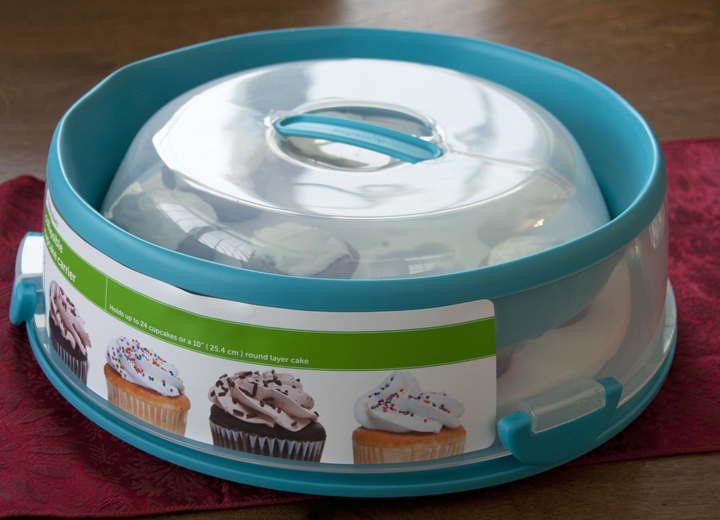 It also features finger recesses for easy removal of cupcakes which I thought was really cool. You can also remove the cupcake trays to accommodate layered-round cakes (even very tall ones!), square cakes, or pies.
The collapsible lid features a carrying handle for easy transport and can be secured to the base with attached clips.  I have been carrying it by the base, though, instead of depending on the handle just because I get paranoid and don't think it's worth the risk to swing it around by the handle!
Another cool thing – the base features a patterned slicing guide which makes slicing cakes easier and more precise. It's also dishwasher safe!  I would definitely recommend this carrier if you're a frequent cupcake/round cake/pie baker or just a kitchen gadget nerd.  It would make a great gift for the baker in your life…or for yourself!
Cinnamon Bun Cupcakes + a GIVEAWAY!
Recipe for moist vanilla cupcakes with a cinnamon sugary swirl, topped with a sweet buttery icing and rich cream cheese frosting.
Ingredients
For the swirl:
¼ cup unsalted butter (melted)
⅓ cup light brown sugar
1 teaspoon cinnamon
For the cupcakes:
1½ cups all-purpose flour
½ cup sugar
1½ teaspoons baking powder
½ teaspoon salt
½ cup unsalted butter, softened
½ cup sour cream
2 eggs, at room temperature
1 teaspoon vanilla extract
Frosting:
8 oz cream cheese, softened
⅔ cup butter, softened
1½ to 2 cups powdered sugar
Instructions
Filling:
In a small bowl, stir all of the ingredients together until combined. Set aside until ready for use.
Cupcakes:
(adapted from bakingdom.com)
Preheat oven to 350 degrees. Line a muffin pan with cupcake papers; set aside.
In a large bowl, or the bowl of a standing mixer, combine the flour, sugar, baking powder, and salt. Add the butter, sour cream, eggs, and vanilla and beat until smooth. Scrape the bowl, making sure there are no streaks of flour remaining (do not over mix or cupcakes will be tough).
Place 1½ tablespoons of batter in each of the paper liners in the prepared muffin pan. Make a small well in the middle of each cup of batter with a toothpick or spoon. Stir the filling to make sure the butter is combined, then spoon 1 teaspoon of the filling into each cup. Use a toothpick to swirl the filling and batter together.
Add another 1½ tablespoons of batter to each cup and repeat the filling/swirling process.
Bake for 18 to 22 minutes, until a toothpick inserted in the center comes out clean. Transfer to a wire cooling rack and allow to cool completely before frosting.
Frosting:
Mix together the cream cheese and butter using the whisk attachment of a mixer. Slowly add the powdered sugar until desired consistency has been reached.
Disclaimer: Progressive gave me this cupcake carrier for review purposes and is also mailing one out to the winner of the giveaway.  My opinions remain entirely my own.