Simple Pasta Salad
An easy, yet very delicious pasta salad recipe that is the perfect side dish for any BBQ, picnic, pot luck, or cook out.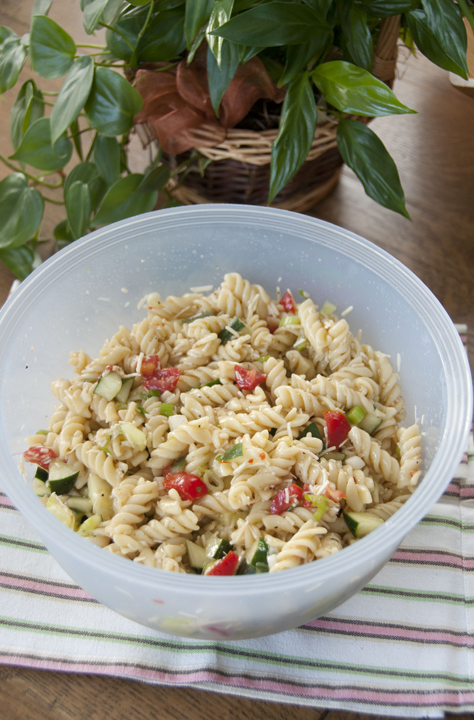 I know the 4th of July is coming up so I'm trying to be timely with my posts so as to give you as many good ideas before the holiday as I can.   Normally I'm one of those food bloggers who is scrambling to get out holiday recipes like 2 days before the actual holiday, but this last minute trip to Hawaii has forced me to be organized.  I should plan trips here more often! Ready for this simple pasta salad?
I made this great pasta salad a few weeks ago when we had my in-laws over for dinner and it would be perfect for any BBQ plans you may have.  It doesn't even have to be a BBQ, it can be an indoor non-cookout dinner, of course. I love a good pasta salad and am digging this  Chicken Club Sausage Pasta Salad.
Pasta salads are so easy to make and no matter what you add to them, as long as the veggies are good and fresh, you use a good quality dressing, and give it time to chill for the flavors to get to know each other, it will be delicious.  This one is best to left to sit overnight in the 'fridge! Even Mr. Wishes, who isn't all that fond of pasta salad, said it was very good! Our favorite is my Classic Italian Pasta Salad.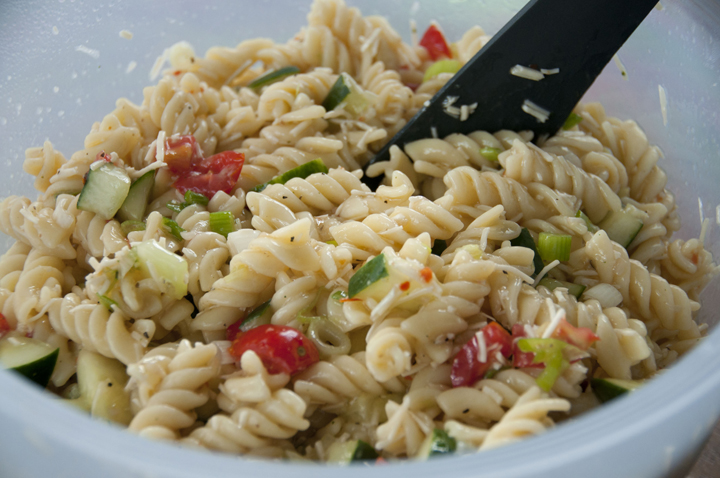 You can even add green and black olives (I love olives), salami, fresh mozzarella, anything you like!  Or cut up some grilled chicken and throw it on top to make this a meal.  Enjoy this tasty, light side dish for these hot summer days! Be sure to also check out my Sausage Broccoli Cheddar Pasta. I love meat in pasta salad! I am also loving this Southwestern Pasta Salad from my friend Amy.
Simple Pasta Salad
Prep time:
Cook time:
Total time:
An easy, yet very delicious pasta salad recipe that is the perfect side dish for any BBQ, picnic, pot luck, or cook out.
Ingredients
1 (16 ounce) package uncooked rotini pasta (any similar pasta will do)
1 (16 ounce) bottle Italian salad dressing (use a good quality dressing)
2 medium sized cucumbers, chopped
3 tomatoes, chopped
1 bunch green onions, chopped
4 ounces shredded Parmesan cheese
1 tablespoon Italian seasoning
Instructions
Bring a large pot of lightly salted water to a boil.
Place pasta in the pot, cook for 8 to 12 minutes, until al dente, and drain.
In a large bowl, toss the cooked pasta with the Italian dressing, cucumbers, tomatoes, and green onions.
In a small bowl, mix the Parmesan cheese and Italian seasoning, and gently mix into the salad. Cover, and refrigerate until serving.