Cheesy Cheez-it Bacon Mac and Cheese
This is my favorite cheesy, gooey, Cheez-It Bacon Mac and Cheese recipe that is to die for!  It has bacon added in and a crunchy cheez-it topping.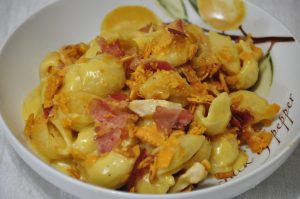 MMMMM Cheez-it Bacon Mac and Cheese!  I just can't help myself!  I had the best macaroni and cheese of my entire life at a little restaurant in the village of Fairport, NY this summer and that is where this recipe idea was inspired from.  This particular recipe was so delicious and the flavor of the cheese sauce was perfect!
The mac and cheese was not overly creamy since it had the right amount of cheese and milk. It was baked to perfection while the bacon and the crunch of the Cheez-Its added a nice crisp topping and was a delicious alternative to bread crumbs. So go ahead and indulge!  You can always leave out the bacon and keep it vegetarian if you aren't feelin' it…
Cheesy Cheez-it Bacon Mac and Cheese
Ingredients
1 16 ounce box uncooked shells macaroni (or your pasta of choice)
½ cup butter
½ cup all-purpose flour
2 cups milk
16 ounces sharp cheddar cheese, shredded
¼ teaspoon freshly ground pepper
2 cups Cheez-It crackers, crushed
5 strips bacon (you can use turkey bacon to be healthier)
Instructions
Cook pasta according to package directions. Drain and set aside.
Cook the bacon in a large skillet over medium heat until crisp; transfer to paper towels to drain.
Melt butter in saucepan over low heat; whisk in flour, and cook, whisking constantly, 1 minute or until mixture is smooth.
Increase heat to medium; gradually whisk in 2 cups milk, and cook, whisking constantly, 5 minutes or until mixture is thickened and bubbly.
Stir in cheese, stirring until cheese is melted. Remove pan from heat.
Stir pasta, and ground black pepper into cheese mixture; spoon into a lightly greased 13 x 9 inch baking dish (I used a 3-quart casserole dish).
Crumble up the bacon and spread it evenly over the pasta. Spread crushed Cheez-It crackers on top.
Bake uncovered at 375°F for 30 minutes or until thoroughly heated.