Chewy Oatmeal Chocolate Chip Cookies
This simple recipe for soft, chewy oatmeal chocolate chip cookies creates a moist and flavorful dessert that will make everyone's day a little bit better.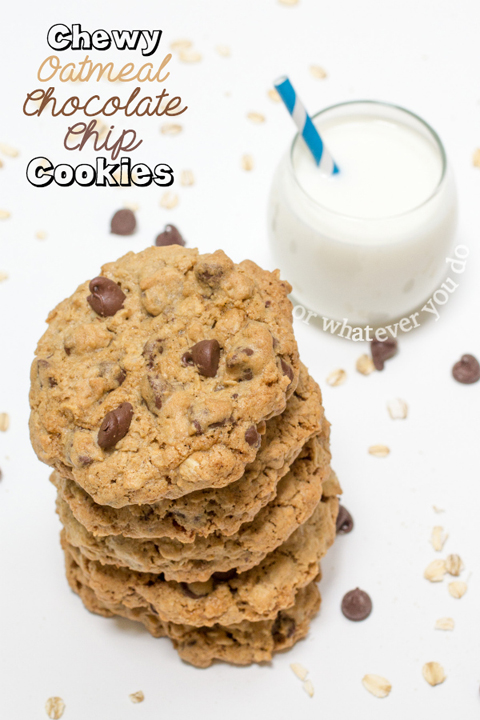 Aloha, again!  I have my food blogger pal Nicole from Or Whatever you Do guest posting for me today while I'm spending the week in glorious Honalulu, Hawaii!  I am trying to stay off the computer and enjoy all that Waikiki Beach has to offer and Nicole is graciously helping me do that by sharing one of her wonderful recipes with you today for oatmeal chocolate chip cookies.  I'm not going to lie – this makes me wish I had an oven in my hotel room that I can go whip these up RIGHT THIS SECOND!  Make sure you head on over to her blog and give her a little visit – you won't be sorry!  Take it away, Nicole…
:::::::::::::::::::::::::::::::::::::::::
In the Pacific Northwest, spring has come and gone, and evidently instead of summer we are back to fall again because it is 63 degrees outside, cloudy, and I got a series baking itch that I HAD to scratch.
I'm so excited to have the opportunity to share these chewy oatmeal chocolate chip cookies with you all here on Wishes and Dishes! I've been a big fan of Ashley's for quite a while now, in a bit of a fangirl kind of way, and when she put the word out that she was looking for guest bloggers, I jumped all over that! I've been doing this blogging thing for four years now, but I still feel like a relative newbie, kind of in the same way that I'm 32 years ancient, but I don't feel quite like a grown-up yet.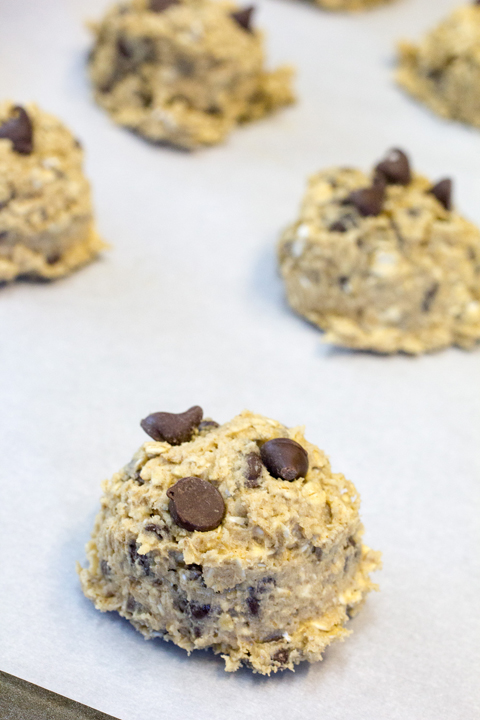 I spent the first two years of my blog posting whenever and whatever I felt like. Sometimes once a week. Sometimes once a month. It was very much a hobby, and one I quite enjoyed. The third year I started to get serious about posting regularly, and making sure the content I put out was up to par, or approaching others' content that I aspired to. Now the fourth year I have stepped up my posting schedule x3, and also dove head first into the social side of food blogging, which I had completely ignored prior to this year, and I'm almost able to call this food blogging thing my "job" with a straight face (even though I'm not QUITE getting paid yet). Its a labor of love, but I wouldn't trade it in for anything. Except maybe a million dollars. I'd be open to that.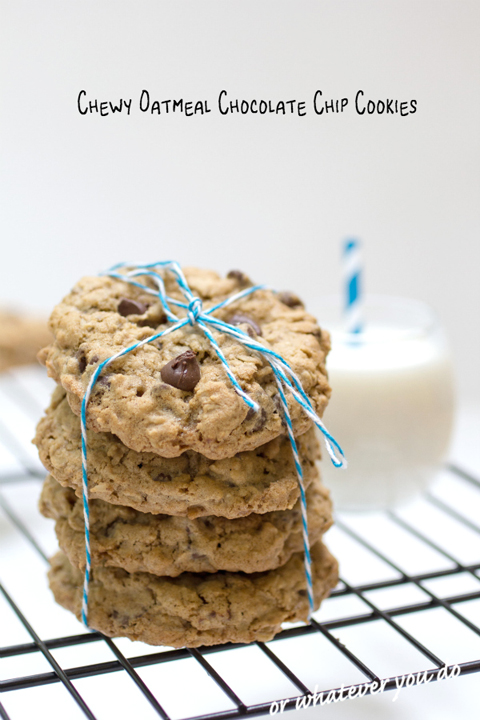 These Chewy Oatmeal Chocolate Chip Cookies are the best of both cookie worlds…big and slightly crunchy on the outside, but chewy and filled with oatmeal and chocolate on the inside, with just a hint of cinnamon.  I will be making these many, many more times.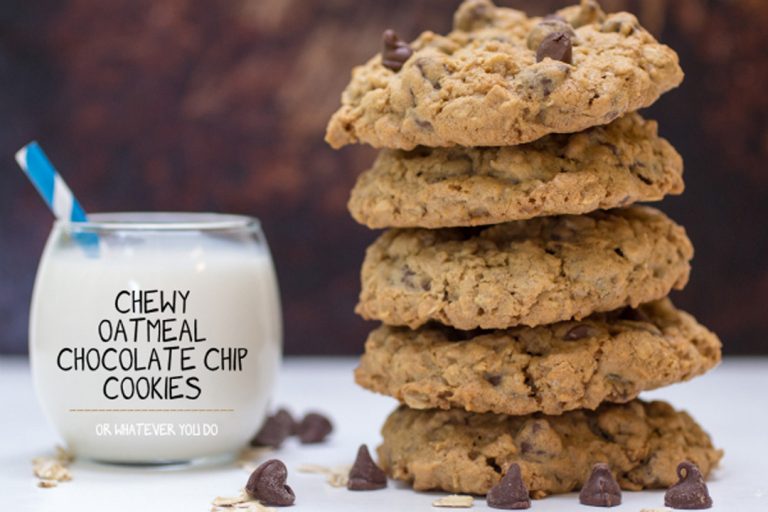 Thanks again, Nicole, for your guest post! Make sure to head on over to her blog and send her lots of love!  Or follow her on Facebook!
Chewy Oatmeal Chocolate Chip Cookies
Prep time:
Cook time:
Total time:
This simple recipe for soft, chewy oatmeal chocolate chip cookies creates a moist and flavorful dessert that will make everyone's day a little bit better
Ingredients
½ cup butter, softened
¾ cup dark brown sugar
⅓ cup sugar
1 egg, large
1 tablespoon vanilla
1¾ cup oatmeal (Old-Fashioned, NOT quick cooking)
¾ cup flour
½ teaspoon cinnamon
½ teaspoon baking soda
¼ teaspoon salt (unless you use salted butter...then omit the additional salt)
1½ cups semisweet chocolate chips
Instructions
Preheat oven to 325 degrees.
Cream together the butter and sugars until light and fluffy and the color has lightened slightly.
Add the egg and vanilla, and mix to combine.
In a separate bowl, combine the oatmeal, flour, cinnamon, baking soda, and salt (if using). Mix well and fully incorporate the baking soda into the mix.
Add the oatmeal mixture into the butter mixture, and mix until a dough is formed. Stir in chocolate chips.
Line a baking sheet with parchment paper, and place rounded scoops of dough onto the paper about 2 inches apart from each other.
Bake for 15-20 minutes. How long depends entirely on how large your scoops are. Small cookies will take several minutes less than large cookies. Keep a close eye on them, and remove as soon as the edges of the cookies start to turn golden brown.
Let cool for 3-4 minutes on the baking sheet, and then carefully remove to a wire rack.
Recipe source: adapted from sallysbakingaddiction.com