New York Wine & Culinary Center Review
This is a New York Wine & Culinary Center Review from my couples' cooking class I took there on Valentine's day with my husband.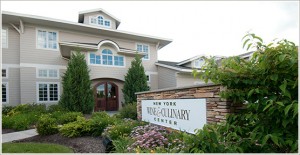 This post is not a recipe, but is certainly applicable to the overall theme of this blog.  I thought that this topic would be of interest to those of us who love cooking, like cooking or even hate cooking but have chosen to embrace it, or at least make an attempt at it.
The New York Wine & Culinary Center is a valuable regional asset for those of us living in the Western New York region.  The center is an independent, not-for-profit organization sponsored by Wegmans Food Markets (a Rochester treasure), the Rochester Institute of Technology, Constellation Brands, Inc. and the New York Wine & Grape Foundation.  The purpose of the center is to promote and serve as a gateway to the agriculture, food and wine riches of New York State.  The facility includes a wine tasting room, wine & food bar, restaurant, demonstration theater, hands-on kitchen, gift boutique, exhibit hall, outdoor garden and concierge desk where visitors can obtain information and directions to any of New York's many resources.
The center is located along the shores of Canandaigua Lake, in the heart of the beautiful Finger Lakes region, home to some of New York State's finest wineries.  This location is a short drive from Rochester, and even worth the trip for those living in Buffalo, Syracuse, northern Pennsylvania and beyond.  The area is a beautiful place to spend a long weekend with your husband, or even for a girls' trip spent touring the local wineries.  The Canandaigua Inn on the Lake is located directly adjacent to the Wine & Culinary Center and offers great accommodations with beautiful views of Canandaigua Lake.
 In my opinion, the best part of the Center is that they offer year-round cooking classes covering just about any cooking topic you can imagine.  For those of you with significant others interested in, or at least willing to try cooking; the Center offers a series of "Couples Cooking Classes" throughout the year.  A schedule of classes is listed on their site and updated regularly.  Many of the classes indicate the menu which the participants are tasked with and instructed through cooking.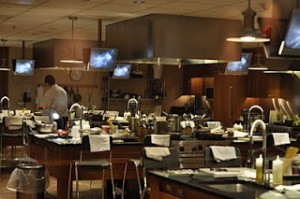 Nick surprised me last Valentine's day and signed up for the Valentine's Day Couples Cooking Class, along with another couple we are friends with.  This was my first experience at the Wine & Culinary Center and was perhaps the first time in my life that I actually wanted to return to a classroom after I left.  The Center offered an entire class on Macaroni & Cheese shortly after our Valentine;s Day class, which I missed and am anxiously awaiting to be given again (hint, hint if anybody from the NYWCC is reading this). Below is a list of what we prepared and consumed as part of the class:
Wasabi crusted scallops (prepared by instructor)
Mixed Greens with balsamic-honey vinaigrette & grapes (prepared by instructor)
Sauteed beef tenderloin with wild mushroom pan sauce
Sauteed pork tenderloin with apple brandy sauce
Angel hair pasta with lobster, tomatoes, garlic and parsley
Garlic smashed potatoes
Vegetables du jour
Rice pilaf
Chocolate molten cake
Wine / Champagne
The couples classes are not cheap ($150 per couple), but is well worth it considering the quality of the food, learning experience and opportunity to take home the recipes.  The couple's classes are the most expensive, so don't let the price scare you.  There are many cheaper class options available, so be sure to check the site.  Be warned that when you return home after class, you will likely find yourself wholly unsatisfied with the kitchen appliances and equipment found in your home.
Make sure you keep checking this blog for the recipes we used that day!  Stay tuned!