BLT Chopped Salad with Avocado
Your favorite sandwich made into a healthy BLT Chopped Salad with Avocado and topped off with a sweet lime vinaigrette dressing!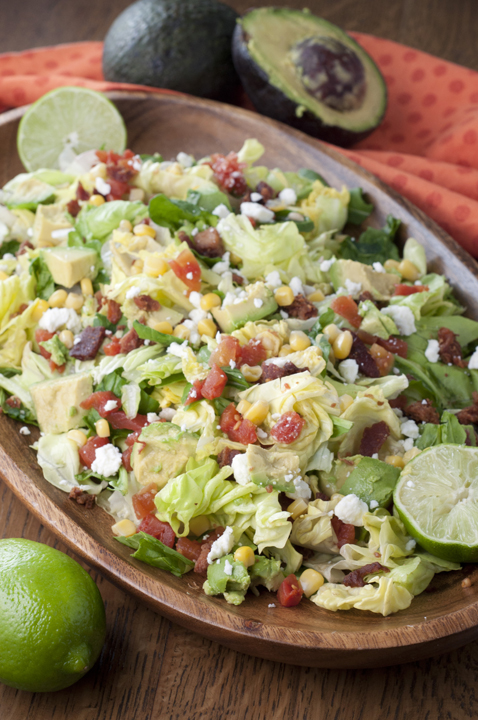 With spring being so close I can taste it, I have salads on the brain.  Not only do they make great meals in the warmer months but are also amazingly easy side dishes to pair with any meal.  If you're looking for a great salad to bring to Easter dinner, look no further than this BLT Chopped Salad with Avocado!  Side note: I also have many Easter desserts you should check out.  Just saying…
Creative salads and lighter foods become a staple in the spring and summer months and this one is a new favorite. It's very hard for me to find a vegetable I love, but I was all about this salad!  I love a good chopped salad in my old age (ha, ha).  I made this salad even easier and faster to put together by using Tuttorosso diced tomatoes.  Of course, you can feel free to use fresh diced tomatoes, but the salad was delicious just how it is!  I use Tuttorosso in just about every recipe that requires tomatoes or tomato sauce.  Have you tried my Greek Chicken Tacos yet made with their tomatoes?  Their products always just taste so fresh and you can tell they are made with quality ingredients (they even taste good straight out of the can which says a lot!).  I'm a creature of habit and like to use the brands I know and trust when cooking.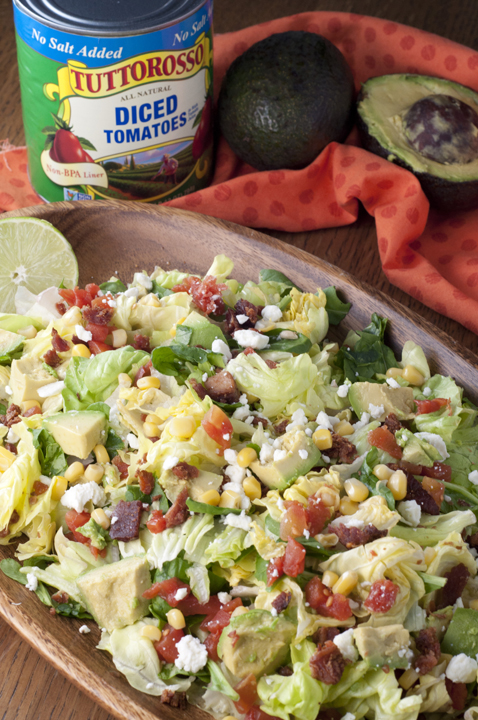 This BLT Chopped Salad with Avocado recipe is reminiscent of the classic BLT (bacon, lettuce, and tomato) sandwich we all know and love.  This is a wonderful alternative for those of you watching your carb intake, as well!  The sweet, tangy lime vinaigrette paired perfectly with the flavors of the salad.  It's a simple dressing that I plan on using all spring and summer in different dishes.

Oh, feel free to add some extra bacon…you know….for garnish, and all.  Just putting that out there….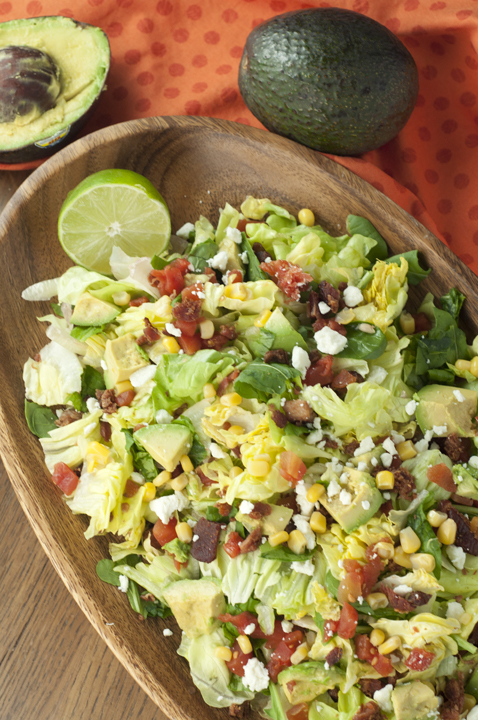 BLT Chopped Salad with Avocado
Prep time:
Cook time:
Total time:
Your favorite sandwich made into a healthy BLT Chopped Salad with Avocado and topped off with a sweet lime vinaigrette dressing!
Ingredients
3 cups butter lettuce, chopped
1 cups fresh arugula, chopped
1 cup Tuttorosso petite diced tomatoes, juices drained (or use fresh)
4 slices bacon, fried or baked, and crumbled
¾ cup sweet corn (canned or grilled)
1 ripe avocado, chopped
¼ cup feta cheese, crumbled
Lime vinaigrette:
2 tablespoons olive oil
2 tablespoons apple cider vinegar
½ lime, juiced
½ tsp sugar
⅛ teaspoon salt
⅛ teaspoon pepper
Instructions
In a large bowl, combine lettuce, arugula, tomatoes, corn and avocado.
For the vinaigrette, whisk together olive oil, apple cider vinegar, lime juice, salt, pepper and sugar in a small bowl.
Add in the vinaigrette to the salad ingredients.
Fold in bacon and feta cheese then divide evenly onto plates.
Serve immediately once it has the dressing on it. The dressing will keep for a couple of days in the fridge if you choose to make it ahead. Enjoy!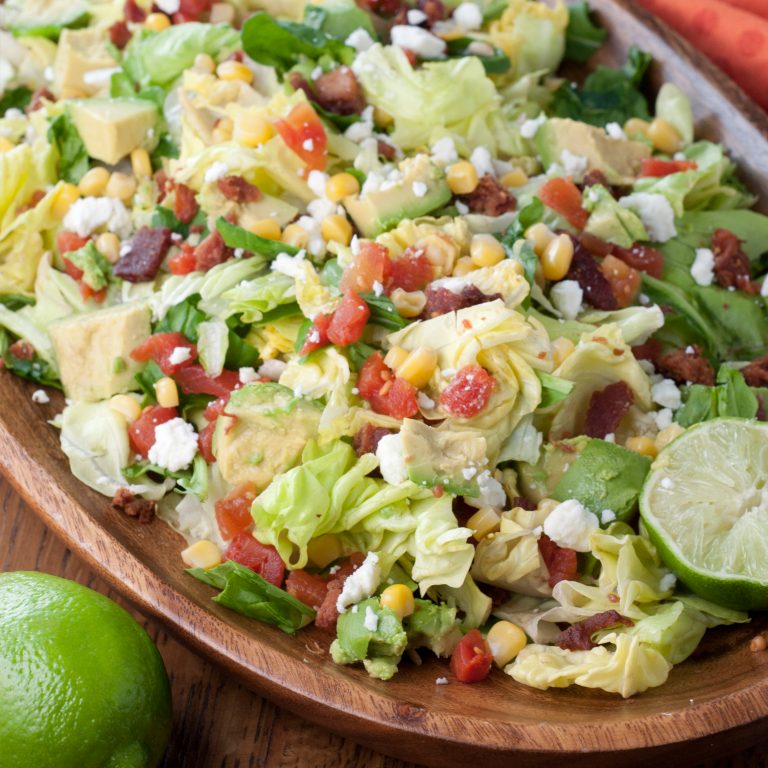 Disclaimer:  Thank you Tuttorosso for sponsoring this conversation.  All opinions remain 100% my own, as always.
Recipe source:  inspired by/strongly adapted from howsweeteats.com