Rice Pilaf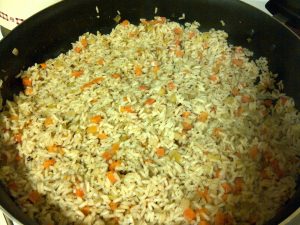 1 small onion, diced
1 stalk celery, diced
1 carrot, diced
1 tablespoon butter
1½ cups long-grain white rice
3 cups chicken or vegetable stock
2 thyme sprigs, leaves picked
½ teaspoon salt, to taste
¼ teaspoon pepper, to taste
Sweat the onion, celery and carrot in butter.
Add the rice and stir it to coat with the butter.
Add the hot stock, thyme, and salt and pepper to taste.
Bring the liquid to a boil. Boil the rice for about 5 minutes then cover with a lid or foil.
Reduce the heat to a simmer and cook the rice until it is tender and all the liquid is absorbed, about 12-15 minutes. Be careful not to burn the rice!
Use a kitchen fork to separate the grains of rice to release the steam and serve.