Pork Tenderloin with Apple Brandy Sauce
This is an amazing and delicious recipe for Pork Tenderloin with fresh apples and an Apple Brandy Sauce served over rice pilaf that I made at the NY Wine and Culinary Center during my cooking class.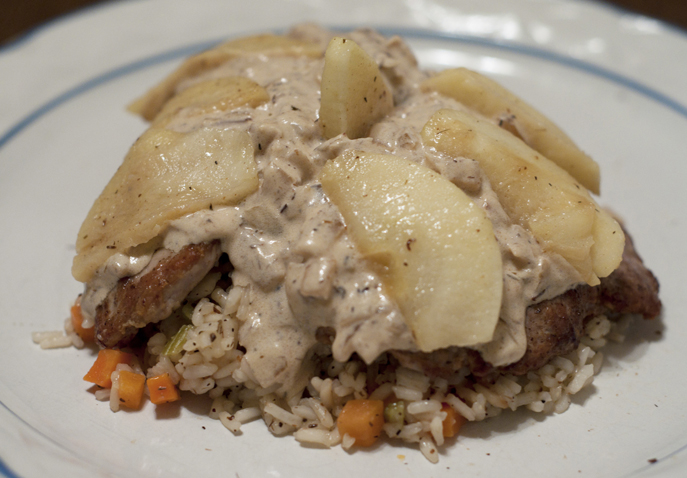 So I promised you all I would post some of the recipes that we made at the NY Wine and Culinary Center and I am a woman of my word!  This dish was unequivocally delicious and it qualifies as a fall dish because it has apples in it, as well as one of my fall favorites…….apple cider.  I am obsessed with the sauce in this recipe – I could very well eat it plain right out of the pan (and I may have).  Don't get thrown off by the Apple Jack brandy in this recipe.  You should be able to find it at any liquor store.
 
Mr. Wishes and I made this together one night after the class and it turned out just as amazing as the day we made it in the fancy teaching kitchen.  We mounded the rice pilaf (recipe to come) and layered the pork and apples on top.  It tasted AND looked like restaurant quality!  You won't be sorry if you try this recipe – it's that good.
Warning: do NOT assume the AppleJack is going to taste like apple cider – it doesn't.  I may have sipped it straight out of the bottle and deeply regretted it.  Apparently though, it made for a good story for Mr. Wishes to tell our friends.
INGREDIENTS:  
 
1 pound pork tenderloin, trimmed, cut into 1-inch tick slices
6 tablespoons butter
4 medium Empire apples (about 1.5 lbs); peeled, cored & sliced 1/3 inch thick
1 teaspoon sugar
2 large shallots, chopped
1 tablespoon chopped  fresh thyme or 1 teaspoon dried
1/4 cup AppleJack (I used Laird's AppleJack)
1/4 cup whipping cream
1/4 cup apple cider
PREPARATION: 
Place pork slices between plastic wrap.  Using a mallet, pound pork slices to 1/4 inch thickness. (Can be prepared 4 hours ahead.  Cover tightly and refrigerate)
Melt 2 tablespoons of butter in heavy large skillet over med-high heat.  Season pork with salt and pepper.  Add pork to skillet and saute until just cooked through, about 2 minutes.  Transfer to plate, keep warm.
Melt 1 tablespoon of butter in same skillet over medium heat. Saute the apples for 2-4 minutes, or until soft but not mushy.  Set aside.
Melt 1 tablespoon butter in skillet.  Add shallots and thyme and saute 2 minutes.  Add brandy and boil until reduced to glaze, scraping up any browned bits (this is the fond that will give the sauce much of it's flavor).  Stir in cream and cider; boil until mixture thickens to sauce consistency, about 3 minutes.  Season with salt and pepper.
Reheat apples, if necessary.  Arrange a few pork slices on each plate.  Spoon sauce over.  Top generously with sauteed apple slices and serve.
Enjoy!