Red, White & Blue Mini Fruit Pizzas
Fourth of July is one of my favorite holidays and I can't believe it's next week already!  Since it is at the beginning of the month, it always seems to sneak up on me.  The 4th is a special occasion that gives me a chance to spend some time with friends and family.  The day is always filled with fun, fireworks, laughter, good conversation and great food……and did I mention FIREWORKS?  I LOVE a good fireworks show…hearing them pop and seeing them fly high up into the air and burst into colors.  They have always made me happy 🙂
I think these mini fruit pizzas turned out really good and are undeniably patriotic. They are so cute and festive and everyone will gobble these right up.  The sugar cookie crust with the cream cheese frosting was the perfect combination!   These are easy to eat and very low maintenance for the holiday…your guests can just grab them and go.  If you need a quick and easy dessert for the 4th I think this is the one you should go with. What kind of desserts are you making to celebrate the upcoming 4th of July holiday?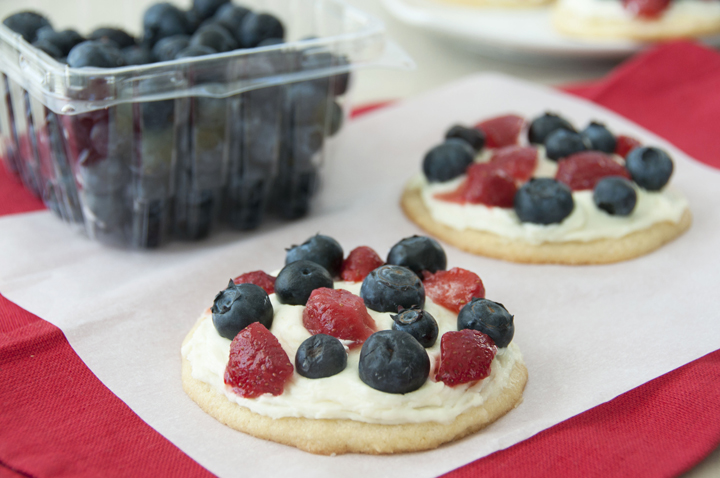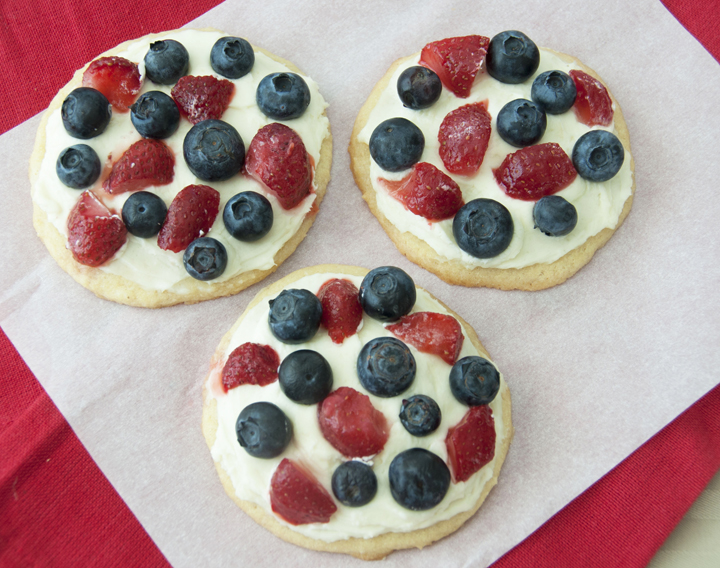 INGREDIENTS:
Cookies:
3/4 cup unsalted butter, softened
1 cups Granulated Sugar
1 whole Egg
1 Egg Yolk
1 Tbsp vanilla extract
2 cups All-purpose Flour
1/2 teaspoon Salt
1/2 teaspoon Baking Powder
Topping:
1 pkg.(8 oz.) Cream Cheese, softened
1/4 cup granulated sugar (can also use powdered)
1/2 tsp. vanilla
fresh fruit of your choice, for topping
DIRECTIONS:
Cookies: Place the butter and sugar in the bowl of a stand mixer and beat until well combined, about 2 minutes.  You can also use a hand mixer.  Add in the egg, yolk and vanilla to the bowl and mix until combined.
In a separate bowl, sift together the flour, salt, and baking powder.  Slowly add flour to the butter mixture and mix until combined. Do not over-mix!  Wrap the dough with saran wrap (wrap well) and refrigerate for at least one hour.
When you are ready to bake, pre-heat the oven to 350 degrees. Roll the dough out to 1/2 inch thickness, cut out cookies into circles, and place on a parchment or silpat lined baking sheet. Bake for 9-10 minutes or until cookies are set and just starting to brown around the edges.
Topping: Beat cream cheese, sugar and vanilla with a mixer until well blended. Spread carefully over cookies so that they don't break and top with fresh fruit.  Enjoy!
Recipe source: adapted from whatmegansmaking.com