Layered Patriotic Drink
I have to share this drink that's so perfect for the 4th of July and it's kid-friendly, too.  This would be so perfect for a BBQ, picnic, party…whatever you are planning for the 4th!
I had my first layered drink, called a "Toucan", when Mr. Wishes and I were staying at a resort in Punta Cana, Dominican Republic years ago.  I thought it was the coolest thing ever and always wondered how they got the layers to stay separated the way that they did.  It was time to try one out for myself…
When it comes to layering drinks, you can do whatever your preference is, but I did read when doing some research on them that the secret is in the sugar content of the liquids.  You don't want to use anything that's sugarless because it will affect the layering.  So, at least make sure each liquid has some sort of sugar content in it.  Also, you can really do this with any color combination that you choose.  You can even just do red and blue and leave out the white!  The other secret to success with layered drinks is using a LOT of ice. After you add your bottom layer you need to fill the glass all the way to the top with ice and pour the second layer very, very slowly and directly on top of an ice cube and let it make it's way down the glass gradually.  Pouring the drink this way will ensure that each new layer will lay on top of the previous layer.
These drinks are super cute and clever and people will be so impressed by them!  They do taste better once you mix them up with a straw and the flavors meld together, but serve them to everyone first and let them do their own mixing 🙂
I truly hope you have a safe and very enjoyable holiday!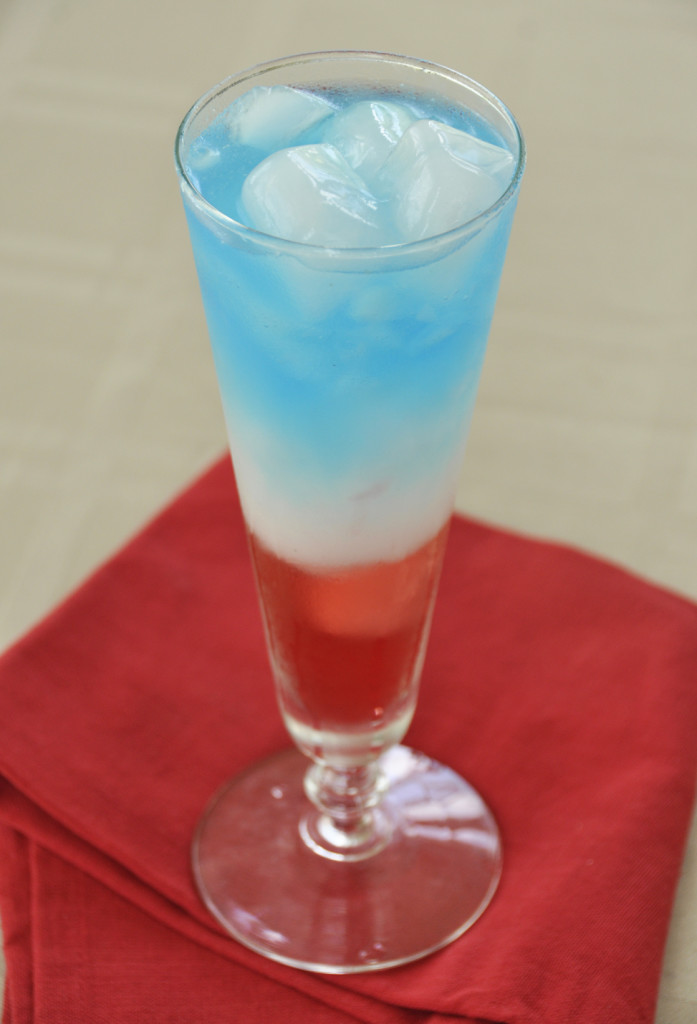 Here's a picture of the "Toucan".  Don't mind this really OLD picture!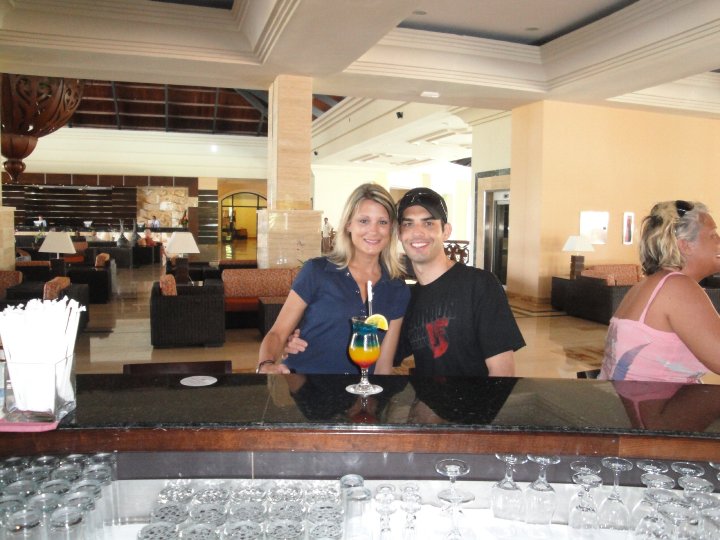 INGREDIENTS:
Cranberry juice, Cran-Apple juice, OR red Hawaiian Punch (you want something somewhat sugary)
White Sobe Pina Colada flavored drink (can also use regular Sprite/Sierra Mist)
Blue G2 Gatorade
ice cubes
DIRECTIONS:
Fill your glass 1/3 of the way full with RED cranberry juice.
Next, fill to the top of the glass with ice cubes.
Slowly (VERY slowly!!!) pour the remaining colored drinks directly on top of a piece of ice and let them run down the ice cubes.  Do this super slowly as to not have the colors mix together.