Green Smoothie + KitchenAid Blender Review
It's no secret that I'm a fan of the smoothies.  A lot of posts on my blog lately have been devoted to these great, blended drinks (Strawberry Pineapple Smoothie, Banana Cashew Smoothie).  I have made smoothies a staple of my diet lately and I'm loving it!
A green smoothie is a smoothie made up of fruits and green leafy vegetables.  They are quick, nutritious, healthy, portable, easy to drink, and a great way to sneak in your greens… and they taste delicious!  I struggle with trying to find healthy food options for breakfast and for snacks and am extremely bad about eating my vegetables, so green smoothies have been a life saver for me.  I can taste the greens with the first initial taste and then the taste of greens fades and the taste of the fruits take over.  Some people get turned off by green food, but not me.  Green is actually my favorite color when it comes to a lot of food and drinks!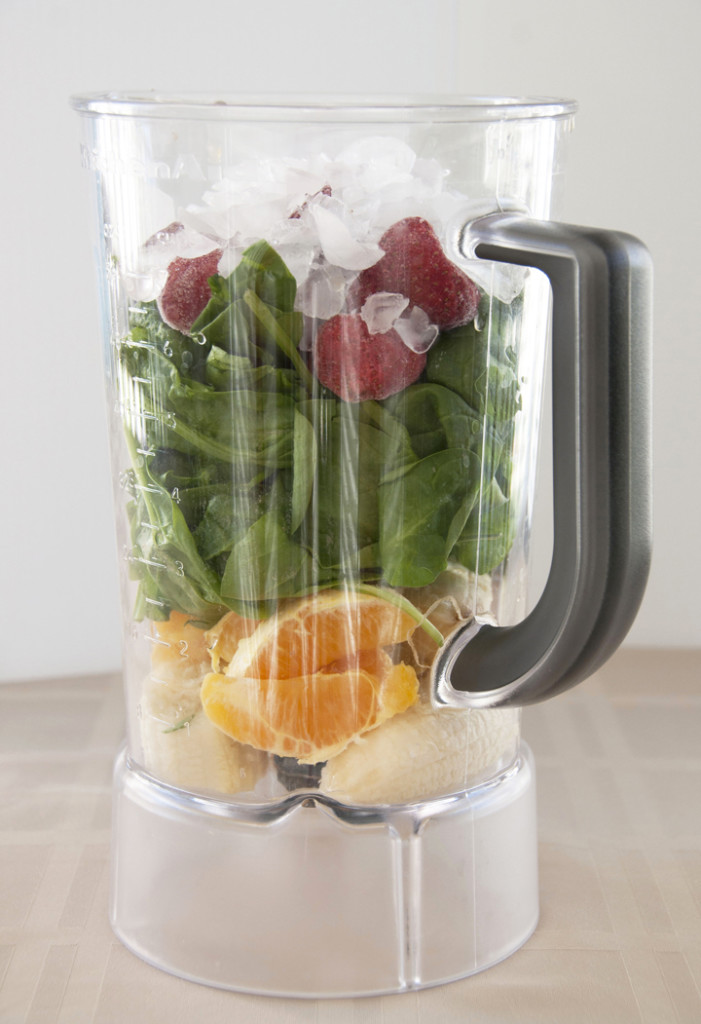 Below, you will find my formula for blending up a simple, nutrient-packed smoothie that even the laziest non-breakfast-eater will love and have time for.  There are a million different ways to make a green smoothie but if you're new to drinking your greens, I recommend starting with sweeter, smoother fruits (like bananas) and then as your taste buds adapt, you can get more adventurous.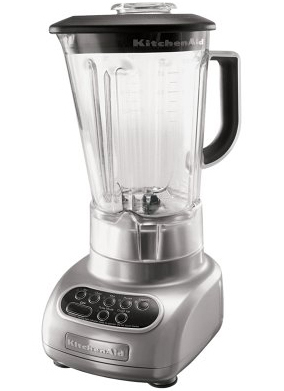 Thanks to KitchenAid, I got to make this smoothie in my new KitchenAid 5-Speed Blender!
I was very impressed with it, overall.  The polycarbonate jars is dishwasher safe and has a shatter-resistant pitcher with 56-ounce (7 cup) capacity.  It is sturdy, scratch and stain-resistant, and very light-weight making it easy to handle and pour.  This blender is super powerful and loaded with smart features and design elements.  It stirs, chips, mixes, purees, liquefies, crushes ice, and pulses like a champ.  I love the one-piece construction of the jar that makes it so you don't have to disassemble the base to clean it.  And the lid doubles as a 2-ounce measure. Too cool!  Think of all the lovely smoothies you will be able to make with one of these.  Of course, you will be able to do a lot more, but let's face it, smoothies are great now that summer is here!
KitchenAid claims that their blenders are the most powerful on the market and I am now a believer.  This blender has a 0.9 horsepower motor (about 670 watts) that purees food quickly and evenly.  The motor starts slowly and adjusts to the resistance/thickness of the food to maintain consistent speed without straining and reduces the amount of splatters.  No mess is always a plus!  The food is very quickly pureed to the consistency you want.  I always believe that the true test of a good blender is it's ice-crushing ability and this blender grinds the ice very easily, a task many blenders I've tried in the past have had trouble with.  Along with no ice chunks, you also you won't find any chunks of spinach in your green smoothie either (which is also something I've had problems with in my old blender).  This one works it's magic and actually makes a really SMOOTH smoothie.
One of my favorite features is the clean touch control pad.  One easy swipe cleans it without having to worry about crumbs and liquids getting into the cracks and crevices between buttons…pure genius!  It is the quietest blender I have ever had, even when crushing ice.  Also, with it's sleek look, it looks pretty on the counter.
I can't say enough good things about this blender and I would recommend it to anyone for crushing ice, making smoothies or milkshakes, pureeing soups, and much more.  For around $100 the KitchenAid KSB560 is a great blender and doesn't break the bank.  So if you don't want to drop a ton of money and still was a great performing, sturdy, reliable machine that won't disappoint during tough tasks – check out a KitchenAid KSB560 5-Speed Blender!
It is available in numerous, fun colors 🙂
This is one of my new favorite appliances!  Many thanks to KitchenAid for the great product.  Happy Blending!
Disclaimer: I received a complementary blender from KitchenAid to use and review, but was not paid to write this review and all opinions are 100% my own.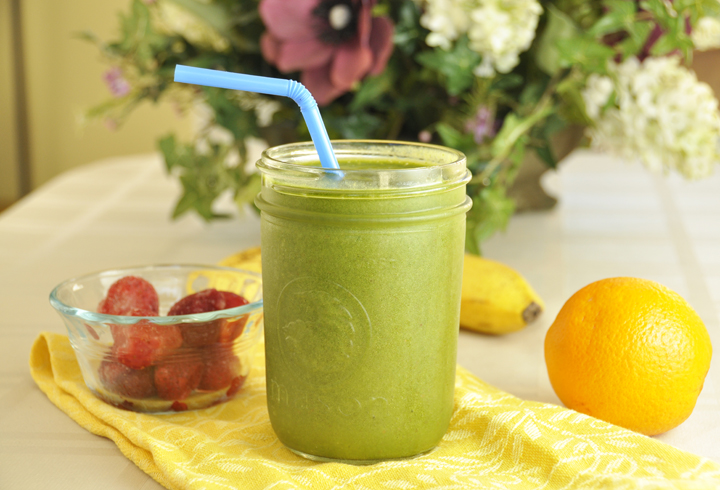 INGREDIENTS:
1 large orange, peeled and segmented
1 medium-large banana, cut into chunks
6 large strawberries
2 cups spinach (2 generous handfuls)
1/3 cup plain Greek yogurt (or substitute milk/almond milk)
1 cup ice
DIRECTIONS:
Place all of the ingredients in a powerful blender and process until smooth. Pour into glasses and serve immediately.
Note: Make sure you use a powerful blender that will puree the orange, spinach, ice, etc. You can pour in an air-tight container and freeze any extras.  Otherwise, store the leftover smoothie in the refrigerator.