Queso Fundido
Queso Fundido recipe is amazingly cheesy and is an easy dip to make for your next party, game day or Mexican food night! This can be your main course served with tortillas or an appetizer served with chips.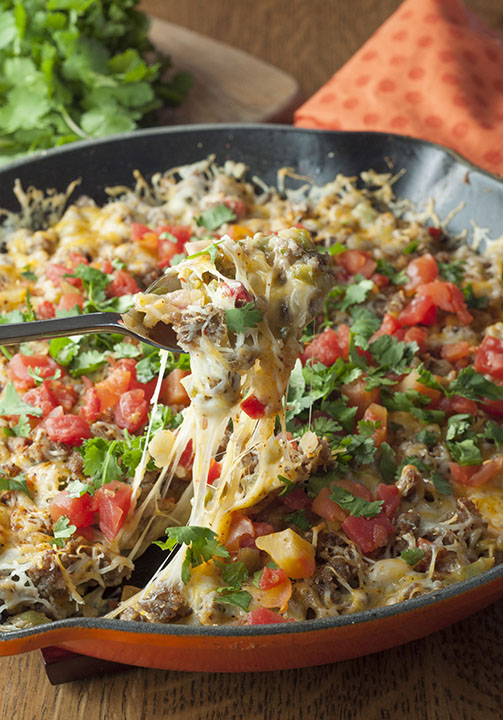 This Queso Fundido has "breakfast" written all over it.  OK, not really, but I'm staring at the photos of it right now as I put this post together and I want to eat it for breakfast. It's just SO tasty that I totally want to face plant into the middle of this skillet and resurface when it's finally spring and the sun is shining abundantly. Is that so wrong?
One can dream…
I'm so glad you're here! Follow along on Pinterest for more inspiration!
I used my all-time favorite brand of diced tomatoes (Tuttorosso) in this recipe to cut back on some of that dicing and slicing time. The faster I can get this on the table, the better! My pantry is 24/7 stocked with a variety of Tuttorosso products…simple because…they are the best. They make an amazing variety of all natural tomato products to meet all of my cooking needs. There is a reason why they are the best-selling Italian inspired canned tomato brand in the U.S. You all know me and my love for Italian food, but Mexican food comes in a close second!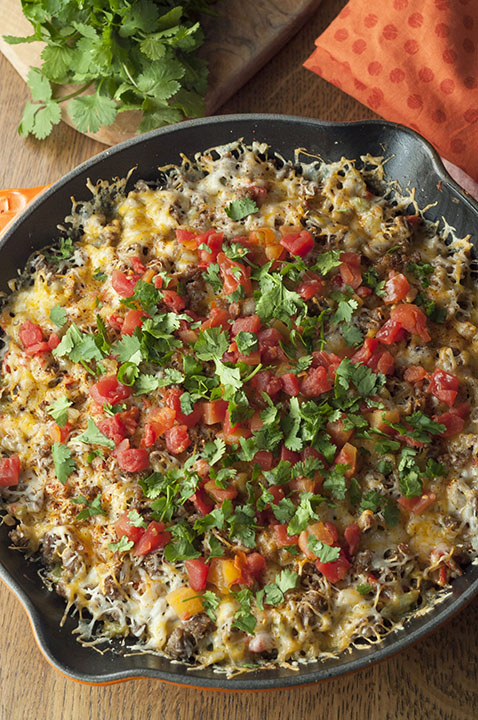 This is where this delish Queso Fundido comes in. You can totally stuff this deliciousness into some warm tortillas and call it dinner or dunk your favorite tortilla chips in it for a party time appetizer. I've been loving Tuttorosso products for years and they have always been my "go-to", but I love them even more now that they have their new products out with smaller 14.5 oz. and 15 oz. cans. It's just so much more convenient when you need a smaller amount of the particular Tuttorosso ingredient and don't have to worry about wasting the leftovers!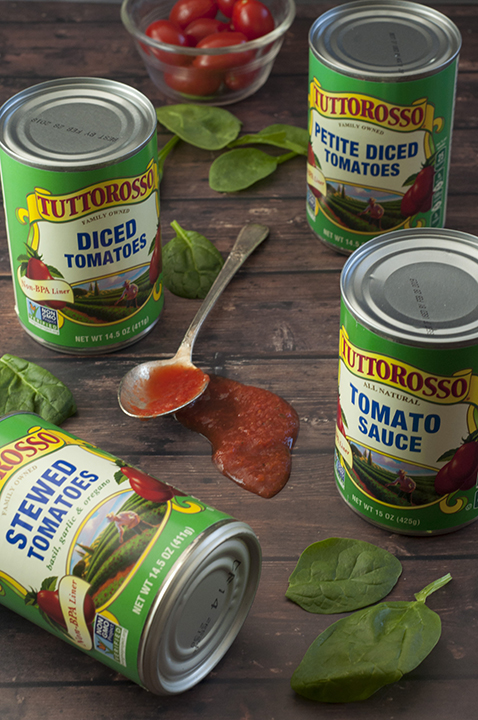 I was fortunate enough to visit Tuttorosso's headquarters in Indianapolis back in the fall and wrote all about it here along with my recipe for Crock Pot Italian Meatballs. I already knew they were a great family-owned business, but I had the privilege of seeing and experiencing firsthand just how wonderful they are and the pride they take in the quality of their product. They definitely do NOT cut corners when it comes to what they provide to their customers!
We saw tomatoes being freshly picked in the morning at their tomato farm be delivered straight to the canning factory. These tomatoes were already in the can ready to be sold to consumers by the end of our tour of the factory. Their special BPA-free can liners lock in that fresh vine-ripened tomato flavor and the taste cannot be beat! Try them for yourself and see…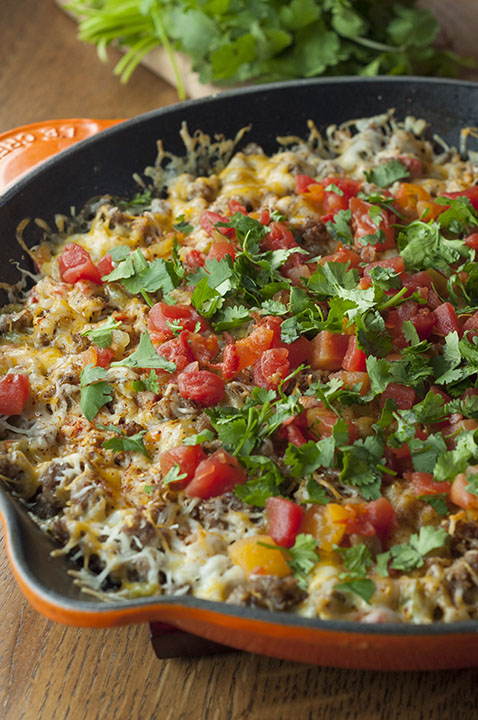 Here are some other recipes I've created using Tuttorosso products:
5 Minute Restaurant-Style Blender Salsa
Crock Pot Bacon Cheeseburger Soup
BLT Chopped Salad with Avocado
Tip: Tuttorosso products can be purchased on Amazon or use their store locator to see where you can get their products nearby!

Queso Fundido
Prep time:
Cook time:
Total time:
Queso Fundido recipe is amazingly cheesy and is an easy dip to make for your next party or Mexican food night! This can be your main course served with tortillas or an appetizer served with chips.
Ingredients
½ pound spicy breakfast sausage (ex. Jimmy Dean, Chorizo)
1 medium-size onion, diced
2 small bell peppers (any color), seeded and chopped
1 pound Monterey Jack cheese, freshly shredded
Pinch of chili powder
1 14.5 oz. can Tuttorosso petite diced tomatoes, drained of juice
¼ cup fresh Cilantro, chopped
Tortilla chips or Fritos, for serving
Instructions
Preheat oven to 400 degrees.
In a large skillet, cook and crumble the sausage until no longer pink.
Remove from skillet with a slotted spoon and drain on a paper towel-lined plate.
Pour excess fat out of skillet.
Add onions and bell peppers to the skillet and cook over medium-high heat until the veggies are softened, about 6-8 minutes. Remove from heat and set aside.
To build the Queso Fundido in your OVEN-PROOF skillet (use a shallow baking dish if you don't have one), place ⅓ of the cheese on the bottom. Add half the sausage on top of the cheese. Add another third of the cheese and then as much of the veggie mixture as you prefer.
Add almost all of the remaining cheese, the remainder of the sausage, then the cheese you have left. If you have a bit of ingredients left over, that is fine. Make sure ingredients reach top of skillet or dish.
Lightly sprinkle chili powder over the whole top.
Bake in oven for about 5 minutes or until the cheese is completely melted and slightly bubbling (don't let it harden too much, you want it very gooey!)
Remove from the oven, evenly top with the diced tomatoes and cilantro, and serve immediately (it's best when hot) with tortilla chips!
Disclaimer:  Thank you Tuttorosso for sponsoring this conversation.  All opinions remain 100% my own, as always.
Recipe source: adapted from the pioneerwoman.com