Blueberry Muffin Smoothie + The Soulfull Project
This creamy, healthy Blueberry Muffin Smoothie recipe has the delicious tastes of blueberry and oatmeal all in one healthy, wholesome breakfast smoothie!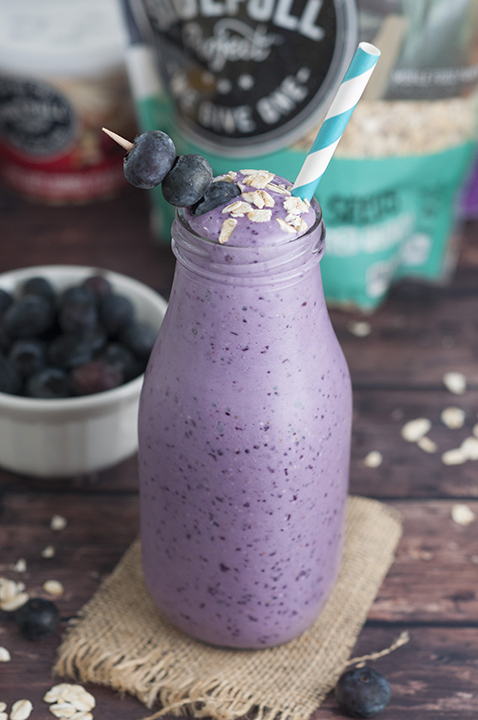 It's always a good day when it starts with a smoothie. Where are my breakfast fans out there? Are you more of a breakfast person or a breakfast for dinner person? My husband is a breakfast for everything person while I'm not much of a breakfast lover at all.  I don't normally have a huge appetite in the morning. I'm always looking for something simple, but packed with flavor and healthy so I don't feel like I'm starting my day off on the wrong foot. If you're anything like me, then I have found some great options to share with you today: this Blueberry Muffin Smoothie and The Soulfull Project hot cereal.
I'm so glad you're here! Follow along on Pinterest for more inspiration!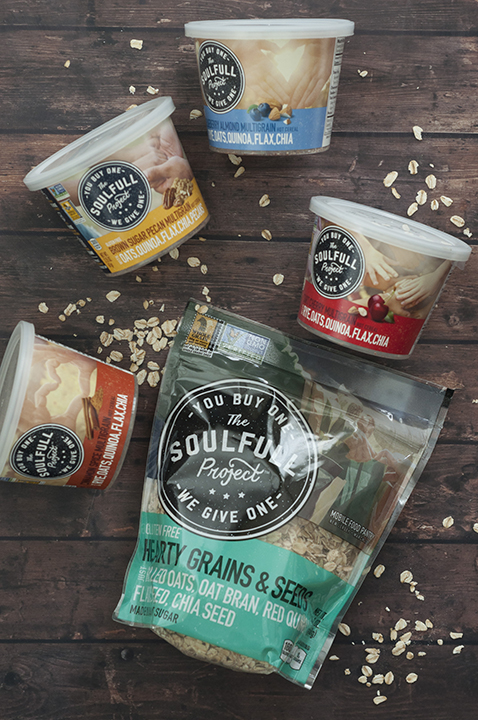 I used the Blueberry Almond Multigrain hot cereal in this Blueberry Muffin Smoothie. I LOVE their hot cereal cups and I love smoothies, so I figured, why not combine the two? Once I get an idea in my head it's hard to stop me. It turned out to be the perfect healthy breakfast LOADED with fiber and a great way to start the morning. The blueberries, vanilla, honey, and cinnamon in the smoothie reminded me of a blueberry muffin! Oh, and it's really pretty…so, there's that.
The Soulfull Project's hot cereal cups are amazing, guys! Mr. Wishes has been bringing one to work every day this week for breakfast. This is a guy who typically skips breakfast because he's in too much of a hurry, so that is saying a lot. For the cereal cups all you need to do is add hot water and BAM. There is your hot, healthy breakfast.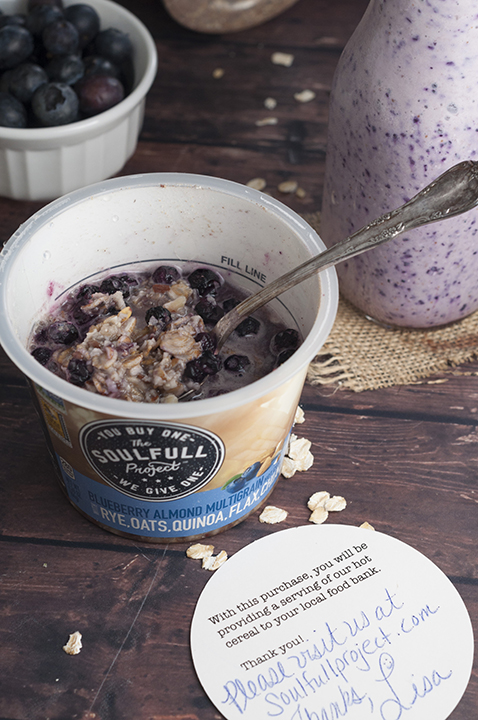 The Soulfull Project's product line consists of a 4 grain blend, Hearty Grain & Seeds hot cereal, and four flavors of hot breakfast cereal cups in the following flavors: Cinnamon Spice, Blueberry Almond, Brown Sugar Pecan, and Tart Cherry. Each of these hot cereal cups include nutritious, clean ingredients packed with health benefits, from oats, quinoa and whole grains to chia and flax seeds. They're also gluten-free and NON GMO! You can find them at 64 different Wegmans stores in New York, New Jersey, Pennsylvania, Massachusetts, Maryland, & Virginia. Here is the store locator for you.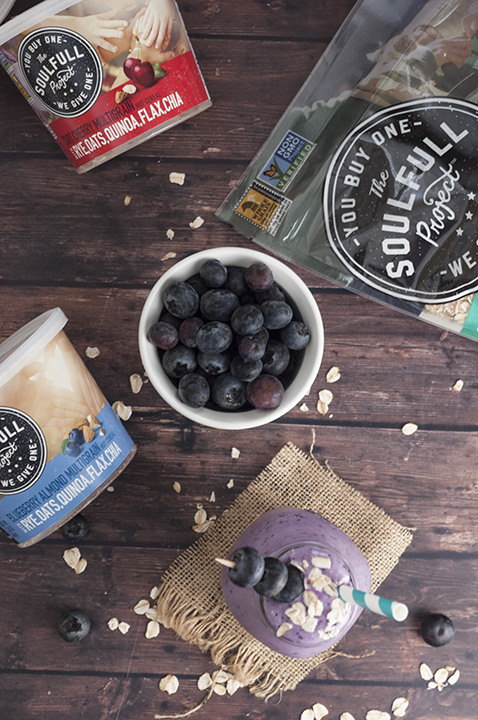 Who doesn't love a business that gives back? The Soulfull Project is a new mission-focused company created by a small group of friends with one goal: to make a difference in their local community and to give back. I LOVE this. Not only are their nutritious food products healthy for us, top quality and delicious, but they are going well beyond that to make a real difference. Guess what? For each serving of hot cereal you purchase at the store, The Soulfull Project donates a serving of their 4 Grain cereal to a food bank in your region to help those in need. "A serving for a serving".  Since launching in 2016, they have already donated more than 42,000 servings of hot cereal to food banks. They want to make their products available to everyone—regardless of social or economic status. Now THIS is a mission I can get behind. If you live in the Rochester area, sales at our Wegmans stores benefit food banks such as Foodlink, Inc.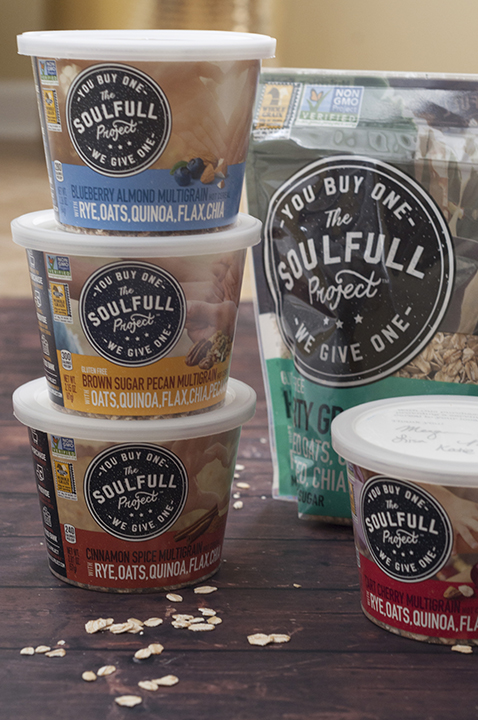 Definitely be on the lookout for their hot cereal the next time you grocery shop. They not only taste great and are healthy, but you're helping a good cause in the process. If you're interested, you can read even more about their mission here. Make sure you join their effort and help spread the word however you can!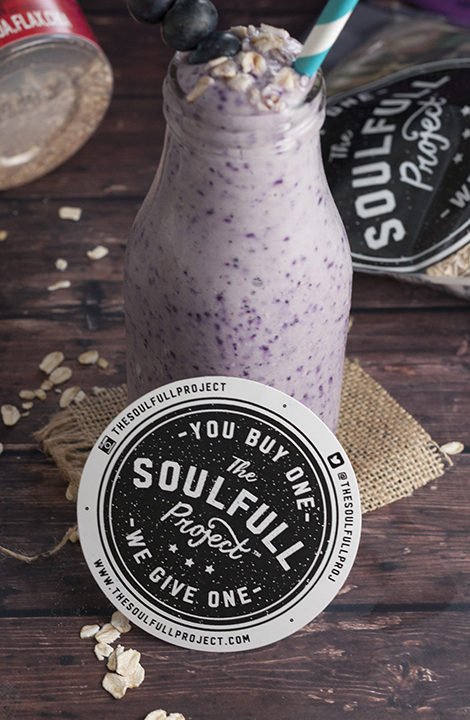 Also, let me know your favorite healthy breakfast ideas by leaving me a comment below! As a product of the internet generation, I am constantly in need a new ideas for breakfast 🙂
Blueberry Muffin Smoothie + The Soulfull Project
This creamy, healthy Blueberry Muffin Smoothie recipe has the delicious tastes of blueberry and oatmeal all in one healthy breakfast smoothie!
Ingredients
1 Blueberry Almond Multigrain hot cereal cup OR 1 cup old-fashioned oats
1½ cups frozen blueberries
1 cup vanilla Greek yogurt
½ cup almond milk
1 tablespoon raw honey
¼ teaspoon vanilla extract
¼ teaspoon ground cinnamon
Instructions
Pour contents of hot cereal cup into blender OR measure oats into blender, if using plain oats.
Blend until ground into a fine powder.
Add frozen blueberries, vanilla yogurt, almond milk, honey, vanilla, and cinnamon.
Blend until smooth. Serve immediately. Makes two medium-size smoothies. I served mine in these glass dairy bottles.
Disclaimer: Thank you, The Soulfull Project, for sponsoring this conversation.  All opinions remain 100% my own, as always.