Caramel Gingerbread Cheesecake Dip
Make your holiday parties even sweeter with this easy Caramel Gingerbread Cheesecake Dip recipe that tastes like a creamy cheesecake in dip form with the special touch of gingerbread flavor! The caramel drizzle puts it over the top!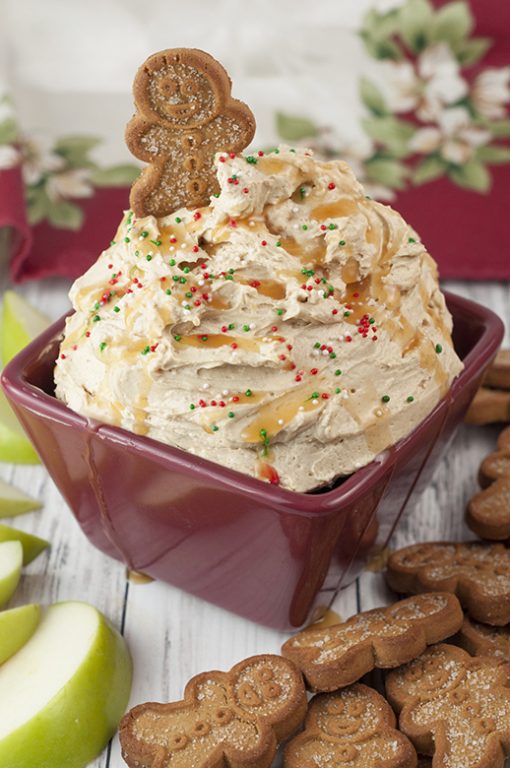 It's hard to believe the holidays are upon us, but here we are!  It is a known fact that I LOVE the holidays and I love creating food revolved around them the most of all.  I may have been shopping for mini gingerbread men for this Caramel Gingerbread Cheesecake Dip in the beginning of October.  So, I had to ask for help finding them in the store and may have received a few strange looks from the employees. While it felt so wrong, it felt so right. I am excited for the holidays and all of the food that goes along with it!
Discovering Finlandia™ Creamy Gourmet Cheese has been a game changer for the holidays.  Once I had my first taste of their Vanilla Bean flavor (made with pure milk and pure vanilla) I was completely sold.  I had to immediately figure out a way to incorporate it into something I could whip up as a holiday treat. Since devouring my Tiramisu Dip in record time a few months back, I knew I had to come up with a dessert dip that incorporates all of the holiday flavors. Caramel Gingerbread Cheesecake Dip is a MUST make for your upcoming gatherings and parties. I might be addicted to it now. Send help. And bigger pants.
I'm so glad you're here! Follow along on

Pinterest

for more inspiration!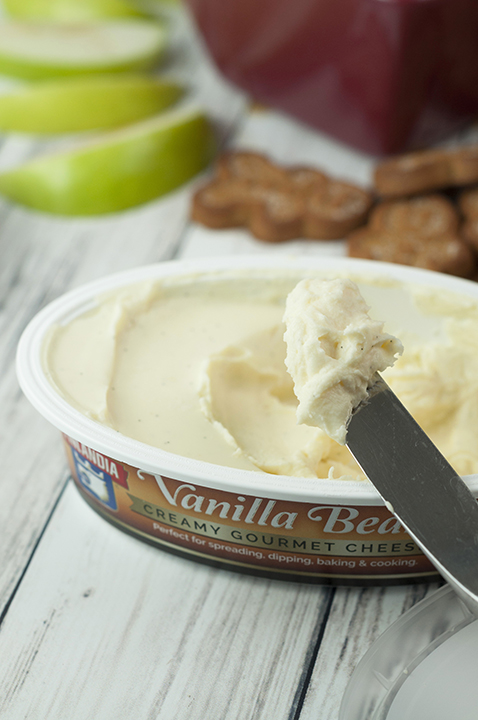 Finlandia Creamy Gourmet Cheese is so versatile and that's what I love about it.  It can be used as a spread for crackers or flatbread, a dip, an ingredient in a sweet or savory recipe to give added flavor, and so much more.  They come in four different flavors in addition to the vanilla bean (black garlic, garden dill, classic, sweet lemon) and each one I try is even better than the last.  If you're not much into cooking or baking, simply use these gourmet cheeses as a dip!  Simple, easy, and delicious.  I like to have them on hand for serving to last-minute company.  Put out some crackers and one of these Finlandia cheeses and you're good to go.
Every batch of Creamy Gourmet Cheese is made with pure milk and the the best quality ingredients. Besides the creamy gourmet cheese, Finlandia offers other delicious, high quality dairy products such as cheese and butter. All of their products are made from pure ingredients. They are especially well known for their Swiss cheese which was the first product sold in the US!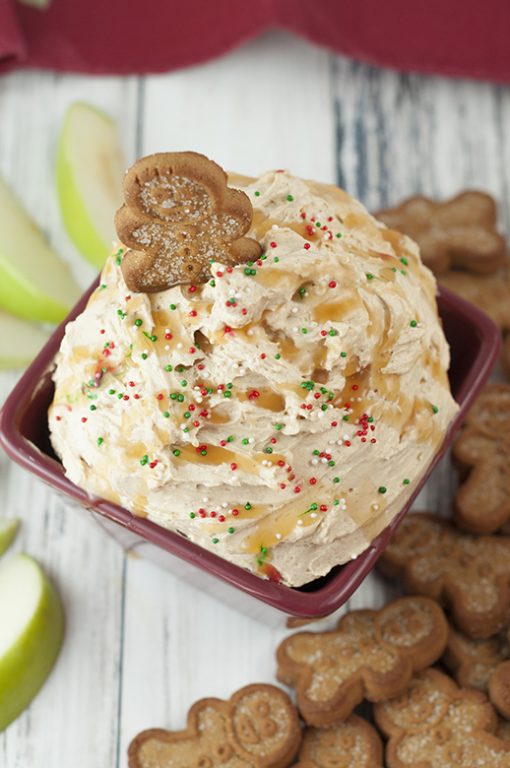 Whether you make this easy dip for a snack or a dessert, your family and friends (and your own taste buds) will thank you for it. It's just perfect for a holiday crowd that might prefer a small bite instead of an entire heavy piece of pie or cake.  Do you know anyone like that? Me neither (ha, ha).  Either way, it's always nice to have dessert options on the table!  It is rich, creamy, perfectly sweet, and really works for all seasons – not just the holidays. For more festive recipes, feel free to browse through my holiday recipe section (cinnamon roll cake, anyone?).  'Tis the season! If dessert dips are your "thing", you might want to check these recipes out.  Enjoy!
Find out more about Finlandia Creamy Gourmet Cheese and their other delicious products by following along with them on social media (@FinlandiaCheese)!
Instagram | Twitter | Facebook | Pinterest | YouTube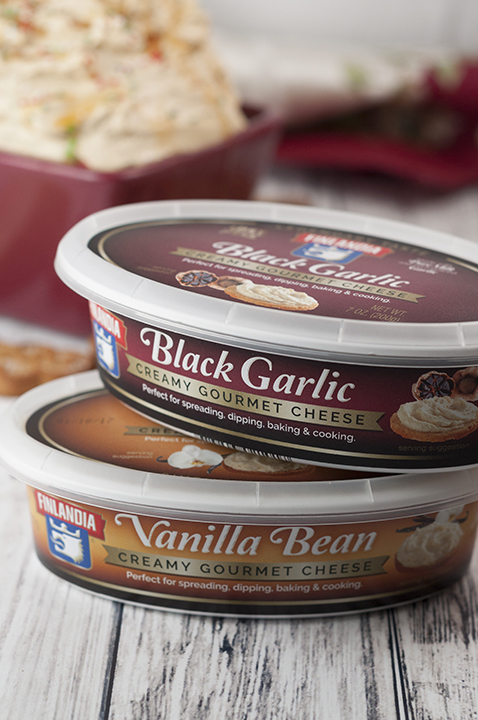 Caramel Gingerbread Cheesecake Dip
Make your holiday parties even sweeter with this easy Caramel Gingerbread Cheesecake Dip recipe that tastes like a creamy cheesecake in dip form with the special touch of gingerbread flavor!
Ingredients
1 8-ounce package cream cheese, softened to room temperature
¼ cup Finlandia Vanilla Bean Creamy Gourmet Cheese (or just use extra cream cheese)
¼ cup brown sugar
⅓ cup powdered sugar, sifted
2 Tablespoons molasses
1 Tablespoon caramel sauce
1 teaspoon ground ginger
1 teaspoon ground cinnamon
pinch of nutmeg
1 cup heavy cream, very cold
Extra caramel sauce for drizzling on top
Graham crackers, Nilla wafers, or gingerbread cookies for serving
Instructions
In the bowl of a stand mixer (or use hand mixer) beat/whip the cold heavy cream on high speed until stiff peaks form, about 2-3 minutes.
Place the whipped cream in a smaller bowl, cover with plastic wrap, and put in the freezer.
Return to the bowl of the stand mixer and beat the cream cheese and creamy gourmet cheese until smooth. Add the powdered sugar and beat to combine.
Mix in the molasses, caramel sauce, brown sugar, ginger, cinnamon and nutmeg and beat until completely smooth and no grainy texture remains, 1-2 minutes.
Gently fold in the whipped cream until combined.
Refrigerate dip until ready to serve, transfer to your serving bowl, drizzle with extra caramel sauce, and serve with graham crackers, Nilla wafers, apples or gingerbread cookies. Enjoy!
Recipe source: strongly adapted from foodfolksandfun.net
This is a sponsored conversation written by me on behalf of Finlandia™ . The opinions and text are all mine.