Pine Nut Hummus Pico de Gallo Tostadas
Pine Nut Hummus Pico de Gallo Tostadas recipe topped with an easy, fresh cucumber Pico de Gallo and a variety of toppings for a healthy, vegetarian appetizer or snack!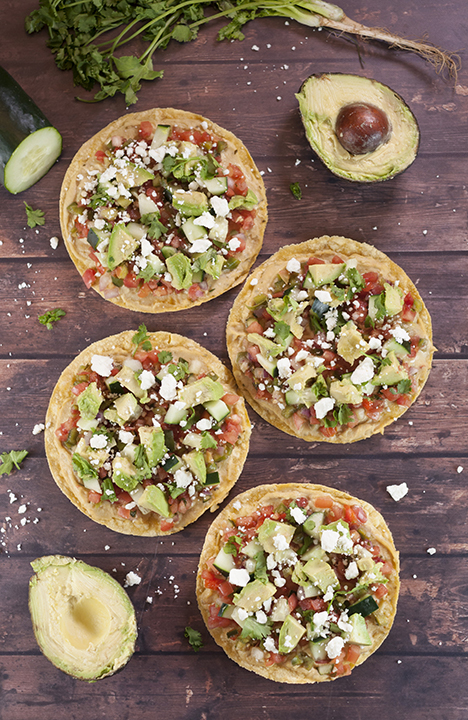 Raise your hand if you have eaten hummus for dinner! I have developed somewhat of an obsession over the years, and if you're late to the party, time to join in. Of course, Sabra hummus is my favorite because their hummus is just always super creamy and flavorful. This recipe is inspired from my love of Sabra hummus. You can jazz it up by incorporating it into these Pine Nut Hummus Pico de Gallo Tostadas. Now I have two choices in life: never make another snack besides this ever again or make Pine Nut Hummus Pico de Gallo Tostadas every day for the rest of my life.
National Hummus Day is coming up on May 13th and I am celebrating along with Sabra and eating hummus for breakfast, lunch, AND dinner. Yes, National Hummus Day is a thing!
You don't have to get as crazy as I get, but I highly recommend you share the love and try these Pine Nut Hummus Pico de Gallo Tostadas to celebrate (even if you can't quite hold out until 5/13 to try these). A holiday revolving around my favorite snack is pretty much the best food holiday ever.
I'm so glad you're here! Follow along on Pinterest for more inspiration!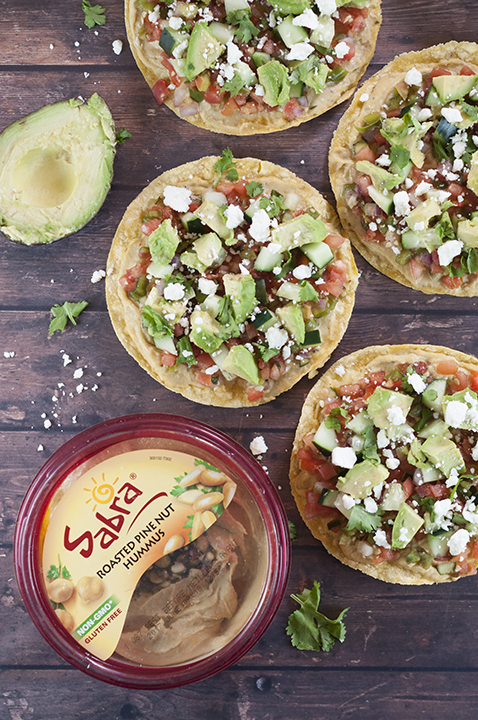 The serious carnivores in your life will never even miss the meat here because these are so packed with flavor – that's a promise! Feel free to add some grilled, shredded chicken if you wish and make these an even more hearty meal!
These Pine Nut Hummus Pico de Gallo Tostadas really are an effortless meal, snack, or appetizer for a party. You simply start with making your corn tortillas into a tostada, adding Sabra hummus on top, and then you just need some fresh veggies to make the Pico de Gallo and added toppings.
The healthy dose of feta cheese on top was a last minute addition that I was very happy I made for some added color, texture and flavor! If you're on a plant-based diet, these tostadas are already vegetarian but can be easily made vegan/plant-based if you leave off the feta cheese crumbles that I sprinkled on top.
This appetizer/snack is so good and good FOR you that it actually becomes a sufficient unofficial meal without having to add anything else. It's filling, satisfies your appetite, and really feels like a meal in itself.
You know that in-between time after lunch and before dinner? These babies will give you that pick-me-up you and your family both need. The best part? No "formal meal" rules exist at the Unofficial Meal.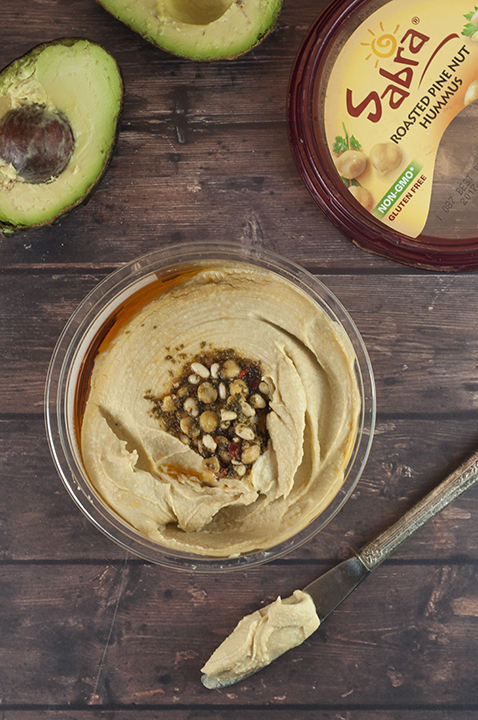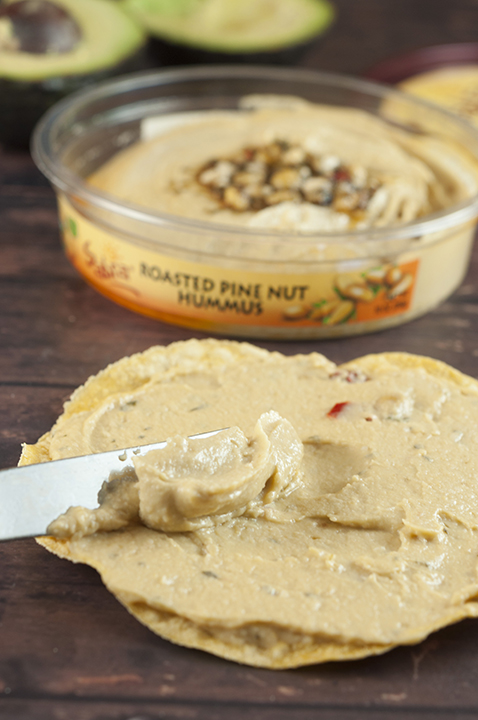 This is the definitely the kind of dish you can alter based on what your personal preferences are or what you have on hand. Feel free to get creative! I may be biased since this is my recipe, but I would leave them as is since they are already practically perfect in every way. I am a creature of habit and pretty much always reach for the Sabra Lemon Twist Hummus as it is off the charts.
In this recipe, I used the roasted pine nut hummus but feel free to use any one of their 14 different kinds of hummus! It is all naturally gluten-free and vegan, making it the perfect snack to have on hand for parties, entertaining, or your every day family meals.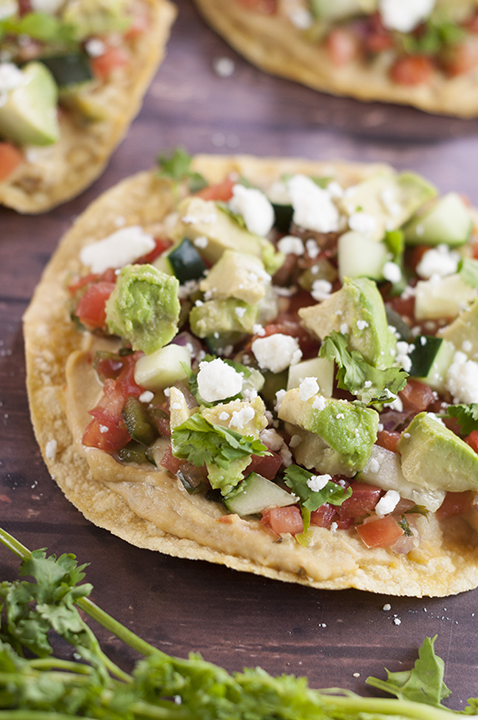 I just had a brilliant idea for a great summer entertaining option: lay out a selection of Sabra hummus and various toppings and have your dinner or party guests build their very own Hummus Tostada! That WILL be happening this summer at my house.
Now excuse me while I go whip these up again, because staring at the photos has made me extremely hungry.
Let's make a deal…
If you come over and clean my disaster of a kitchen right now, I will pay you in these amazingly delicious Pine Nut Hummus Pico de Gallo Tostadas. Deal? Deal.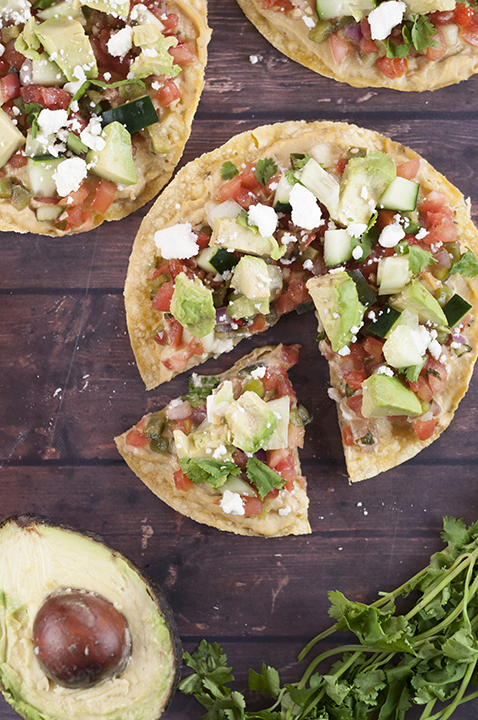 For more healthy vegetarian snack ideas, check these recipes out:
Pine Nut Hummus Pico de Gallo Tostadas
Prep time:
Cook time:
Total time:
Pine Nut Hummus Pico de Gallo Tostadas recipe topped with an easy, fresh Pico de Gallo and a variety of toppings for a healthy, vegan appetizer or snack!
Ingredients
8-10 corn tortillas
one (10-ounce) container of Sabra Roasted Pine Nut Hummus (or flavor of choice)
⅓ cup feta cheese crumbles (leave off to make this vegan)
fresh cilantro (for garnish)
2 ripe avocados, diced (I used this tool to make it easy)
Cucumber Pico de Gallo
½ cucumber
1 tomato
¼ onion
½ jalapeno
10 sprigs cilantro
2 Tablespoon fresh lime juice
¼ teaspoon salt
Instructions
To bake your tostadas, generously brush each side of the tortillas with olive oil.
Place on a baking sheet and cook in your oven at 400 degrees for 2-3 minutes on each side.
Cucumber Pico de Gallo:
Chop cucumber, tomato, onion, jalapeno, and cilantro. Combine in a mixing bowl with salt and the lime juice. Taste for seasoning and adjust as needed.
Assemble:
Spread a layer of hummus evenly on each tostada.
Add layer of cucumber pico de gallo to each tostada.
Add avocado pieces on top of each.
Garnish with fresh cilantro and feta cheese crumbles (optional). Slice up and serve!
Disclaimer: Thank you, Sabra, for sponsoring this conversation.  All opinions remain 100% my own, as always.
Recipe source: strongly adapted from mexicanplease.com