Pine Nut Hummus Pico de Gallo Tostadas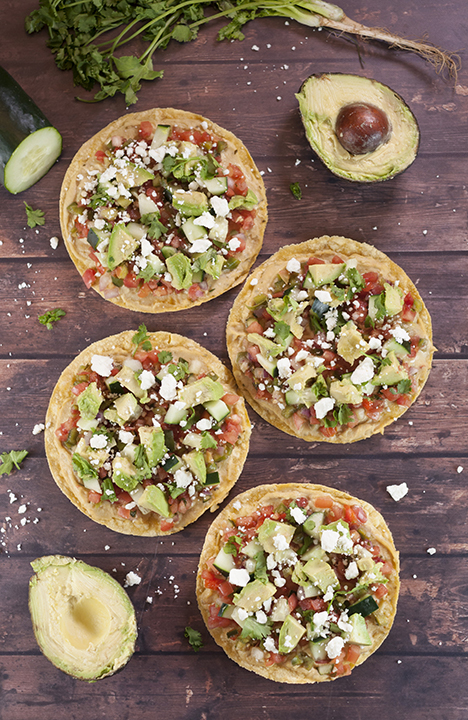 8-10 corn tortillas
one (10-ounce) container of Sabra Roasted Pine Nut Hummus (or flavor of choice)
⅓ cup feta cheese crumbles (leave off to make this vegan)
fresh cilantro (for garnish)
2 ripe avocados, diced (I used this tool to make it easy)
½ cucumber
1 tomato
¼ onion
½ jalapeno
10 sprigs cilantro
2 Tablespoon fresh lime juice
¼ teaspoon salt
To bake your tostadas, generously brush each side of the tortillas with olive oil.
Place on a baking sheet and cook in your oven at 400 degrees for 2-3 minutes on each side.
Chop cucumber, tomato, onion, jalapeno, and cilantro. Combine in a mixing bowl with salt and the lime juice. Taste for seasoning and adjust as needed.
Spread a layer of hummus evenly on each tostada.
Add layer of cucumber pico de gallo to each tostada.
Add avocado pieces on top of each.
Garnish with fresh cilantro and feta cheese crumbles (optional). Slice up and serve!
Recipe by
Wishes and Dishes
at https://wishesndishes.com/pine-nut-hummus-pico-de-gallo-tostadas/