Tres Leches Cake
This light and fluffy Tres Leches Cake recipe is perfect for Cinco de Mayo dessert, uses three types of milk and is topped with whipped cream icing, making it so moist and delicious.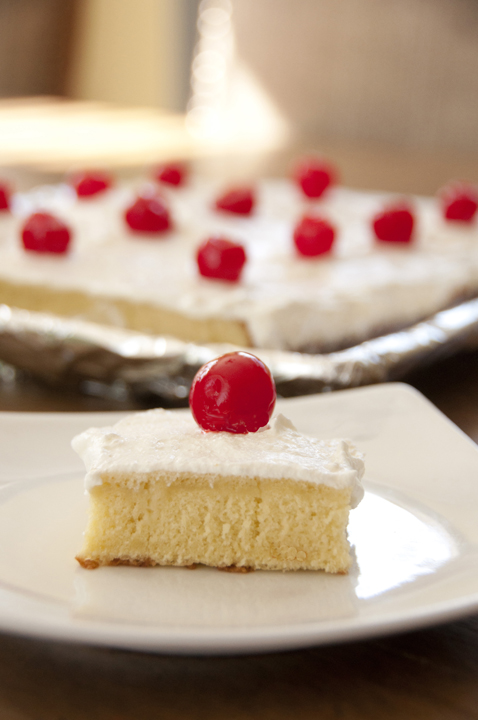 With it being tax week and all, I figured everyone could use a little sugar and dessert in their life.  Cinco de Mayo is a few weeks ago yet but I just couldn't wait to share this one.  It's a fun day where we can all stuff ourselves full of chips, salsa, guacamole, margaritas and other delicious Mexican food.  I love ALL Mexican food, but Mexican desserts seem to sometimes  get overlooked so I am here to fix that with this Tres Leches Cake.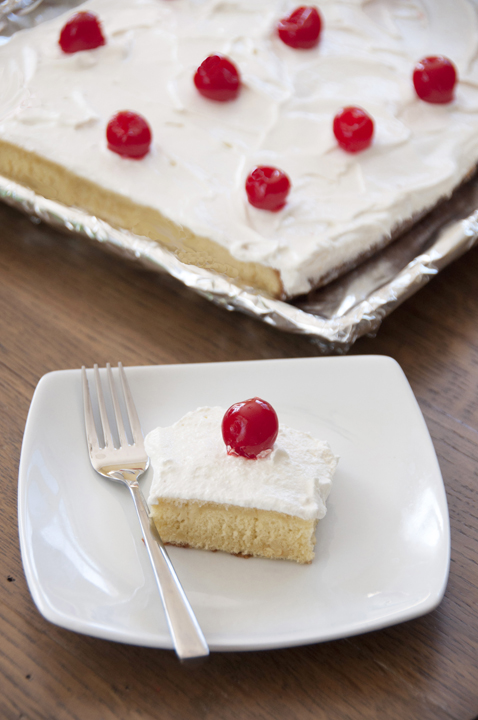 I brought this to a party and everyone said it was to die for (and it was)!  I'm pretty sure every woman there asked me for the recipe.  Tres Leches Cake gets it's name from the mixture of milks that are used in it.  This is a moist/somewhat wet cake and it's supposed to be that way as a result of the liquids added to the batter.  It does not result in a typical cake texture that you're probably used to.  Personally, I love a moist cake and this cake was simply divine even without the whipped cream frosting!
I am a new fan of Tres Leches Cake. Now…off to the treadmill.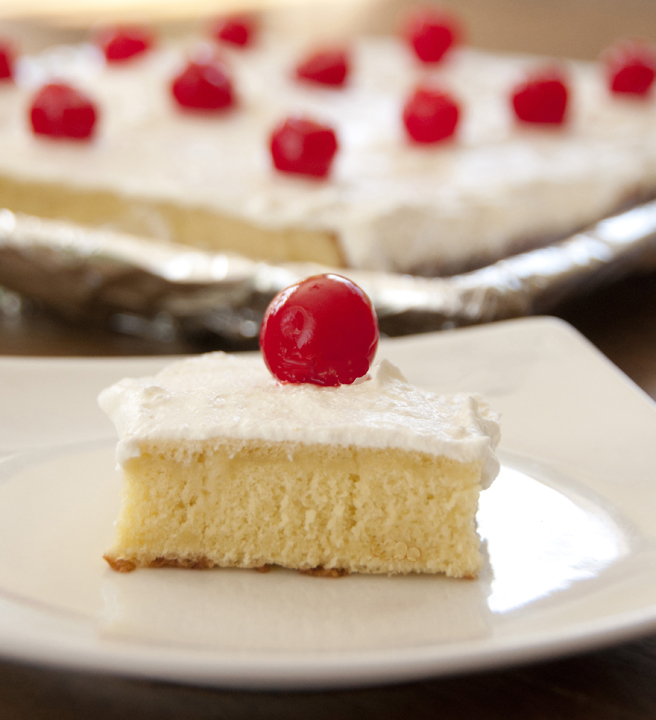 Tres Leches Cake
Prep time:
Cook time:
Total time:
This light and fluffy Tres Leches Cake dessert recipe is perfect for Cinco de Mayo, uses three types of milk and is topped with whipped cream icing.
Ingredients
1 cup All-purpose Flour
1-1/2 teaspoon Baking Powder
¼ teaspoon Salt
5 whole Eggs
1 cup Sugar, Divided
1 teaspoon Vanilla
⅓ cup Milk
1 can Evaporated Milk
1 can Sweetened, Condensed Milk
¼ cup Heavy Cream
Maraschino cherries, optional, for topping
FOR THE ICING:
1 pint Heavy Cream, For Whipping
4 Tablespoons Sugar
Instructions
Preheat oven to 350 degrees. Spray a 9 x 13 inch pan liberally until coated.
Combine flour, baking powder, and salt in a large bowl. Separate eggs.
Beat egg yolks with ¾ cup sugar on high speed until yolks are pale yellow. Stir in milk and vanilla. Pour egg yolk mixture over the flour mixture and stir very gently until combined.
Beat egg whites on high speed until soft peaks form. With the mixer on, pour in remaining ¼ cup sugar and beat until egg whites are stiff but not dry.
Fold egg white mixture into the batter very gently until just combined. Pour into prepared pan and spread to even out the surface.
Bake for 35 to 45 minutes or until a toothpick comes out clean. Turn cake out onto a rimmed platter and allow to cool.
Combine condensed milk, evaporated milk, and heavy cream in a small pitcher. When cake is cool, pierce the surface with a fork several times. Slowly drizzle all the milk mixture over the cake**—try to get as much around the edges of the cake as you can. (**Just discard about ¾ to 1 cup of of liquid if it seems to be too much. It usually proves to be a little much if you aren't patient and give it time to all soak into the cake. It's a matter of preference, but you do want the cake very moist.)
Allow the cake to absorb the milk mixture for 30 minutes. To ice the cake, whip 1 pint heavy cream with 4 tablespoons of sugar (use a little less sugar if you would like it less sweet) until thick and spreadable.
Spread over the surface of the cake. Decorate cake with whole or chopped maraschino cherries. Cut into squares and serve.
 Recipe source: adapted from thepioneerwoman.com