My Favorite Chocolate Chip Oatmeal Cookies
This is My Favorite Chocolate Chip Oatmeal Cookies recipe that I'm finally sharing. I bake these cookies more than any other chocolate chip cookie as they are chewy, packed with chocolate, and come out perfectly every time!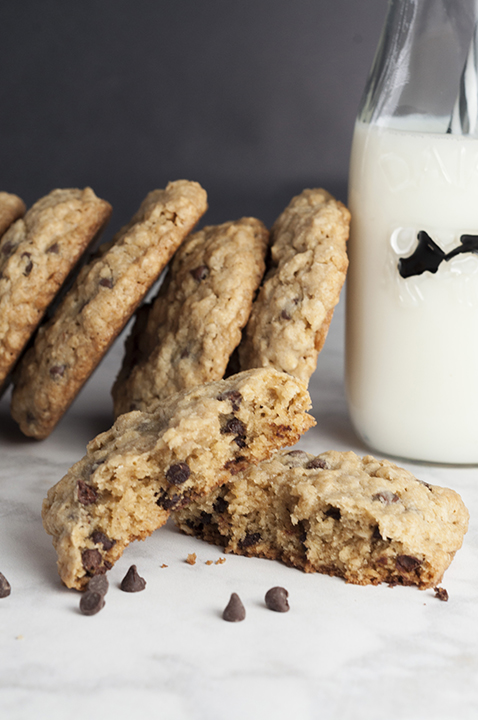 (Written ahead of time as I'm busy with the little babe – my May baby!) Hi guys – it's me again with dessert! I am writing this post in May in anticipation of my sweet baby girl who can come at any point in June (or May, I guess). Let's hope and pray she's not a July baby because that would mean she's over two weeks late – ha! I wanted to share these My Favorite Chocolate Chip Oatmeal Cookies with you today. You should know and I have to tell you that these are my go-to recipe and one I always have in my back pocket for a rainy day. My cookie-loving self loves a good old-fashioned chocolate chip cookie, but loves the texture that the oats give in this recipe!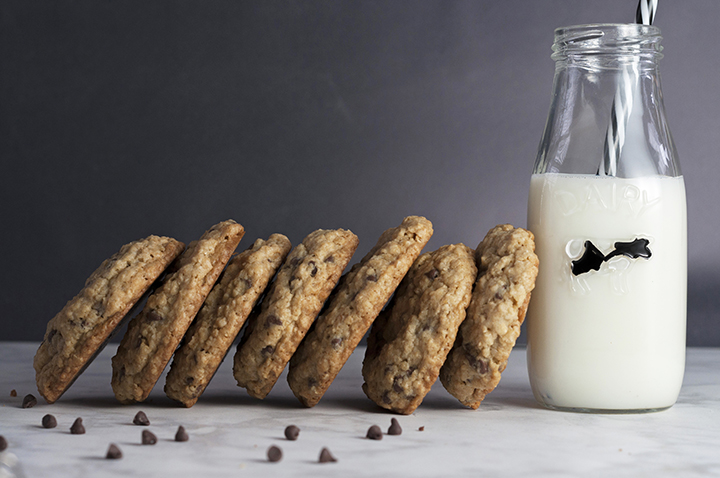 I really can't believe how fast my pregnancy has flown by as I sit here at 33 weeks. I honestly don't know where the weeks have gone, but time sure flies when my mind is very occupied with many thoughts of big life changes coming my way. We are also in the process of renovating our kitchen (and part of our living room). It is something we talked about doing practically since we moved in, but having a child really pushed us to finally get 'er done. I loved the idea of an open floor plan between our kitchen and living room. It has been such a HUGE project but SO worth it. I thought it would be wonderful to be in the kitchen cooking and baking and be able to keep an eye on my daughter while she's in the living room in her swing, pack 'n play, etc. The wall just put a huge divider between the two rooms and this really brightened my entire house up!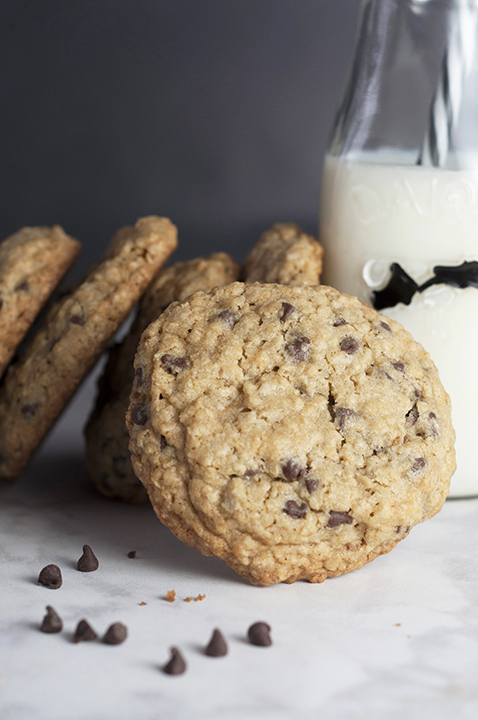 I really urge you to try My Favorite Chocolate Chip Oatmeal Cookies sooner rather than later. I feel like anyone who doesn't try these cookies is really missing out in life. I'm telling you that they are THAT good. I like to make them with mini chocolate chips because I feel it gives them the perfect amount of chocolate in each bite without being "too" much. You can feel free to use regular chocolate chips (or any baking chips) or even add nuts! I believe my original recipe had walnuts added to it but I'm a cookie purist and prefer them without the nuts. OK, I guess Levain Bakery Chocolate Chip Cookies are the exception to that rule!
I hope you enjoy this recipe and let me know what you think if and when you bake them up! If you like more of a bar than a cookie, try these Dark Chocolate and Oatmeal Cookie Bars. They would be great at a bake sale or even for a holiday. Remember that these have a chewy texture – they are not crisp. Don't be surprised when everyone needs the recipe from you. If you're looking for something a little more exciting, try my Oreo Stuffed Chocolate Chip Cookies. They are so fun! You will also love these Double Dark Chocolate Chip Shortbread Cookies from my friend Susan. Enjoy!

My Favorite Chocolate Chip Oatmeal Cookies
Prep time:
Cook time:
Total time:
Ingredients
1 cup unsalted butter, softened to room temperature
1 cup packed light brown sugar
½ cup white sugar
2 eggs
2 teaspoons vanilla extract
1¼ cups all-purpose flour
½ teaspoon baking soda
1 teaspoon salt
3 cups quick-cooking oats (don't use old-fashioned)
¾ cup mini semisweet chocolate chips (can use 1 cup regular size)
Instructions
Preheat the oven to 325 degrees F; set aside.
In a large bowl using a mixer, cream together the butter, brown sugar, and white sugar until smooth.
Beat in eggs one at a time, then stir in vanilla.
Combine the flour, baking soda, and salt; stir into the creamed mixture until just blended.
Mix in the quick oats and chocolate chips. Drop by heaping spoonfuls or use a cookie scoop onto ungreased baking sheets.
Bake for 12 minutes in the preheated oven.
Allow cookies to cool on baking sheet for 5 minutes before transferring to a wire rack to cool completely.

Recipe source: adapted from allrecipes.com