Hot Chocolate Puppy Chow
 Muddy buddies made with Rice Chex, hot chocolate mix, and melted chocolate for an easy holiday or winter snack!  This will be your new favorite version of puppy chow.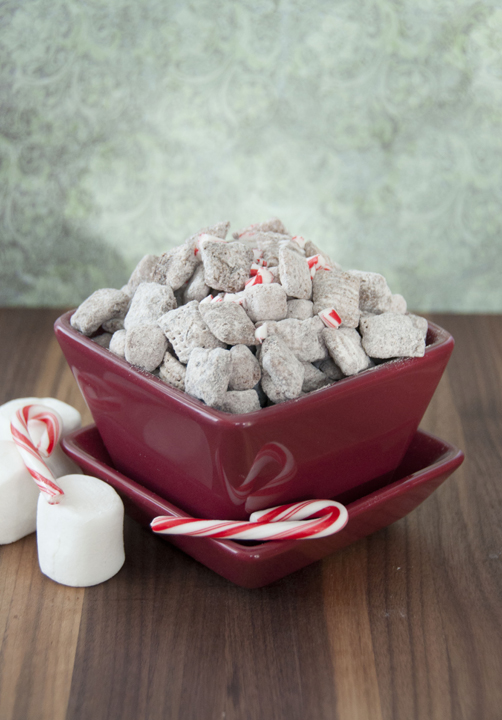 Oh, there's no place like home for the holidays!  I am home sweet home again as of Saturday.  I was out of town last week on the greatest vacation ever with Mr. Wishes and our two friends Jake and Cheryl.  We took a beautiful Royal Caribbean cruise to the Bahamas, St. Thomas, and St. Maarten. We had absolutely perfect weather and a blast hanging out together all week.  I think we have some new cruise addicts on our hands.  Cruises really are the best type of vacation:  no agenda, no worrying about driving anywhere or where you have to be and when.  Now that we are home, I feel like Christmas has really snuck on up on me more so than ever after missing that week at home last week.  I'm playing catch up in these last few days I have left, which means baking up a storm, obviously.
One of my all time favorite snack foods around the holidays are muddy buddies, or puppy chow, or whatever you like to call them.  Have you checked out my Peppermint version?  This hot chocolate puppy chow is great cold weather food – or if you live someplace that's warm year 'round (I'm jealous of you) then you can still enjoy this in your flip-flops and t-shirts while you lay by the pool in the middle of December.  Again…..jealous.  This treat is an explosion of chocolate in every bite.  You really can't go wrong with delicious hot chocolate mix coating Rice Chex cereal and marshmallows, now can you?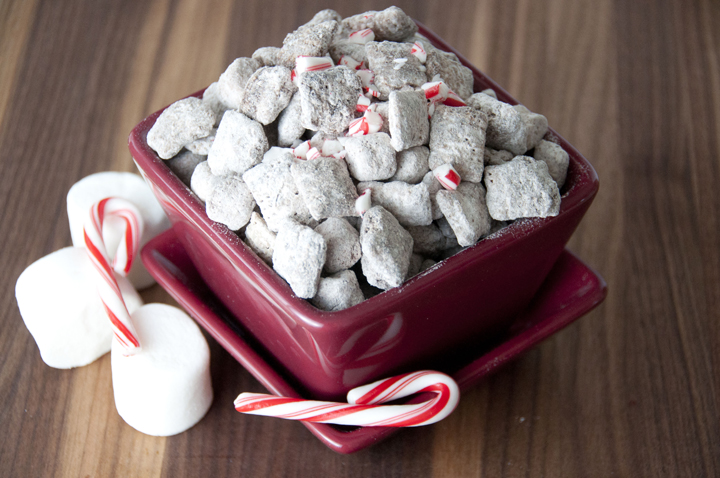 I hope you have fun plans for Christmas to look forward to and that you make this hot chocolate puppy chow part of your holiday tradition in years to come.  Merry Christmas to you and your families, my friends!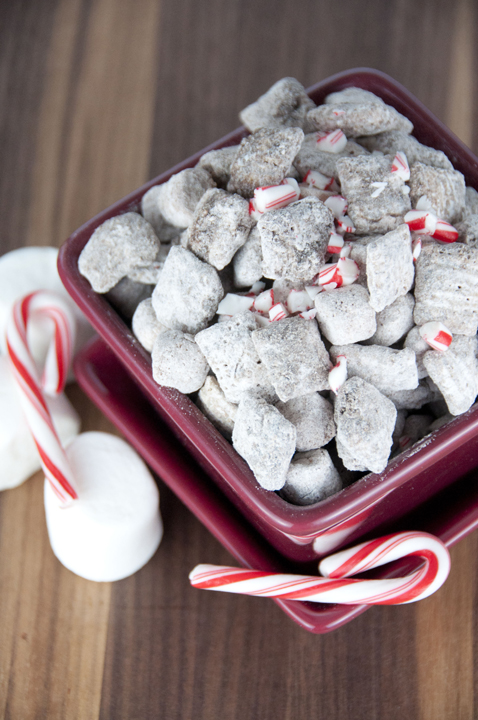 Hot Chocolate Puppy Chow
Recipe type:
dessert, snack
Puppy Chow muddy buddies made with Rice Chex, hot chocolate mix, and melted chocolate for an easy Christmas or winter snack!
Ingredients
8 cups Rice Chex cereal
16 ounce bag miniature marshmallows
5 Tbsp instant hot chocolate mix, divided
1 tsp hot water
½ cup butter
2 cups semi-sweet chocolate chips or melting chocolates
1 tsp cinnamon
3 cups powdered sugar
¼ cup baking cocoa
Instructions
Combine Rice Chex and marshmallows in a large bowl and mix together.
In a different microwave-safe bowl, stir 1 Tbsp of the hot chocolate mix with the water until the mix is dissolved. Stir in the chocolate chips, butter and cinnamon. Microwave for 1 minute and stir. Continue microwaving in 20 second intervals until mixture is melted and smooth. Stir every 20 seconds. Pour the mixture over the cereal and stir until well coated.
In a different bowl, combine the powdered sugar, the remaining 4 Tbsp of hot cocoa mix and the baking cocoa. Once this has been well mixed, pour the dry ingredients over the chocolate-coated cereal and stir until the cereal is well coated.
Spread in a single layer on waxed paper to cool and then store in an airtight container.
Enjoy!